Cast of Characters
CHILDREN'S ENSEMBLE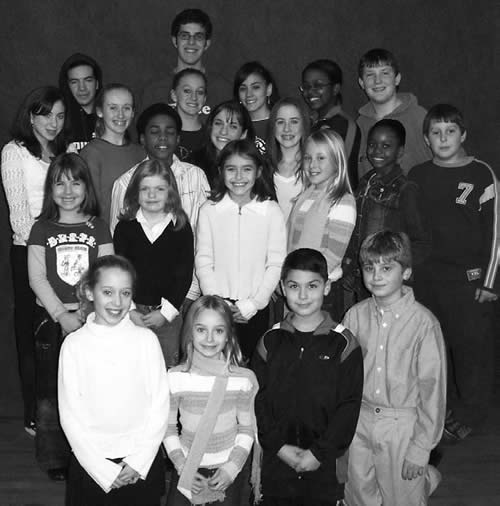 ---

JODI ADKINS (Ensemble) is thrilled to be making her Gateway Playhouse debut! Jodi graduated from Point Park College in Pittsburgh with a BA in dance. She has recently been seen in Beauty and the Beast, West Side Story and A Fireside Christmas at the Fireside in Wisconsin. Other credits include A Christmas Carol at the McCarter Theater, Cabaret at the Maryland Arts Festival, Candide,Crazy For You, and Chicago. Jodi is a member of the American Dance Artists based in her home town of Annapolis, Maryland. She is also a teacher and judge for the American Artistic Awards. Much love to my family and my Navy guy, Brad.

LAUREN ALEVAS (Ensemble) This is Lauren's first show at Gateway and she is so excited to be part of such a talented cast. She has been trained at Stage Door School of Dance for 14 years. She is part of their Senior Company and winner of the Senior Scholarship. She would like to thank Evan, Ashlyn and Kelsey for their constant love, her family for their support and Mary G for recommending her for this production.

JENNIFER ALLEN (Ensemble) is thrilled to be making her debut with Gateway Playhouse. She has spent the past 5 years touring the world performing. Credits include the National /International tours of Funny Girl,West Side Story (Italy), The Scarlet Pimpernel (2nd National), George M! (Josie Cohan), Cats (Griddlebone) and 42nd Street (Lorraine) to name a few! Her most recent project was Holland America Cruise Lines (female lead singer/dancer) where she met and married the most wonderful man in the world. Thank you to Cameron for being,well,everything to me. Thanks to my family for always being my biggest support, I wouldn't be here without you. Finally, thank you to Gateway for this opportunity. Happy Holidays!

JARED BRADSHAW (Principal) is thrilled to return to Gateway after appearing last fall as Cliff Bradshaw in Cabaret. Off-Broadway: Dr.Sex,Talk of The Town in the Oak Room at the Algonquin (with Gateway's Kristin Maloney), Torched with Elaine Hendrix, and Hidden Voices at the Minetta Lane with Terrence Mann. Favorite regional credits include The Last Five Years, Putting it Together, and the white guy in Smokey Joe's Cafe three times. Jared has toured the nation with TheatreworksUSA, and the Bahamas with Disney Cruise Line. This son-of-a-preacherman holds a BFA in Musical Theatre from Shorter College in Rome, GA, and was recently a big winner on CBS' The Price is Right. Next up:I Love You, You're Perfect, Now Change in Akron, OH. Thanks Robin, Terry at Nani/Saperstein Management, Lindsay, D.J. and Family. Merry Christmas! www.jaredbradshaw.com
CAREY BROWN (Principal) is pleased to be making her Gateway Playhouse debut. Some of her credits include; Once On This Island (Bay Street Theatre & Sacramento Music Circus), Candide (New York City Opera), Greenwillow (The York Theatre Company), The Sound Of Music (Paper Mill Playhouse), West Side Story, The Three Penny Opera, The Shape Of Things. Carey has also been involved in a number of readings including; The Trials Of Repopulating The Earth (Theatre Row) and Stand By The River (Theatre At Clements and ASCAP presentation). Have a joyous holiday season!

SARAH CONRAD (Ensemble) is a Paris, Kentucky native and is currently in her senior year at Western Kentucky University. Sarah is simply giddy to be performing for the first time with Gateway Playhouse. Thanks to DJ for this opportunity and much love to Justin!

AIMEE COOK (Ensemble) After making her Gateway Playhouse debut this summer in Sugar, Aimee is thrilled to be returning to take part in the magic that is the Holiday Spectacular! She is originally from Ottawa, Ontario, Canada where she was a member of the Le Jazz Hot Dance Company for three years. Aimee is a graduate of New York's American Musical and Dramatic Academy. TV/Film credits include; NBC's up and coming drama series The Book of Daniel and Oliver Stone's September as well as the indie film Adrift. Lots of love and thanks to Mum, Daddy, Becca, Dave and friends. Happy Holidays and Happy New Year.

BRIAN COREY (Dance Captain/Ensemble) is thrilled to be making his Gateway debut. He has been touring around the country in Hello Dolly, Funny Girl and Barry Manilow's Copacabana. Regionally he has been seen in West Side Story, 42nd Street,Annie Get Your Gun and HAIR for the Broadway Actor's Fund.

LINDSAY CRABTREE (Ensemble) is originally from Dayton, Ohio. She is currently pursuing a BFA in Musical Theatre at Western Kentucky University. Lindsay is delighted to have the opportunity of spending her holidays at Gateway Playhouse! She sends a big thank you to her family back home, DJ and the entire cast for being so supportive.

JENNIFER DAVIS (Ensemble) is proud to be making her debut on the Gateway Playhouse stage. Past credits include the Japan and North America tour of 42nd Street (Ens/Maggie US), A Chorus Line (Shiela), A Chorus Line (Cassie), Crazy For You (Irene), 42nd Street (Lorraine), and On The Town (Claire). Hope you enjoy the show! Thanks to family and friends for their years of encouragement and support.

SARA EDWARDS (Ensemble) is excited to be spending the holidays at Gateway. Most recently she was seen in the Evita National Tour as the Tango Dancer and Peron's Mistress. Favorite regional credits include; Chicago with Debbie Gibson (Velma), West Side Story, Beauty and the Beast (Enchantress), Ragtime, all at the Music Theatre of Wichita. Thanks to my amazing family, Happy Holidays everyone!

KAREN HYLAND (Ensemble) is ecstatic to be appearing in another spectacular Holiday Spectacular at the Gateway Playhouse! Audiences may remember her work from the 2003 production as the "disco dancer" and Robert Palmer girl. She recently performed in A Funny Thing Happened On The Way To The Forum at Cincinnati Playhouse in the Park and St. Louis Repertory Theatre. Other spectacular productions include the Atlantic City company of 42nd Street, Radio City Christmas Show, National Tour of Joseph…, and the European tour of Grease. Much thanks to Dave Ruttura for being an inspiration in her career… and life, and to Gregg… her rock, her roll, her reason for living… wish you were here!!

ANNA IRONS (Ensemble) hails from Bowling Green, Kentucky and is currently a junior at Western Kentucky University pursuing a degree in Performing Arts. She is delighted to be performing at Gateway Playhouse for the first time. She would like to thank DJ and the entire cast for such an amazing opportunity!
ROBIN IRWIN (Principal) Broadway/National Tours include; Titanic, Grease! And even the ill-fated Dance of the Vampires starring Michael Crawford, all were original casts. Regional/Off-Broadway credits include a number of sassy, scheming maids, and well-meaning prostitutes. Favorites; Aldonza in Man of La Mancha, Sarraghina in NINE (also with DJ Salisbury), Petra in A Little Night Music and Dorine in Tartuffe. TV/Radio include Sex in the City, Jack and Mike, Law & Order and voice-overs for everything from baby products to chainsaws. Robin recently was invited to be a part of the 75 member Broadway Star Chorus celebrating the great composer Stephen Sondheim's 75th Birthday. She has also toured and sung internationally with many symphony orchestras and for corporate industrials. Robin is a graduate of Northwestern University and teaches and coaches dynamic theatre workshops throughout the country,but is so happy to be home and a part of the holiday season at Gateway Playhouse. Love to Erick and my dear friends and family.
DeUNDRE' C. JAMES (Ensemble) Last seen in Gateway's productions of Evita, Aida, 42nd Street and Dance Captain for Ain't Misbehavin', this Holiday Spectacular marks DJ's 9th production here at Gateway. In February he will be heading for London's West End to star in a new play titled Black Man….Why Are You So Dark? DJ sends love to his Mom and the boys who are chillin in eighty degree weather back home in Houston. Much love to my Disco Diva Karen! Merry Christmas.

ROBERT ANTHONY JONES (Principal) is thrilled to be working at Gateway Playhouse, having grown up on Long Island. NYC/Off-Broadway credits include: Dorian Gray, the Musical (Sir Henry Wotton) The Barrow Group Theatre and The York Theatre, The Prince and the Pauper, Original Off-Broadway Cast (Dresser/ Hermit/Grammer) the Lamb's Theatre, and The Man Who Would Be King (Billy Fish) NewYork Musical Theatre Festival 2004. Regional credits include: Guys and Dolls (Nicely Nicely) West Virginia Public Theatre, The Fantasticks (Mortimer) Emelin Theatre, South Pacific (Billis) Cherry County Playhouse, Big River (Pap/King) Virginia Musical Theatre, and Triumph of Love (Dimas) Utah Musical Theatre. Cast Recordings and DVD/Video: The Prince and the Pauper (Original Off-Broadway Cast Recording) Jay Records, Drew's Famous Magical Jukebox, Children's Video Series (Drew) Turn Up the Music, Inc. As always, this one's for pop. www.robertanthonyjones.com.

MATTHEW WARNER KIERNAN (Ensemble) is pleased to be joining such a talented cast for the holiday season, and even more pleased to be welcomed into the Gateway Playhouse "family"! Matthew graduated from NYU's Tisch School of the Arts with a BFA in dance. Credits include; Radio City Christmas Spectacular, Gypsy (Tulsa), Crazy For You (Billy), Carousel (with Shirley Jones) and the National Tours of both Cats and 42nd Street. Love to Mom and Dad in Boston, MA! Happy Holidays!

KRISTIN MALONEY (Principal) is pleased to return to Gateway after appearing in the first Holiday Christmas Spectacular in 2003. Other Gateway appearances include Meet Me in St. Louis (Esther Smith), and The Wizard of Oz (Dorothy). Kristin is also currently appearing as Dorothy Parker in The Talk of the Town at the Algonquin Hotel. New York credits include: The Streets of New York (Irish Repertory Theatre-Drama League Performance Nominee), The Glass Blowers (New York City Opera). Regional Favorites: Red, Hot & Blue (Goodspeed Opera House), Meet Me in St. Louis (Westchester Broadway Theatre), Chicago (Forestburgh Playhouse). International tours: Jesus Christ Superstar, Evita,West Side Story. Heartfelt thanks and holiday wishes to her family, friends, co-workers, and to you! www.kristinmaloney.com

AMI PRICE (Ensemble) is thrilled to make her debut at Gateway Playhouse. Regionally she's been seen in Kiss Me Kate,Oklahoma and Music Man. She's toured with Ringling Brothers, Barnum and Bailey and as a Radio City Rockette. Love you Kevin!

MACY REEVES (Ensemble) Dear Santa:The Holiday Spectacular has been a great gift but I would also like a box of Legos, a trip to the Sugar Bowl to watch the Georgia Bulldogs play and please bring Stephen home safely. Thanks and have a happy New Year! PS thanks Dave R.

ERIC LEWIS THIELMAN (Ensemble) is grateful to be part of Gateway's holiday season. Recent credits include; 2005 National Tour of contact The Musical (Headwaiter), Brigadoon (Harry Beaton u/s), George M!, Merry-Go Round Playhouse's Guys And Dolls, Pittsburgh CLO. Happy Holidays to friends, family and those who enjoy our art.

JESSICA WRIGHT (Principal) Off Broadway; cover for America and Renebelle, Radio Gals. Regional favorites; At California Music Circus: Irene Roth, Crazy for You and Frauline Kost, Cabaret; Prudie Cupp, Pump Boys and Dinettes, Zelda, Singin' in the Rain, Jane Ashton, Brigadoon at Theatre Under the Stars; Shelby, Spitfire Grill at the Arkansas Repertory Theatre, Mary Jane, Big River at Papermill Playhouse, Winnie, No, No, Nanette at Papermill Playhouse and Goodspeed Opera, Irene, Crazy for You at Music Theatre of Wichita, America, Radio Gals at Actor's Theatre of Louisville, Lilly, Swingtime Canteen at the Cape Playhouse and directed by DJ Salisbury at the Arts Center of Coastal Carolina. Television and Recordings; vocals and violin, Rich Little's The Presidents for PBS, Violin and Vocal recording for various artists including Sally Mayes, Rebecca Luker, and Susan Egan,and Violin and Vocals for Sally Mayes at the Kennedy Center.

CHRISTOPHER YATES (Principal) has appeared at Gateway as Josh in Big; George Bailey in It's a Wonderful Life; and Cornelius in Hello Dolly. Recent credits include The Miracle Worker at Olney Theatre Center, Md; Greg in Sylvia at Emelin Theatre, NY; Walter in An American Daughter and Uncle Peck in How I Learned to Drive with The Women's Theatre Company, NJ; Serenading Louie and One Shoe Off with the Schoolhouse Theatre, NY; Brutus in a critically acclaimed production of Julius Caesar with Moonwork Theatre, NYC; Valere in The Miser with the OTC, Md; and Nick Arnstein in Funny Girl with Barrington Stage Co, MA., where he also received the Outer Critics Circle Best Actor award for his portrayal of Cliff in Cabaret. Off Broadway: Hysterical Blindness; Fixing Frank; and Enter the Guardsman. Chris is also a veteran of several Broadway National Tours, including Les Miserables as Javert and Enjolras on the 1st and 3rd National; Blood Brothers with Petula Clark and David Cassidy; as Simon Stride in Jekyll and Hyde; and John Jasper in Drood. He has appeared in many regional theatres across the country including La Jolla Playhouse, CA; Theatre Virginia; Theatre North Carolina, Goodspeed Opera House, CT; Hasty Pudding, MA, Northern Theatre, VT and The Shakespeare Theatre, NJ. Chris can also be heard on many voice-overs and animated videos.

AMANDA LEIGH ZEITLER (Ensemble) This is Amanda's second show at Gateway. She was part of the ensemble in the cast of Sugar. She is a recent graduate of Viterbo University in LaCrosse,Wisconsin. It is a pleasure to be back. She would like to thank her friends, Jorge, Mom and Dad.
---
PAUL ALLAN (Producer) Paul has been involved in theatre since before he can remember. In the early days he spent his summers following around his grandfather who had his hands full trying to make ends meet—running a theatre in the 60's. Paul grew up at Gateway, looking forward to each summer and being able to do more each year. By the time he was a teenager he was an integral part of the back stage crew and was the self-appointed handy man as well. In the 80's as a young Gateway producer, Paul spent part of the winter months working in NY on many off-Broadway shows serving as technical supervisor/production manager. At the same time he cofounded a touring company whose shows traveled throughout the US and other countries worldwide. The set rental company was also founded at this time and Gateway scenery is constantly being trucked to various theatres across the country. The main focus, though, is still the productions he produces here for our patrons— and this season begins with his 150th! Paul wishes to dedicate this season to his father whose presence is constantly felt as he continues to inspire and guide him—as he did while he was still here.
DJ SALISBURY (Director/Choreographer) A good ol' Kentucky boy, DJ has directed and choreographed shows from coast to coast. Annie Get Your Gun,Man of La Mancha, several productions of The Will Rogers Follies (including the Dallas Summer Musicals tour starring Larry Gatlin), Singing On A Star, Into The Woods, They're Playing Our Song, Swingtime Canteen, Grease!,The Wizard Of Oz and many other shows for various theatres nationwide including Papermill Playhouse (NJ), Riverside Theatre (FL), Sacramento Music Circus (CA), Artscenter of Coastal Carolina (SC) and Gateway Playhouse. (His new conception of Cats had audiences purring in Patchogue in 2004 and his productions of Evita and 42nd Street blazed into Bellport in 2005). Favorite experiences creating dance include; Nine, Irene,Annie, the premiere of Great Expectations adapted by novelist John Jakes, The Secret Garden,Gypsy,Paint Your Wagon and A Funny Thing Happened/Forum. DJ has had the privilege of working on several original productions and workshops in and around New York; The Will Rogers Follies,Titanic,Time and Again,Femme Fatale,Harold and Maude (starring Estelle Parsons) and The Long Road Home. Also a bookwriter/lyricist DJ's musical adaptation of Kipling's The Man Who Would Be King, written with Neil Berg (composer of off-Broadway's The Prince and the Pauper) was showcased as part of the first New York Musical Theatre Festival. Delighted to return to Gateway for the holidays, DJ wishes to thank you for supporting live theatre!
ROBIN JOY ALLAN (Casting and Artistic Director) has been the Casting Director at Gateway for the last ten years. Previous to moving back home, she was the Associate Casting Director on the feature films; Parenthood, When Harry Met Sally, Lord of the Flies, Side Out and Ghost. She also cast several television series, pilots and MOW's, whilst in Los Angeles for five years. Along with her Artistic and Casting Director duties, she is the force behind Gateway's Acting School Division, where she teaches the advanced classes. Her best friend is her daughter Hayley who teaches her every day. Music, her great passion, was infused into her soul by her parents. She devotes any creativity she is able to conjure up this year, to her father, Stanley Allan, who always listened and heard her voice.
MARCIA MADEIRA (Lighting Designer) is pleased to design her 15th production for Gateway Playhouse. Her favorites are: 42nd Street, On The Town, Swing, Jesus Christ Superstar, Forbidden Broadway, West Side Story, The Will Rogers Follies, and The Wizard of Oz. She received a Tony nomination and won the Drama Desk Award for Nine directed by Tommy Tune with Raul Julia. Other Broadway designs include My One and Only with Tommy Tune and Twiggy; Marilyn, An American Fable with Allison Reed and Scott Bakula; and The Music Man with Dick van Dyke. Off-Broadway designs include: Side by Side by Sondheim at the Dicapo Opera Theatre; Cloud 9 directed by Tommy Tune; Privates On Parade with Jim Dale and Simon Jones directed by Larry Carpenter, choreography by Daniel Pelzig; and The Transposed Heads at Lincoln Center,written and directed by Julie Taymor.
KELLY TIGHE (Set Designer): Gateway credits include: Aida, Cats and Jesus Christ Superstar. Regional: Grease,Titanic,The Who's Tommy and My Fair Lady (Contra Costa Musical Theatre); Annie, Kiss Me Kate and Joseph/Dreamcoat (Ohio's Carousel Dinner Theater); West Side Story and The Scarlet Pimpernel (Diablo Light Opera Company); A Christmas Carol, The Pavilion, and Picasso at the Lapin Agile (Center Repertory Company); The Laramie Project and A Midsummer Night's Dream (PPAS/NYC). Mr. Tighe served as the resident scenic designer for Western Michigan's Cherry County Playhouse (The Music Man starring William Katt and Josie DeGuzman and the world premiere of Will's Women starring Amanda McBroom), as well as Center Rep. Television: Sunday Night Woah! (w/ Mo Rocca) for Animal Planet,as well as several spots for Verizon, Kit Kat, Disney, and Oxygen network. Upcoming projects include: Suds (National Tour), and Almost Heaven-John Denver's America (Off-Broadway). Awards and recognitions: Northern California's "Shellie", Drama-Logue, and The San Francisco Bay Area Critic's Circle awards. Kelly resides in New York City.
GEORGE NIEVES (Assistant Choreographer) is very grateful to be here at Gateway Playhouse and working side by side with DJ Salisbury again. A proud member of Actor's Equity, his credits include regional productions and National Tours of West Side Story, Victor/Victoria, Sophisticated Ladies, Cats (Pounciful), Kiss Me Kate (Gremio), 42nd Street (Andy Lee) and A Chorus Line (Larry).
JOHN SABO (Media and Technical Director) was Media Coordinator for the 2004 & 2005 Elan Awards and is the owner of Sketch-Lite Productions, a scene shop that has specialized in show automation and specialty devices for the stage for the past 23 years. He has authored several software packages including the "Show-Trak" series of show control software offering PC based control solutions for live performance scenic automation, video playback, sound playback, pyrotechnics, outdoor fireworks and flame effects. His recent projects include Honky Tonk Angels, at the Carousel Dinner Theatre (Scenic Automation & Video Projection Systems), Aida at the Gateway Playhouse (Scenic Automation System Design and Programming), The Laramie Project at Kent State University (Multi-Screen Video Projection Systems and Programming), The Full Monty at Gateway Playhouse (lightweight fiberglass set pieces design and fabrication).
CONNIE BAKER SABO (Stage Manager) is thrilled to be working at Gateway Playhouse. She recently was Stage Manager of Footloose, A Chorus Line and Anything Goes at the Carousel Dinner Theatre in Ohio. She also was Stage Manager for the 2005 Elan Awards in NYC honoring Susan Stroman. Other credits include the 2004 Elan Awards, the Off-Broadway show NEWSical, Penguin Rep, Actor's Fund HAIR at the New Amsterdam and Broadway Cares Nothing Like A Dame at the Marquis in NYC. She is married to John Sabo and mother to Kristine Ogena.