Book by
Frank D'Agostino
and Dean Anderson

Music & Lyrics by
Frank D'Agostino

May 16—June 17
in Bellport
A Gateway World-Premiere Ice Skating Musical
Starring Olympic Gold Medalist Oksana Baiul
We're icing up the stage to welcome Perfect Ten Olympic Gold Medalist Oksana Baiul, who will be performing in this exhilarating, new and cutting edge musical! THE THEME: A journey to the Olympics; the heartbreak and exaltation. THE PLOT: Competition—six talented skaters vying for gold, silver and bronze. THE CAST: World Class figure skaters and their counterparts—performers enacting their stories. THE CONTENT: soaring leaps and soaring vocals. THE SETTING: Gateway Playhouse—the first theatre in the United States to produce this world-class, Broadway-bound musical!
"Incredible and breathtaking...non-stop action."
Click here to read the reviews!
Click here to view Production Photos


Download the COLD AS ICE Playbill
---
Cold As Ice in the press
NY Times feature story

click here to read the full story...

feature story

As an actress sings wistfully about finding a "place to call home," skating queen Oksana Baiul glides along an iced-over stage. After a long diagonal swoop crouched almost to one knee, she stops perilously close to the front edge.

Stopping like that is easy, Baiul says during a break in rehearsals last week at Gateway Playhouse in Bellport for "Cold as Ice," a new musical opening tonight that traces the lives and loves of six fictional Olympic contenders.

"This is not ice skating, this is theater," Baiul says in Russian-accented English. "You sort of reach out to an audience, to where they feel they can touch you. These moments are really precious. They're the theater moments that really will make this show.... I always knew that. Now I'm really experiencing it."
---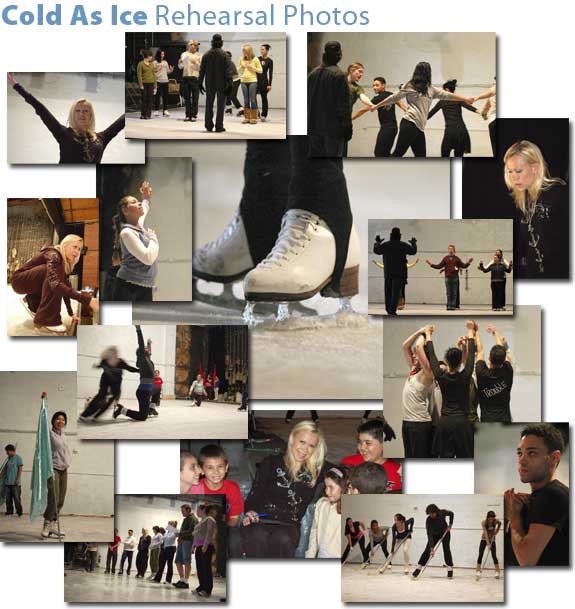 ---
---
Production Info
Gateway Playhouse
presents

COLD AS ICE

Created by Frank D'Agostino

Music & Lyrics by
Frank D'Agostino

Book & Lyrics by
Frank D'Agostino & Dean Anderson

Starring
OKSANA BAIUL

Producer
PAUL ALLAN

Associate Producer
JEFF BELLANTE

General Manager
GALE EDWARDS

Artistic Director
ROBIN JOY ALLAN

Production Manager
BRIAN LOESCH

Company Manager
ERIN KRAUS

Production Coordinator/Skate Casting
TARA MODLIN

Costume Coordinator
MARIANNE DOMINY

Lighting Designer
AARON SPIVEY

Scenic Designer
KELLY TIGHE

Costume Designer
JIMMY JOHANSMEYER

Skate Choreography by
TARA MODLIN

Musical Direction & Orchestrations by
JEFF WAXMAN

Directed and Choreographed by
KEITH ANDREWS
---
Cast of Characters
Figure Skaters

Maya

OKSANA BAIUL

Josh

DERRICK DELMORE

David

PHILIP DEYESSO

Chelsea

ERICA STARKMAN

Lindsay

STEPHANIE ROSENTHAL

Dean

LANCE VIPOND

Kelly

SHANNON LENIHAN

Actors

Maya

STACIE BONO*

Josh

DENNIS KENNEY*

David

BRIAN GLIGOR*

Chelsea

JESSICA MORTELLARO

Lindsay

ELIZABETH DANIELS*

Dean

STEVEN DOUGLAS STEWART

John

JOHN FLYNN*

Jan

ALANNA WILSON

Jan (Weekends)

KT MILLS

Natalia

ROBIN IRWIN*

Veronica

TAMRA HAYDEN*

Gwen

TINA JOHNSON*

Coach Doug

MICHAEL BAKER*

Coach Steven, Jonathan Brown

JULIAN SCHRENZEL

Jack

KEITH FRANCIS

ENSEMBLE

DANIELLE DOMINICI, CINDY GURKA, MIMI ISHIDATE, LISA LAMACCHIA,
CHRISTOPHER LAROSA, MONICA MALCOMSON, JODI LYNNE SYLVESTER

CHILDREN'S ENSEMBLE

SAMANTHA BOYLE, MAYA GINOR, MARIA GOROKHOV, LANIE HALPERN,
ALEXA KAMEN, LAUREL MALLARDI, ASHTON MALLARDI, JULIA PASSARO, JENNA POLITOSKI, ALEXA BLAISE SANDBERG, MARIA LIVIA SCARSELLA,
DEVIN SIMPSON, JORDAN SIMPSON, BRITTNEY SKARULIS,
ALEXANDRIA SOBELMAN, ADELAIDE PONTE USDIN

*member of Actors' Equity Association

MUSICIANS

| | | |
| --- | --- | --- |
| Conductor/Piano | | JEFF WAXMAN |
| Keyboards | | BRENDAN WHITING |
| Trumpet | | JOE BOARDMAN |
| Reeds | | MARK GATZ |
| Bass | | CATHERINE O'MALLEY |
| Percussion | | RICHIE SHAPIRO |
---
Who's Who
OKSANA BAIUL (Maya on Ice) When Oksana Baiul was only three years old, her Grandfather gave her, her first pair of ice skates. By the time she was just seven years old, she would have already won her first of many competitions. The Ukrainian Skating Federation immediately took notice of her natural balletic style on the ice. In 1994, at 16 years old, the whole world watched as Oksana captivated our hearts and won the Olympic Gold Medal, proving that she is the best in the world. Soon after Oksana moved to the United States, turned professional and Barbara Walter's named her "One of the 10 Most Fascinating Personalities of 1994." Born in Dnipropetrovsk, Ukraine, she was the only child of parents who divorced when she was two. Her father faded out of her life, leaving her mother and her grandparents to raise Oksana. When Oksana was 10, her grandparents died. Tragically, three years later, her mother died of ovarian cancer. Soon after, Oksana's coach immigrated to Canada and Oksana was totally alone. Since her victory in Lillehammer, Oksana has kept busy participating in figure skating tours and competitions around the country, including Champions on Ice, Stars on Ice, CBS Sports Ice Wars, CBS Sports Olympic Winterfest, the Goodwill Games, Celebration of Gold and Hallmark Skaters'™ Championship to name a few. Additionally, Oksana's life story was depicted in a CBS TV movie, A Promise Kept: The Oksana Baiul Story and she has published two books, Secrets of Skating/Oksana Baiul (Universe Publishing, 1997) and Oksana; My Own Story (Random House, 1997). Oksana has been profiled in several televised biographies including Lifetime Television's, "Intimate Portrait" (1998) and A&E's "Biography" (2003). Oksana is thrilled to be taking on this new challenge in her life, expanding her skating and her natural ability to perform, to musical theater. She is pleased to be originating the part of Maya in this new "cutting edge" show. While the Olympic Gold Medal seems like the pinnacle of skating, Oksana reaches everyday for new challenges and innovative ways to express her extraordinary gifts.
MICHAEL BAKER (Coach Doug) is pleased to be returning to the Gateway Stage after performing in A Christmas Carol this last holiday season. Michael has performed in several shows at Gateway on and off for the past six years making New York his home after college. Favorite shows at Gateway include: Miss Saigon (Capt. Shultz); Jekyll and Hyde (Newsboy); and Scarlet Pimpernel (Tussaud). When not on the Gateway Stage or teaching at the Gateway Acting School, Michael has been seen touring in shows throughout the country and in New York. He does miss his mother back at home on Bainbridge Island, Washington, and sends his love and thanks to her and his brothers, with special thanks to his Gateway family. He holds a B.F.A. in Acting from CW Post/LIU, and is a member of Actor's Equity Association. Cold As Ice has truly been an experience and he is excited to be a part of this brand new project with such a great cast and crew…and yes, he can now ice skate.
STACIE BONO (Maya) is thrilled to be performing in the first ever ice skating musical. Recently, Stacie originated the role of the villainess Laverna in the first national tour of Barbie Live! In Fairytopia. Film: When a Man Falls in the Forest (Sadie). Regional credits: Bingo the Musical (Honey), Guys and Dolls (Adelaide), Me and My Girl (Sally), Crazy for You (Polly), Spring Awakening (Martha) and Brigadoon (Fiona). Graduate of NYU (Tisch-CAP21). Proud AEA member. For GMA M.
ELIZABETH DANIELS (Lindsay) is very excited to be making her Gateway Playhouse debut! Previous credits include: Cinderella (Cinderella, Inside Broadway); The Sound of Music (Asian Tour); The Music Man (Zaneeta Shinn, La Comedia); The Parrot (Flea Theatre). Elizabeth has a B.F.A. from NYU, CAP 21. Many thanks to Dina and to Robin for giving me a job! Love as always to Mom and Dad for their constant support and to B., E., C., S., and all my friends in NYC! Proud new member of AEA.
DERRICK DELMORE (Josh on Ice) is a world renowned figure skater who has been a member of the U.S. Figure Skating International Team for 14 consecutive years. He has won numerous medals, including the 1998 World Junior title, and has made 17 straight appearances at the U.S. National Championships. Delmore has guest starred in shows throughout the world, and will be performing this fall in the nationally televised Stars, Stripes and Skates. Known for his combination of artistry and athleticism, he is credited as the first Junior to successfully complete a triple axel at the U.S. Championships. He was also trained as a classical pianist in his early years, and earned the Paderewski medal for 10 years of playing at the national level. Delmore received an A.B.in Psychology and Communication from Stanford University in 2000, and currently coaches skaters in the Washington, D.C. area.
PHILIP DEYESSO (David on Ice) is extremely psyched to be making his Gateway Playhouse debut. His regional music theatre credits include: Footloose, Silk Stockings, Phantom, and Forum. He has also sailed the Caribbean for Disney Cruise Line performing in their mainstage musicals. Philip started figure skating after watching Ms. Baiul win her Olympic title. He has obtained three regional medals in freeskating, which qualified him for Sectional and National competitions. Special thanks to his family for their undying support and love, Frank and Tara for granting him with this wonderful opportunity, Tom and Lisa for their guidance, and also all his friends and fans who keep him going with their unending belief.
JOHN FLYNN (John) is delighted to be returning to the Gateway Playhouse, where he last appeared as Gregory Gardner in A Chorus Line. John is the co-creator of the underground hit Showgirls: The Best Movie Ever Made. Ever!. He can often be found performing at the Upright Citizen's Brigade, where he has written and performed in Nights of Our Lives, Project Improviser, and Themepark Superstar. John is a graduate of Hofstra University. www.allthingsflynn.com
KEITH FRANCIS (Jack) is excited to be a part of his first production at the Gateway Playhouse. Over the years, Keith has performed in theaters throughout New York City and the region. Favorite credits include: Crazy for You (Bella Zanglar), Sound of Music (Capt. Von Trapp), As You Like It (Orlando), Moon Over Buffalo (Paul), Taming the Shrew (Pretucio), Midnight Interlude (Lord Derek Kensington) and more. He has trained in New York City at the Lee Strasberg Institute with Elaine Akins, he was a Member of Ensemble Studious NYC, and studied at Corner Loft Studios with Mark Lenard. Television Credits include One Life to Live, Another World, the Hollywood E Channel, and more. He has also performed as a SAG member in several feature films. He sends his appreciation and thanks to the entire cast and crew- with special thanks to his family for their love, support, encouragement and patience.
BRIAN GLIGOR (David) grew up in New Jersey, graduated Syracuse University, and now lives in New York City. Theatre credits include Mark in the National and Japan tours of Rent and Ethan in The Full Monty. TV credits include: "Guiding Light," "One Life to Live," and "All My Children." www.briangligor.com
TAMRA HAYDEN (Veronica) Broadway: Les Miserables (Cosette); Cabaret (Texas - Studio 54). Off Broadway: Jacques Brel…(Zipper). National Tours: Phantom of the Opera (Christine); Les Miserables (Cosette – a role she performed over 1800 times!); Fiddler on the Roof (Hodel – opposite Theodore Bikel). Regional: The Haunting of Winchester (Sarah Winchester – San Jose Rep.); It Ain't Nothin' But The Blues (Arizona, Missouri and Seattle Reps.); Eleanor: An American Love Story (Alice Roosevelt – Ford); Company (Marta – Denver Center); Carousel (Julie Jordan – Casa Manana). Tamra's solo singer/songwriter CD is available on CDBaby: www.tamrahayden.com.
ROBIN IRWIN (Natalia) is delighted to be returning to Gateway after appearing last season as Ms. Pennywise in Urinetown. Broadway/National Tours include; The Tony Award-winning Titanic, Grease!, and even the ill-fated Dance of the Vampires, all original casts. Regional/Off-Broadway credits include a number of sassy, scheming maids, and well-meaning prostitutes. Favorites: Aldonza in Man of La Mancha, and Sarraghina in NINE with D.J. Salisbury, Petra in A Little Night Music, and Dorine in Tartuffe. TV/Radio – "Sex in the City", "Jack and Mike", "Law & Order", and voice-overs for everything from baby products to chain saws. Robin was invited to be a part of the Broadway All-Star Chorus celebrating Stephen Sondheim's 75th Birthday. She has also toured and sung with symphony orchestras around the world. Robin is a graduate of Northwestern University and teaches and coaches dynamic theater workshops throughout the country, and begins pursuits of a Masters Degree in Directing this summer. Love to Erick and my friends and family.
MIMI ISHIDATE (Ensemble Skater) is very happy to be a part of this brand new dream production. She is originally from Tokyo, Japan. She has worked in various projects in the past as a skater, dancer, and actress. Her theatrical credits include: The King and I and Miss Saigon. She also performed with Disney on Ice, Prince Ice World, and Ice Theater of New York. Her love of the performing arts extends to circus, cruise lines, and music video. She is featured in Madonna's, "Nothing Really Matters." Thank you to my family and friends for their love and support.
TINA JOHNSON (Gwen) is thrilled to be returning to Gateway this year after appearing as Miss Flannery in last year's Thoroughly Modern Millie. She has appeared on Broadway in State Fair, Damn Yankees, She Loves Me, South Pacific, Festival, and as Angel in The Best Little Whorehouse in Texas! Off Broadway credits include: Christina Alberta's Father at the Vineyard, Blue Plate Special at MTC, Just So, Personals, Angry Housewives, The Audience and most recently Anne of Green Gables. National Tours: Maggie in 42nd Street, Lulu in Footloose, and Mrs. Claus in The Radio City Christmas Spectacular. T.V.: "Law and Order: SVU," "Murphy Brown," "Empty Nest," "Newhart," and Lurlene in NBC's Soap "Texas." Film: Saving Face, Fireflies. Proud member of A.E.A. for 40 years. Yes, I was a child actor! Love to Mark and Alice.
DENNIS KENNEY (Josh) is honored to be sharing the stage with such talented performers. Credits include the production of Mame at the Kennedy Center starring Christine Baranski and Harriet Harris; the role of Eddie in the Las Vegas Company of Mamma Mia!; the first national tour of 42nd Street (U/S Andy Lee); The Pajama Game at Baltimore Center Stage (Charley); Bernardo in West Side Story (Gateway Playhouse). He holds a B.F.A. in Drama from Carnegie Mellon University. He would like to dedicate this show to Robin Joy Allan. Thank you for always believing in me!
LISA LAMACCHIA (Skating Mother/Ensemble) is thrilled to be making her first appearance at Gateway Playhouse. Credits include: Crazy for You (Irene); Pippin (Catherine); Grease (Marty) and Debbie Does Dallas The Musical (Debbie). To my Mom, the beautiful and talented Linda Lemac. I'm all that I am because of you. Rest in Peace.
SHANNON LENIHAN (Kelly on Ice) recently graduated with Honors from Queen's College earning a Bachelor's degree in Theater and Dance. She is currently the Head Coach of Parkwood Skate School in Great Neck and a Choreographer for the Stars, Stripes, and Skates 2007 show. She is a former Cheerleader/Icegirl for the NY Islander's and a former North Atlantic Regional Competitor. This is Shannon's favorite role she has ever played as it combines her theatrical passion and figure skating ability. She would like to thank her family, Mark, Tara Modlin, Mori and the Parkwood team for all their love and support. A special thanks to Marie Lester, as it was Marie who instilled in Shannon the love of skating.
KT MILLS (Jan) After hosting Gateway shows for 13 years, this is the second production that KT has had the pleasure of being a part of. Thank you Ruth, Robin, and Paul for the opportunity! And thanks to everyone for their support, especially, Jo, Nick, Karen, and Neil. In her other life, KT hosts Afternoon- Drive on WALK Radio. Favorite parts include leading roles in Christopher Fry's The Lady's Not For Burning and Shakespeare's Romeo and Juliet. Musical Theater credits include: The Boys From Syracuse and Side by Side by Sondheim. KT will always be grateful for her unusual theatrical upbringing – her parents, themselves, are Broadway veterans.
JESSICA MORTELLARO (Chelsea) is thrilled to be returning to the Gateway stage. She has been a part of the Gateway family for 15 years starting with her role as the Balloon Girl in Gypsy at age 8. Since then, she has been seen at Gateway in The Sound of Music (Brigitta); Big (Ensemble); Titanic (Stewardess Hutchingson); Gypsy (Hollywood Blonde); as well as numerous Children's Theater and Acting School productions. Other credits include: The Real Thing (Debbie) at Syrcause Stage, The Teaspoon One Act Festival at The Producer's Club, and The Bruins, an independent film, which will premiere on Long Island in October. Much thanks to Robin, Paul, and everyone at Gateway for more and more wonderful memories at this theater; and all my love to my Mom, Dad, and brother Michael.
STEPHANIE ROSENTHAL (Lindsay on Ice) has been figure skating for over fifteen years. She is a four-time US National competitor. At the 2006 National Championship, where she placed 8th, she received the Professional Skaters Association "Most Outstanding Performance" award. She is known for her innovative style and unique choreography, especially her ability to bring hip hop dance onto the ice. Steph has been skating in shows from the time she was ten years old. She was a Child of Light in the Olympic Opening and Closing Ceremonies. She has had the honor of being a soloist and guest star in several shows in her hometown of Salt Lake City, Utah as well as, the Sun Valley Ice Show, Champions on Ice, and the Jimmy Fund Show. She has been dancing since she was four years old and has been a choreographer and dancer in several different companies. She currently attends Yale University, where she most recently choreographed, Little Shop of Horrors, the musical. She is also a performing and choreographing member of both Yaledancers and Rhythmic Blue hip hop dance company at Yale. She is absolutely honored to be a part of this production. This has been an incredible and exciting experience. She would like to thank the rest of the cast, her friends, her parents Lisa and Harry Rosenthal, and her sister Mallory for their love and support.
JULIAN SCHRENZEL (Coach Steven, Jonathan Brown) is very happy to be making his Gateway Playhouse debut in Cold As Ice. Originally, from Seattle, WA, Julian has lived in New York City for the past three years. Musical stage roles include: Sky Masterson in Guys and Dolls, Max in Lead Me a Tenor, Riff in West Side Story, Jesus in The Passion, and Perchik in Fiddler on the Roof. T.V and film credits: "Law and Order" and industrial films for I.B.M. and New Balance. Feel free to check him out at www.schrenzel.net. Julian dedicates these performances to his beautiful and supportive fiancé Jenny.
ERICA STARKMAN (Chelsea) is originally from Miami, Florida and now lives in Princeton, New Jersey. She is a member of the Skating Club of New York and has been trained by Andrei Pachin, Debbie Starkman, Robin Wagner, Bonni Retzkin, Peter Burrows, Ron Ludington, and Jeff DiGregorio. Erica is a USFSA Double Gold Medalist in Moves in the Field and Freestyle, North Atlantic Regional Senior Competitor and International Competitor. She has also been a New York Islanders Pepsi Girl Cheerleader at Nassau Coliseum and has performed at Madison Square Garden, Rockefeller Center and Wollman Rink.
STEVEN DOUGLAS STEWART (Dean) is thrilled to be making his debut performance with Gateway Playhouse in Cold As Ice. Hailing from a small town in Texas, Steven has now become a proud New Yorker. His other regional credits include: A Chorus Line (Mike); Disney's Beauty and the Beast (Lumiere); Cats (Skimbleshanks); Forever Plaid (Sparky); You're a Good Man Charlie Brown (Snoopy); and Elton John and Tim Rice's Aida. Steven holds a B.A. in Musical Theatre from West Texas A&M University. He would like to thank God, as well as, his family and friends, without whom he would be nothing.
JODI LYNNE SYLVESTER (Skating Mother/ Reporter/Ensemble) is elated to once again be part of the Gateway Family where she was last seen in A Christmas Carol this past December. She holds a voice degree from the Opera Institute at Boston University. Dedicated to show business for 15 years, Jodi has traveled the world in operas, musicals, plays, film, TV, radio and as a spokesmodel. Off- Broadway: Antigone (Chorus Leader), Swamp Fever (World Premiere), No Greater Love (Virgin Mary) Regional Favorites: Hello Dolly! (Dolly), Phantom (Christine), Best Little Whorehouse in Texas (Miss Mona), Jekyll and Hyde (Emma), Carousel (Julie), South Pacific (Nellie), Little Women (Aunt March), Beauty and the Beast (Mrs.Potts)...to name a few. Tours: Kiss Me Kate (Kate), Music Man (Marian), A Christmas Carol (Christmas Past), Titanic: The Musical (Alice Beane), Man of La Mancha starring Sheena Easton and Walter Charles. TV: HBO'S "Sex and the City." Many thanks to the Lord, family and friends for their gifts of love and support. What an honor to be a part of this exciting World Premiere!!!!
LANCE VIPOND (Dean on Ice) is excited to be making his debut with the Gateway Playhouse. Stage credits include: Gypsy, The Life, Me and My Girl, and Oklahoma!. As a figure skater, Lance was a Canadian National team member and a World Junior Competitor. Thanks to Frank and the entire Gateway team for this once in a lifetime opportunity.
ALANNA WILSON (Jan) is thrilled to be performing with Gateway for the first time! In NYC, she was last seen in Christmas Interruptus (The Producer's Club) and Wishing Time and The Mask of the Dancing Princess with Vital Theatre Company. Regional credits include: Into the Woods (Little Red); Hair (Crissy); Once Upon a Mattress (Winnifred); and Annie (Lily St. Regis). Alanna can also be seen in the upcoming feature film, My Sassy Girl. Special thanks to Robin and everyone at Gateway, as well as my family and friends for their love and support.
PAUL ALLAN (Producer) has been involved in theatre since before he can remember. In the early days of Gateway, he spent his summers following around his grandfather who had his hands full trying to make ends meet - running a theatre in the 60's. Paul grew up here, looking forward to each summer and being able to do more each year. By the time he was a teenager he was beginning to take charge of maintaining this 7 acre complex as well as becoming an integral part of the back stage crew. In the 80's as a young Gateway producer, Paul spent part of the winter months working in NY on many off- Broadway shows - serving as technical supervisor, production manager, and/or show carpenter. At the same time he co-founded a touring company whose shows traveled throughout the US and other countries worldwide. The set rental company was also founded at this time and Gateway scenery is constantly being trucked to various theatres across the country. The main focus, though, is still the productions he produces here for our patrons. This season begins with his 159th production.
KEITH ANDREWS (Director/Choreographer): is especially excieted to be back at Gateway after directing last years production of Urinetown and 2005's The Full Monty. He started at Gateway by perfoming in The Music Man and Big: The Musical as well as being assistant choreographer for the latter. Previously Keith has directed the National Tours of The Full Monty and Hello Muddah, Hello Faddah. Recent credits include: Pirates of Penzance and My Way, the Sinatra Tribute at St. Michael's Playhouse, Dirty Blonde at the Barnstormers Theater, Sweet Charity, Godspell, Pump Boys and Dinettes, Forever Plaid, and many more. Keith choreographed the off-Broadway revival of Hello Muddah..., as well as productions of Joseph..., Little Me, and Promises, Promises, to name a few. As a performer, Keith has toured around the world with shows such as: West Side Story, Seven Brides for Seven Brothers, Mame, and The Radio City Christmas Spectacular. In educational theater, he associate directs and choreographs the student showcases at the American Musical and Dramatic Academy in NYC and has directed in the musical theater program at the USDAN Center for the Creative and Performing Arts here on Long Island. Thanks so much to Frank for his vision, patience and faith and to Robin and Paul for everything and then some.
JEFF WAXMAN (Musical Director) has worked in New York as a musical director, arranger, composer, musician and producer for over 25 years. He owns Dancing Bull Music and Waxtrax Recording where he produces and composes music for television and film (commercials, television themes, documentaries, etc.) and for pop, rock, folk and country artists. Most recently Jeff was the orchestrator, vocal arranger and musical director for the new musical, "Almost Heaven, Songs and Stories of John Denver", which made its world premiere recently at the Tony Award-winning Denver Center Theatre Company. He received a Drama Desk nomination for his orchestrations for the hit Off-Broadway Musical, Woody Guthrie's American Song. Jeff produced the Grammy nominated cast album of the Broadway Musical, Doonesbury, which he also arranged, conducted and musical directed. Other Broadway work includes: Gorey Stories, The Cherry Orchard at Lincoln Center and Into The Light. Jeff has also created original music for several Emmy Award winning video projects. Artists Jeff has produced appear on BMG, Sony, Casablanca/ Polygram, MCA, Epic and various independent labels. Jeff has written, arranged and produced music for commercial children's educational products, including product for Sesame Street, Berlitz, Scholastic and many other publishers.
FRANK A. D'AGOSTINO (Creator of "Cold As Ice"/ Playwright, Composer / Lyricist). Frank holds a Bachelor of Science in Marketing with a minor in Theatre from Siena College in Loudonville, New York and has written and produced many full length plays, musicals and cabaret shows throughout the United States. His nationally released album "Moments" was nominated for album of the year by the Manhattan Association of Cabaret's (M.A.C). He is a member of ASCAP and the Dramatist Guild. His list of musicals include: Vivianna, which is a modern day version of La Traviata, (2002 Perry Award nomination for outstanding production of a new musical), the Grand Theatre at the Producer's Club Theatres on West 44th Street. My Heinous Life finished a successful run at the William S. Buck Memorial Theatre in New Hope PA and The Eatontown Playhouse and Dramatist Guild, New York (2003 Perry Award nomination for outstanding original production of a new musical). His musical, Cravings, played at the Phillips Mill Playhouse in Pennsylvania and at the Kraine Theatre in New York City. Frank has also received stellar reviews for the musical revue entitled, If The Boy Is Prettier Than You, which played at Danny's Skylight Room, Judy's in New York City and Odett's in New Hope PA. Frank is an accomplished figure skater and coach. He is a United States Figure Skating Association Gold Medalist and has skated to his own musical compositions at the United States Open in (1993) and (1994). Frank is a member of the Dramatist Guild, Inc., where he has appeared as a panelist and moderator several times discussing Playwriting and Producing. Cold As Ice is his latest musical and he is thrilled that tonight his worlds of figure skating and theatre will meld together for this first time performance. Thanks to Paul Allan and Robin Allan of the Gateway Playhouse, for taking on this new project. Also Tara Modlin, of Fireworks ICS for publicity / promotion. Jeff Waxman and Keith Andrews for their care and diligence. The cast and crew at Gateway for bringing the script to life. Special thanks to Angelo Del Rossi for his invaluable assistance and guidance.
TARA EVE MODLIN (Associate Producer, On-ice Choreography, Skater Casting, Marketing) is a former national competitive figure skater and current coach, originally from Great Neck, Long Island. Since she graduated from the University of Pennsylvania in 2000, she has become Founder and President of Fireworks ICS, a New York-based sports and entertainment marketing firm. Events that Tara has produced and marketed include "Stars, Stripes, and Skates ICEtravaganza" which has raised funds for The Heritage Foundation of 9/11. The foundation educates young Americans about the events of 9/11 and the heroic efforts that were shown by people around the world. The past five annual skating spectaculars were presented with a who's who in the world of figure skating including Oksana Baiul, Nancy Kerrigan, Sasha Cohen, Johnny Weir, and many other well known entertainers. These events were presented at Madison Square Garden and Nassau Coliseum and have been televised nationally on NBC, Comcast's CN8, SportsNet New York, WABC, and other networks. Fireworks has also produced the Reckson Plaza Christmas Spectacular televised on CW11 and other major sporting events. Fireworks has also provided corporate hospitality and athlete representation at two Olympic Games. Tara is also Oksana Baiul's Personal Manager. Tara is thrilled to be part of the original production of "Cold As Ice" here at the Gateway Playhouse which she feels will take the world of ice skating to a new level. On behalf of Skating Professionals around the world Tara would like to personally thank Frank D'Agostino (her "Will") for giving these skaters and actors an opportunity to create this new art form.
DEAN ANDERSON (Playwright) holds a Master of Arts in Theater and Communication from Idaho State University. He taught theater and speech for over twenty years at Tusculum College, ISU, and the University of Florida. He is a former Board Member of the Monmouth County Arts Council. He is on the Board of Directors of Monmouth Players in Red Bank, New Jersey. He has co-authored My Heinous Life with Frank D'Agostino and continues to act, direct, and write. Dean and Frank have worked together since 1994.
ROBIN JOY ALLAN (Casting and Artistic Director) has been the Casting Director at Gateway for the last twelve years. Four years ago, she became the Artistic Director at Gateway which includes not only several Manhattan excursions to cast all productions, but involves planning advertising strategies for all productions, hiring creative staff, designing season ads, posters and booklets, overseeing artistic aspects of each production, costumes, sets and wigs, overseeing Children's Theatre, beautifying the Gateway property from choosing paint colors for actor housing, to adding new perennial floral additions to the Gateway landscape. Prior to moving back home into the wonderland setting of her childhood, she did thrive in Corporate America, spending five years in Los Angeles, casting several TV pilots, MOW's and feature films. You'll find her name on the feature films; Parenthood, When Harry Met Sally, Lord of the Flies, Side Out and Ghost. Along with her Artistic and Casting Director duties, she is the force behind Gateway's Acting School Division, where she teaches the advanced classes. This is her most impassioned work. Her daughter Hayley, inspires her every day. She hopes her effort is good enough to honor her family, and their amazing effort all these years to bring theatre with integrity to Long Island.
AARON SPIVEY (Lighting Designer) Off-Broadway: From My Hometown, 4 Guys Named José, Golf: The Musical and Elle with Alan Cumming. On Broadway: Aaron has served as the Associate or Assistant designer on several productions including all three parts of The Coast of Utopia, Tarzan, Little Women, Glengary Glen Ross, and The Pirate Queen. Currently, Mr. Spivey is the associate designer for the new Broadway production of Grease. Other New York credits include, From My Hometown, and Starmites2001 (Amas Musical Theater), King Lear (Aulis Collective),Waiting for Godot (The Actors Insititue), The Naked Earth and The Life and Times of Ng-Chung Yin (Yangtze Rep) and associate designer for Chess: In Concert at the New Amsterdam. Regional credits include 4 Guys Named José (Actors Playhouse), Mame (The Helen Hayes Performing Arts Center), Little Shop of Horrors and Beautiful Dreamer (Cherry County Playhouse), The King and I and Joseph (Carousel Dinner Theater), Big River and Annie Get Your Gun (Seacoast Repertory Theater.)
KELLY TIGHE (Scenic Designer) Off Broadway: The Fantasticks, Almost Heaven. Regional: Aida, Cats, The Full Monty, and Jesus Christ Superstar (Gateway Playhouse); Beauty and the Beast, Grease, Titanic, The Who's Tommy, My Fair Lady (Contra Costa Musical Theatre); Annie, Kiss Me Kate, Joseph/Dreamcoat (Ohio's Carousel Dinner Theater); West Side Story, The Scarlet Pimpernel (Diablo Light Opera Co.); Around The World In 80 Days, The Pavilion, Picasso at the Lapin Agile (Center Repertory Co.); The Laramie Project, A Midsummer Nights Dream (PPAS/ NYC). Mr. Tighe served as the resident Scenic designer for Western Michigan's Cherry County Playhouse (The Music Man starring William Katt and Josie DeGuzman, and the world premiere of Will's Women starring Amanda McBroom), as well as Center Rep in the San Francisco Bay Area. Television: "Sunday Night Woah!" (starring Mo Rocca) for Animal Planet as well as several spots for Verizon, Kit Kat, Disney, and the Oxygen network. Awards and recognitions: Northern California's "Shellie", Drama-Logue, and the S.F. Bay Area's Outer Critic's Circle. Kelly resides in New York City.
JIMMY JOHANSMEYER (Costume Designer) is happy to mark his Gateway Playhouse debut with Cold As Ice. He recently made his New York debut with Phil Hail's Matthew Passion. Other recent credits include: Brighton Beach Memoirs and Murder on the Nile at The Emelin Theatre in Mamaroneck and the world premiere of two new musicals, Cinderella Skeleton and Oliver Twist at the Downtown Cabaret Theatre in Bridgeport, CT. His work has also been seen at Cortland Repertory Theatre (NY), The Theatre Barn (NY), Gorilla Theatre (FL), Theatreworks New Milford (CT), Stamford Center for the Arts (CT), Arundel Barn Playhouse (ME), and on the mainstage of the Downtown Cabaret Theatre, where he continues his work as Wardrobe Supervisor and Resident Designer for the Children's Company. Special thanks to Bert for always being there with a smile.