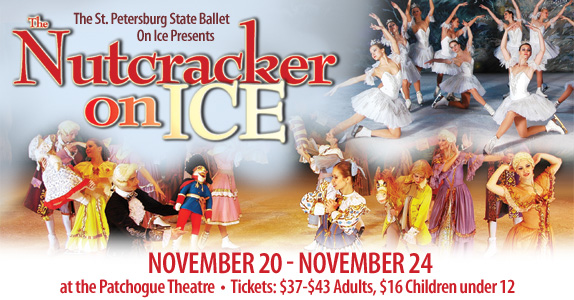 "St. Petersburg State Ice Ballet is a work of art… even before its
world-class figure skaters begin to weave their aesthetic magic." –Newsday
2007 marks the 40th Anniversary of one of the jewels of Russia, THE ST. PETERSBURG STATE BALLET
ON ICE which has toured worldwide throughout Europe, Asia, the Middle East, South Africa, South America, Canada and the USA, performing at the Kennedy Center in Washington D.C., amongst other celebrated venues. In this remarkable presentation you'll hear the great score by Tchaikovsky
performed in a most unique way, as the company's world-class figure skaters effortlessly leap and glide on the ice backed by magnificent sets and adorned with exquisite costumes – all together creating a sophisticated and magical interpretation of this great Holiday classic.

November 20 - November 24

Dates

Times

Prices

Tuesday, November 20th

8pm

Adult - $39, Children under 12- $16
Wednesday, November 21st

8pm

Adult - $39, Children under 12 - $16
Thursday, November 22nd

11am

Adult - $30, Children under 12 - $16
Friday, November 23rd

2pm

Adult - $37, Children under 12 - $16
Friday, November 23rd

8pm

Adult - $43, Children under 12 - $16
Saturday, November 24th

4pm

Adult - $43, Children under 12 - $16
Saturday, November 24th

8:30pm

Adult - $43, Children under 12 - $16
"In 1892 Marius Petipa and Lev Ivanov premiered the original Nutcracker in St. Petersburg. As we embrace the twenty first century, our fascination with faster cars, faster computers, and faster communication finds an apt metaphor in this version of the Nutcracker--one that literally whirls by.This production, choreographed by Konstantin Rassadin, premiered in 1996. Like the traditional ballet version, it tells the story of the young girl Clara, who receives a Nutcracker doll from Herr Drosselmeier, that miraculously becomes human, battles mice, and transports her to The Kingdom of the Sweets."

Kate Mattingly, Dance Magazine

THE ST PETERSBURG STATE BALLET ON ICE is one of the jewels of Russia. The company has toured worldwide since 1967. They have been presented throughout Europe, Asia, the Middle East, South Africa, South America, Canada and the company has toured the United States 10 times playing venues from the celebrated Kennedy Center in Washington, DC to colleges, universities and Performing Arts Centers from Coast to Coast.The company travels with 34 worldclass figure skaters in productions including NUTCRACKER, SLEEPING BEAUTY, SWAN LAKE, CINDERELLA and ROMEO AND JULIET... ALL ON ICE in thetradition of the renowned Kirov Ballet.

>
Video Preview of Nutcracker On Ice
Production Info
Gateway Playhouse
presents

Nutcracker on Ice

performed by
THE ST. PETERSBURG STATE ICE BALLET COMPANY

Music by
PETER ILLICH TCHAIKOVSKY

Choreography by
KONSTANTIN RASSADIN

Technical Director
MIKHAIL SHAVDATUASHVILI

General Manager
MIKHAIL KAMINOV

Company Manager
OLGA ROSHA

Set by
ELENA MARKOVA

Senior Wardrobe Master
TATIAN ZAIKINA

Senior Makeup Artist
IRINA NIKOLAEVA

Lighting Designer
OLEG STEPANOV

Cast of Characters
| | | |
| --- | --- | --- |
| Clara | | ELANA KHAILOVA, YULIA AGEEVA |
| Nutcracker | | VIACHESLAV VODOPYANOV, DANIL VEDERNIKOV |
| Clara as Princess | | YULIA AGEEVA, ELANA KHAILOVA |
| Prince | | OLEG YAGUBKOV, ROMAN ZARUTSKIY |
| Drosselmeier | | SERGEY GOLODNEV, ALEXANDER KUZNETSOV |
| Doll | | MARINA MASLOVA, VLADISLAVA BLAGONRAVOVA |
| Harlequin | | DANIL VADIRNIKOV, ROMAN ZARUTSKY, ALEXANDER KUZNETSOV |
| Blackmoor | | DANIL VADIRNIKOV, SERGEY GOLODNEV |
| Mrs. Shtalbaum | | NATALIA VIAZEMTSEVA |
| Mr. Shtalbaum | | VALERY GILNICH |
| Mouse King | | OLEG YAGUBKOV, OLEG RYABOV |
| Lead Snowflakes | | YULIA AGEEVA, KHAILOVA ELENA, ALINA KULIKOVA |
| Spanish Dance | | VLADISLAVA BLAGONRAVOVA, ALINA KULIKOVA, ALEXANDER KUZNETSOV, ALEXANDER ZAVATSKOV |
| Oriental Dance | | OLEG RIABOV, ELENA KHAILOVA, EKATERINA MIKLINA, OLEG YAGUBKOV, YULIA AGEEVA, ROMAN ZARUTSKY |
| Chinese Dance | | MARINA LEKHMUS |
| Trepak | | EKATERINA GALYAS, ROMAN ZARUTSKY, MARINA MASLOVA, DANIL VADIRNIKOV |
| Pas de Trois | | EKATERINA GALYAS, VLADISLAVA BLAGONRAVOVA, ALEXANDRA IGOLKINA, ALINA KULIKOVA, TATIANA SHCHELOKOVA, VIACHESLAV VODOPYANOV |