Book by
Aaron Latham
and Phillip Oesterman

Music by Various Artists

Sept 12—Sept 29
in Bellport
"It don't get better than this."
Urban Cowboy is based on the hit Paramount film of the same name, which starred John Travolta and Debra Winger. It's the story of Bud, a new breed of cowboy who's turnin' heads and lookin' for love in the biggest honkeytonk in the world. But can he raise the roof, get the girl and ride the bull, all before last call? This completely revised musical is filled with hits by Clint Black, the Charlie Daniels Band, Dixie Chicks, Travis Tritt, Shania Twain, Willie Nelson, Waylon Jennings, and Anne Murray. We predict you'll be hootin' and a hollerin' and perhaps croonin' your own country tune on the ride home, whether by bull or just your average mustang. It's a line dancin', fine-romancin', heart-breakin', boot-scootin', raw-hidin', bull-ridin', good time.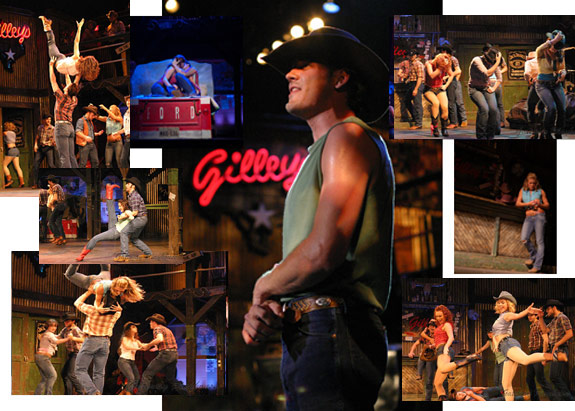 The Ballad Of Urban Cowboy
It was 3 AM one night in 1978 when writer Aaron Latham was awakened by a call from Clay Felker, his editor at Esquire Magazine. Felker was in Houston for a publishing symposium, and instead of an honorarium, he had asked for a tour of the city by night, and the editors of Texas Monthly had been happy to oblige. They took him to Harbor Lights Bar, a sailor's bar, and Gilley's, the famous, three-acre honkytonk. Felker insisted Latham, a native of Spur, Texas, come down and write a story about Gilley's. "I always had an idea for a kind of story I wanted to write," Latham said, "a true love story, a short story, in the New Journalism style of the time which applied fiction techniques to nonfiction, using quotes, dramatic themes, and structure. So I went to Texas, and I wanted to find a couple who met in the club and I wanted him to have worked in the refinery."
Latham got to be good friends with the man who ran the mechanical bull (an escaped criminal, as it later turned out), and met couple after couple all night long, but none of them were right. "I was coming to the conclusion that nobody in Texas worked in the oil business when this girl came in and rode the bull standing up. She had met her former husband at Gilley's and they had their wedding there. Their marriage broke up when she rode the bull better than he did, and she began dating the guy running the bull," said Latham.
When the story, called "The Ballad Of The Urban Cowboy: America's Search For True Grit" came out in Esquire's September issue, Hollywood came calling for the rights, which eventually went to Paramount Pictures, and work began in December. Latham asked for first crack at writing the screenplay, although he'd never written one. Before he had a chance to type a word, director James Bridges (The China Syndrome) was hired and actors were being tested. Latham wrote the screenplay, and showed it to Bridges who told him a few things that were wrong, "for example screenplays were usually not written in the past tense," said Latham. Paramount set the pair of them up with an office on the lot, where they could polish the screenplay. Between writing and rewriting scenes and running into Hollywood's glamour set, they finally got the script to the shooting stage (for a hilarious account of the making of the film, visit Latham's website, www.aaronlatham.com and click on Urban Cowboy Diaries). The movie was an enormous hit, fostering an entire popular culture phenomenon of businessmen wearing cowboy hats and boots, with a mechanical bull in every bar.
Fast-forward seventeen years, the film is pretty much just a memory, when Latham received a letter out of the blue from longtime Tommy Tune associate director Phil Oesterman, asking if he'd ever thought of making it a musical. Latham had never heard of Oesterman, but "he convinced me to meet him, and we started writing the musical together. He taught me some things, like when you write for the stage you need to give your actors time to change clothes," Latham said. A reading was held at Latham's home, attended by Mike Nicolls who liked the show and helped to launch it. The show went through several readings and workshops, and the world premiere was planned for November 2002 at Miami's Coconut Grove Playhouse with Oesterman directing when, at the end of July, he died suddenly of heart failure. Although everyone connected with the musical was shocked and grieved, producers Chase Mischkin and Leonard Soloway decided to continue with the project that had been Oesterman's passion. The world premiere went ahead as planned, and the leap was made to Broadway where it met with a rocky reception. The show opened the week that war was declared in Iraq, and smack in the middle of a musicians' strike. Attendance had been sparse at the 26 preview performances, and critics were harsh with the result that the show closed after only four official performances. The producers had a change of heart and decided to give the show more of a chance, but it closed again for good after another 56 performances. "We might have tried too hard," Latham said, "but I still have considerable affection for it."
After the show closed, Latham figured he'd seen the last of Urban Cowboy, when he got an email from Windwood Theatricals producer Paul Bartz, who Latham had also never heard of, about mounting a national tour. "It was great to have the show live again," said Latham, "and a national tour is an amazing experience, all those buses, it's a production in itself." It was for the national tour that Latham decided to write the story to be more like the movie again. "You don't realize when you are making changes on top of changes, just what you started with. So I got a copy of the movie script, and we had a great time with that."
At the urging of Bob Durkin, a longtime Gateway director who knew Oesterman and was involved with the original workshop production, producer Paul Allan wrote Latham months before the national tour, asking about doing the show as part of its summer season. "They wanted a number of changes, which I liked," said Latham, "A show's only interesting to work on as long as I can change things." One of the first changes was a new opening song, courtesy of Artistic Director Robin Allan. "I chose it because I thought it gave the two leads a shared impact for the top of the show, instead of giving them two extraneous solos, which in the most recent version, told their stories. I felt those had already been told within the play dialogue and in the portrayal of their characters," she explained. Durkin came on board as director, and he, Ms. Allan and Latham have been collaborating, the result of which has kept Latham writing long into the night. "I see the hero as coming from this little farm to the big city, a big machine, and he is a tiny cog in this machine. Then he finds this place where he can be a cowboy again, and ride a bull, except it's not a real bull…it's a machine. The bull is a metaphor for the refinery, and for the city, so I always thought of this story as a triangle – a boy, a girl, and a bull," explained Latham. Robin Allan said that, "we feel Aaron's initial story worked so well as a film, we wanted to have more of a play-with-music in order to let the dialogue and characters stand on their own, with the country tunes coming as a natural progression of their journeys, as a core connection to the drama and to give the setting its musical environment."
Latham continues to write magazine articles and his latest novel Riding With John Wayne was published in May, but he has been bitten by the theatre bug fairly hard – he's hard at work on a musical about people taking over a building in 1969, and his show Pogo And Evie: A Zydeco Musical premiered last month at NYC's Fringe Festival.

Production Info
Gateway Playhouse
presents

Urban Cowboy - The Musical

By Aaron Latham and Phillip Oesterman

Adapted by AARON LATHAM and PAUL BARTZ



Music by Various Artists

Based on the Paramount Picture

with
DANIEL DAMON JOYCE* NOEL MOLINELLI* JOHN HALBACH*
KATHLEEN MONTELEONE* STEVE LUKER*
TINA JOHNSON* STANLEY SCHORR*

Producer
PAUL ALLAN

Associate Producer
JEFF BELLANTE

General Manager
GALE EDWARDS

Artistic Director
ROBIN JOY ALLAN

Production Manager
BRIAN LOESCH

Company Manager
ERIN KRAUS

Costume Design
JOSE M. RIVERA

Wardrobe Supervisor
MARIANNE DOMNIY

Lighting Design
CHRIS LANDY

Scenic Design
MICHAEL H. WARD

Sound Design
CODY SPENCER

Production Stage Manager
DOM RUGGIERO*

Musical Direction
ANDREW AUSTIN

Choreographer
PAULA HAMMONS SLOAN

Urban Cowboy – The Musical" is presented through special arrangement with
Urban Cowboy 2, LLC, 16 Penn Plaza, Suite 512, New York, NY 10001
Cast of Characters (in order of appearance)
Bud

DANIEL DAMON JOYCE*

Sissy

NOEL MOLINELLI*

Wes

JOHN HALBACH*

Pam

KATHLEEN MONTELEONE*

Uncle Bob

STEVE LUKER*

Aunt Corenes

TINA JOHNSON*

Sherwood

STANLEY SCHORR*

Marshall

SIMON TRUMBLE

Steve

CLIFTON SAMUELS

Bubbles

DAYLA PERKINS

Bobbie Jo.

DAYLA PERKINS

Bubba

BO BROADWELL

Sexy Cowgirl #1

LINDSEY CLAYTON

Sexy Cowgirl #2

PAIGE WHEAT

Gator

ERIK FLOOR

Cowboys

BO BROADWELL, ERIK FLOOR, BRETT KEMP,
ERIC S. ROBERTSON*, NICKY ROMANIELLO
CLIFTON SAMUELS, SIMON TRUMBLE

Cowgirls

LINDSEY CLAYTON, NICOLE DIMATTEI, JESSICA GREELEY*,
LAURA HALL, JODI KUHLMANN, DAYLA PERKINS, PAIGE WHEAT*

ENSEMBLE

BO BROADWELL, LINDSEY CLAYTON, NICOLE DIMATTEI, ERIK FLOOR, JESSICA GREELEY*, LAURA HALL, BRETT KEMP, JODI KUHLMANN, DAYLA PERKINS, ERIC S. ROBERTSON*, NICKY ROMANIELLO, CLIFTON SAMUELS, SIMON TRUMBLE, PAIGE WHEAT*

*member of Actors' Equity Association

MUSICIANS

| | | |
| --- | --- | --- |
| Conductor/Piano | | ANDREW AUSTIN |
| Drums | | BRIAN ROLSTON |
| Bass | | JOHN MCFAUL |
| Guitar | | JOE LOSCHIAVO |
| Pedal Steel | | GERALD MENKE |
| Fiddle | | MATT SZEMELA |
---
Who's Who
BO BROADWELL (Bubba/Ensemble)is thrilled to be making his Gateway debut! Bo grew up in Columbia, SC, and now resides in NYC. He has performed in the National Tours of CATS (Alonzo), Crazy For You (Harry), Thoroughly Modern Millie (Ira) and Joseph/Dreamcoat (Asher). Other credits include various regional work and serving as Dance Captain for Royal Caribbean Cruise Line and Dollywood. Some of his favorite performance credits include: Noises Off (Garry/Roger), Clifford Live! (T-Bone), and dancing back-up for Dolly Parton. He is also on the Musical Theatre Faculty for the Educational Theatre Association. Bo dedicates this show to Jason, Chrissy and Bryan. "Thank you for believing in me!"

LINDSEY CLAYTON (Sexy Cowgirl #1/ Ensemble) This past season, Lindsey played the role of Gloria Stark in Gentlemen Prefer Blondesand a Cadillac Girl in Dreamgirls, as well as appearing in the children's production of Charlie and the Chocolate Factory. Last season, Lindsey made her Gatway debut as Gloria in Thoroughly Modern Millie. National Tours: Gentlemen Prefer Blondes (Dorothy Shaw), Grease, starring Frankie Avalon and Chubby Checker (performed Marty, Patty and Cha Cha!) and My One and Only. Lindsey would like to thank Robin and the entire Gateway family. A very special thank you goes out to Paula Sloan who Lindsey has had the pleasure of working with 3 times now! Love to family, friends and her wonderful and talented meerkat Tim.

NICOLE DIMATTEI (Ensemble) is thrilled to be back at Gateway for the fourth time. Her other shows here have been A Christmas Carol, Dreamgirls, and Gentlemen Prefer Blondes. She has performed in the shows and parades at Walt Disney World, including Noises Off (Brooke) and Little Shop of Horrors (Audrey). Other credits include Guys and Dolls, South Pacific, Sleeping Beauty, Man of LaMancha, and Godspell. Nicole graduated from the American Musical and Dramatic Academy, with a focus in musical theatre. She wishes to thank her wonderfully loving and supportive parents, friends, and family, and of course, the Gateway family for so many amazing experiences. Romans 8:31

ERIK FLOOR (Gator/Understudy Bud) is excited to finally be a part of the Gateway family. Favorite credits include the premiere of Crazy Love(Johnny Pride), Pal Joey (Joey Evans), Sugar (Joe/Josephine), Dames at Sea(Lucky), West Side Story (Arab), Medea(Jason), Hay Fever (Sandy Tyrell), and Jesus Christ Superstar. In association with the Entertainment Design Group out of Atlanta, GA, Erik has been featured in numerous industrials in GA, NC, IN, IL, and NV. A native of Chicago, he holds a BA in Theatre from Millikin University. He would like to thank Gateway for their support as well as the amazing cast and crew that has made this experience possible. Much love and prayers to an incredible and unwavering family.

JESSICA GREELEY (Ensemble) is excited to be returning to Gateway Playhouse. She was previously seen in AChristmas Caroland Oliver. Originally, from Maine, she is a graduate of the University of Miami in Florida. Other credits include: 42nd Street (Peggy Sawyer), West Side Story(Rosalia), Beauty and the Beast(Silly Girl #1), Thoroughly Modern Millie(Ethel Peas, Pearl Lady) and 1776 (Martha Jefferson). She would like to send much love to her family and Colin!

JOHN HALBACH (Wes) Gateway debut! Credits include: Tartuffe (Roundabout Broadway Revival), Beowulf (Off Broadway/Irish Repertory), Hamlet (Working Mutt Productions), We Three (Lincoln Center Institute), Little Shop of Horrors (Northern Stage), Only a Lad (NY Fringe), and Tartuffe (Two River Theatre Company). He is a member of Actors' Equity and has a B.F.A. in Acting from the North Carolina School of the Arts.

LAURA HALL (Ensemble)is excited to be making her Gateway debut!>Regional/Educational: The Sound of Music (Music Circus), Sleeping Beauty (La Comedia Dinner Theater), Happy Holidays! From the Pops (Cincinnati Pops, PBS), Crazy For You, The Pajama Game, Romeo and Juliet, On the Town, Elegies, Is There Life After High School?and Listen to My Heart. Recent graduate of the College-Conservatory of Music, University of Cincinnati. Love to the family and Sam.

TINA JOHNSON (Aunt Corene) is thrilled to be returning to Gateway having previously appeared in this year's Cold As Ice as Gwen and as Miss Flannery in last year's Thoroughly Modern Millie. She has appeared on Broadway in State Fair, Damn Yankees, She Loves Me, South Pacific, Festival, and as Angel in The Best Little Whorehouse in Texas! Off Broadway credits include: Christina Alberta's Father at The Vineyard, Blue Plate Special at MTC, Just So, Personals, Angry Housewives, The Audience and most recently Anne of Green Gables. National Tours: Maggie in 42nd Street, Lulu in Footloose, and Mrs. Claus in The Radio City Christmas Spectacular. T.V.: Law and Order: SVU, Murphy Brown, Empty Nest, Newhart, and Lurlene in NBC's Soap Texas. Film: Saving Face, Fireflies. Love to Mark and Alice.

DANIEL DAMON JOYCE (Bud) Graduated from NYU's Tisch School of the Arts where he studied at the Stella Adler Conservatory, CAP21, and the Royal Academy of Dramatic Arts in London. Regional credits: Anne of Green Gables, 8-Track: The Sounds of the 70s, Forever Plaid, Coriolanus, King Lear, Boys' Life, Love of the Nightingale, and Grand Hotel. He would like to thank his provider of grace and sends his love to Stan...and Lithuania.

BRETT KEMP (Ensemble) is originally from Medina, Ohio and just moved to New York City a year ago. He just finished shooting an Independent film called Cyclone and doing a show at the Triad Theater off Broadway after returning from the National tour of Urban Cowboy where he was in the ensemble and understudied the lead character (Bud). Also recently signed with Frontier Booking International Talent Agency. His favorite credits include Andy Lee in 42nd Street and Judas in Jesus Christ Superstar. A graduate of Otterbein College in Ohio. He would like to thank his family and friends for always supporting him and for their patience. I love you all! www.BrettFrederickKemp.com


JODI KUHLMANN (Ensemble) is thrilled to be working on Urban Cowboy again! National Tour: Urban Cowboy (Dance Captain); Regional: Annie Get Your Gun (Asst. to the Choreographer, Prince Music Theatre), Lost Colony (Waterside Theatre), South Pacific (Choreographer, Waterside Theatre); Bach of Music (University of Miami). Other favorite roles include Sweet Charity, 42nd Street, A Midsummer Nights Dream, and The Boys Next Door. Jodi thanks her Mom and Dad, sister and Eric for being a huge support and God for his blessings. Love you, mean it! www.jodikuhlmann.com

STEVE LUKER (Uncle Bob) happily returns to Gateway where he has appeared in four shows. Elsewhere, Steve has appeared in over 75 shows including Broadway: 42nd Street, National and European Tours: Footloose, 42nd Street, Radio City, Off Broadway: The P Monologues, Regional Companies: North Shore Music Theatre, Goodspeed, TUTS, Crossroads, Mill Mountain, etc. TV: Law and Order, Cosby, Hope and Faith, One Life To Live, commercials (currently appearing nationally in a Yellow Book spot with David Carradine) and voice overs. Much love to the Luker and Noona families, especially wife Susie.

NOEL MOLINELLI (Sissy) is too excited to be here at Gateway! Off Broadway: Good News (Connie), Regional Credits: Premiere of Parallel Lives by Richard Pearson Thomas (Lucy), Maine State Music Theatre's Oklahoma! (Gertie Cummings), The Scarlet Pimpernel, Footloose and Guys and Dolls, Prathers Theatres' Footloose (Ariel Moore), Carousel Dinner Theatre's Joseph and the Amazing Technicolor Dreamcoat (u/s Mrs. Potiphar), as well as several roles at The Ensemble Theatre of Cincinnati. Premiere Staged Reading: The Business of Passion (Fran), NYC. The College Light Opera Company, 2000. Proud graduate of James Madison University. Thanks Fam and Friends for the support, and Paul, Robin and Bob for the opportunity. "Derek and Parker, you make me the luckiest girl in the world! I love you eternally." www.noelmolinelli.com

KATHLEEN MONTELEONE (Pam)is excited to be a part of Gateway's production of Urban Cowboy! Kathleen was recently seen on NBC's GREASE: You're The One That I Want! as one of the six "Sandy" finalists nicknamed "Spiritual Sandy". Off Broadway credits include For Christ's Sake! Regional credits include Cinderella and Good News. Kathleen is a graduate of Marymount Manhattan College.

DAYLA PERKINS (Bubbles/Understudy Sissy) is happy to be joining the Gateway Playhouse for the first time! A proud graduate of The Boston Conservatory, she has been seen in Beauty and the Beast at Alabama Shakespeare Festival, Where's Charley? at Goodspeed and a slew of princesses for Disney. Always love to Mama and Daddy for never ending support.
ERIC S. ROBERTSON (Dance Captain/Assistant Choreographer/Ensemble) Most recently Gentlemen Prefer Blondes, where he played Louie Lementeur. He spent the last three

years with Twyla Tharp and Billy Joel's Movin' Out, both on the 1st National Tour and on Broadway. Growing up near Toronto, Ontario, Eric started his career at the Stratford Shakespearean Festival. He appeared in Drayton Entertainment's The Music Manas Tommy Djilas and in The Boy Friendas Marcel. He played Garvin in the Canadian Premiere of Footloose at StageWest. Recently, he took over for Rex Harrington as the lead in Song And Danceat the Danforth Music Hall, and even got to try his hand (er, foot) at Irish dancing in the Mirvish Productions' The Needfire at Toronto's Royal Alexandra Theatre. Eric would like to send his love and thanks to his own urban (New Jersey) cowgirl, his Arr, Lynda Sing.

NICKY ROMANIELLO (Ensemble) is glad to be back at Gateway after performing this season in Gentlemen Prefer Blondes and glad to be back in Urban Cowboy having just recently come off the National Tour with Windwood Productions. He is part of The Group Theatre Too, a theatre collective in NYC, Generation Tap, which has performed at Tap Extravaganza and The New York City Tap Festival, and The Menhattans, an all male dance group that premiered in Carnegie Hall in 2006. Other credits include work at Queens Theatre in the Park, Circle in the Square Theatre and The New Jersey Performing Arts Center.

CLIFTON SAMUELS (Steve Strange/Ensemble) is originally from Swansea, South Carolina. Recent credits: Urban Cowboy: The Musical National Tour, Original Cast Workshop of The Great White Way - A New Dance-ical directed and choreographed by David Marquez that world premiered at the International Dance Festival in New York. Upcoming: Radio City Christmas Spectacular. Past Regional Credits include: Bobby in Crazy For You, Andy Lee in 42nd Street, and Tulsa in Gypsy. He would like to dedicate this show and the journey that has accompanied it to his parents, the most inspirational, amazing southern folks a guy could have ever asked to be blessed with. Glory and thanks be to God.

STANLEY SCHORR (Sherwood) is proud to share the Gateway stage with this talented cast. Those of you who frequent Gateway productions may remember him from 1776 (Thomson), Showboat (Ensemble), Meet Me in St. Louis (Mr. Smith), or Titanic (J.H. Rogers). Other regional credits include Mr. Snow in Carousel, Col. Pickering in My Fair Lady, Capt. Von Trapp in The Sound of Music and Phillip in Phantom. Thank you Linda and Haley for your patience and love.

SIMON TRUMBLE (Marshall) is a recent graduate from the American Academy of Dramatic Arts and is thrilled to be making his Gateway (and New York) debut! Born and raised in Berkeley, CA he has performed with Berkeley Rep, New Conservatory, 42nd Street Moon, and many others. Some favorite roles include: Danny in Grease, Nathan Detroit in Guys and Dolls, and Mark and Paul in AChorus Line. Big ups to Brooklyn, the Mawnsta Baddul Woaheors and Mom for sticking with him.
PAIGE WHEAT (Sexy Cowgirl #2/Ensemble) from Houston, TX, Paige is thrilled to be making her Gateway Playhouse debut! Favorite roles: Jenny in Company, Judy in A Chorus Line, Lorraine in 42nd Street. "Thanks to Gateway for this opportunity, God, and everyone who has loved and supported me over the years!" Love to family and most of all, Brad! GO BLUE!
PAUL ALLAN (Producer) has been involved in theatre since before he can remember. In the early days of Gateway, he spent his summers following around his grandfather who had his hands full trying to make ends meet - running a theatre in the 60's. Paul grew up here, looking forward to each summer and being able to do more each year. By the time he was a teenager he was beginning to take charge of maintaining this 7 acre complex as well as becoming an integral part of the back stage crew. In the 80's as a young Gateway producer, Paul spent part of the winter months working in NY on many off-Broadway shows - serving as technical supervisor, production manager, and/or show carpenter. At the same time he co-founded a touring company whose shows traveled throughout the US and other countries worldwide. The set rental company was also founded at this time and Gateway scenery is constantly being trucked to various theatres across the country. The main focus, though, is still the productions he produces here for our patrons. – And recently a new production: Alexa Caroline Allan. The new little "Cowpoke" was welcomed home on the first day of Urban Cowboy rehearsal,
so now Paul and his wife Annmarie will be busy corralling her and her big brother Luke – now 2 1/2!
BOB DURKIN (Director) Bob's return to Gateway Playhouse this year marks his 35th Anniversary of association with the Gateway Playhouse. He recently completed directing and choreographing Carouselfor the Sharon Playhouse in Connecticut, and Funny Girl and The Full Monty for West Virginia Public Theatre before returning to Gateway this season. Bob's work as both a Director and Choreographer has been represented both nationally and internationally in tours of Big River, Dreamgirls, Seven Brides for Seven Brothers, Anything Goes, Purlie, The Goodbye Girl, One Mo'Time, Little Shop of Horrors, They're Playing Our Song, Hello Dolly, Crazy for You, and Ain't Misbehavin'. In 1997 he was the recipient of the Connecticut Critic's Circle award for his work as Choreographer on the National Tour of Seven Brides for Seven Brothers. He was Tommy Tune's co-choreog-rapher for the pre-Broadway workshops of Irving Berlin's Easter Parade, starring Tommy Tune and Sandy Duncan, in both Sydney, Australia and in New York City. He also worked for many years with the late Broadway Director Phillip Oesterman. He was Mr. Oesterman's Associate Director for Urban Cowboyin New York for the Broadway workshop. Bob's work has been seen by audiences in Spain, Italy, Portugal, Germany, Sweden, Austria, Australia, Finland, Ireland, Scotland, Singapore, Hong Kong, Malaysia, and all throughout the United States and in Canada. Bob is a graduate of The Boston Conservatory of Music. He has been both Guest Artist and Guest Faculty for Wagner College (NY), the University of Vermont, Oklahoma City University, the West Point Military Academy USMA, the University of Alabama Birmingham, Marymount Manhattan College, and West Virginia University. He is eternally grateful to the Allan family for his most unanticipated and early launch into a career as a director in 1972. It has been a wonderful journey. He also wishes to thank the entire Gateway Urban Cowboy team and cast, especially Paula, Andrew, Dom, Robin, Paul, Chris, Jose, Marianne, Eric, Kelly, and Jodi. He's very pleased to be re-united with author Aaron Latham. This one's for you Aaron and for Phillip. We know that you're watching from Cowboy Heaven above Phil.
AARON LATHAM (Author) Theater Credits: wrote Broadway's Urban Cowboy plus a completely rewritten touring version. Movie credits: "Urban Cowboy" (Paramount), "Perfect" (Columbia), "The Program" (Touchstone). Books: 5 novels. I was born in a small hospital on Main Street in Spur, Texas. My father had to sell a cow to pay my first hospital bills. At one point during a housing shortage, we lived in a classroom in a schoolhouse. My mother taught there and my father coached the football team. I must have liked the academic environment because I stayed in school as long as they would let me, getting my BA from Amherst College and my PhD in English literature from Princeton. Then I went to work for the Washington Post. Doing a memorable murder story one day, I managed to get a couple of names mixed up, calling the killer the victim and vice versa. Both families were upset. That was the first time the city edi-tor called me "Ace." Several years later, my first movie, Urban Cowboy, started as a magazine story in Esquire. Hollywood bought the rights to "The Ballad of the Urban Cowboy" and my services as screenwriter. I was drawn to the subject because it was a chance to get back to my mesquite-and-tumbleweed roots. In the movie, "Bud" comes from Spur which happened to be the town where I was born. Seventeen years later, a fellow named Phil Oesterman wrote me a letter proposing Urban Cowboy: The Musical. I promptly lost the letter. My wife forced me to search my office for days until I finally found it. We got together and went right to work. We finally made it to Broadway with Urban Cowboy: the Musical in 2003. And now I am thrilled to be at Gateway where we have once again reshaped the show. New opening number (suggested by Robin). New closing number for the first act (suggested by Bob).
ANDREW AUSTIN (Musical Director)is elated to be making his Gateway debut with Urban Cowboy. He is also excited to be working with Bob Durkin for a second time, the first being The Full Monty for West Virginia Public Theatre. Currently, Andrew works as music director and vocal coach for the music theatre department of the Governor's School for the Arts in Norfolk, VA. In the Norfolk area, he has music directed numerous productions for the Governor's School, as well as Virginia Music Theatre and Hampton University. Other regional credits include West Virginia Public Theatre, Birmingham, AL's Summerfest and La Comedia Dinner Theatre; summer stock credits: New London Barn Playhouse, Surflight Theatre, and Forestburgh Playhouse. Before moving to VA, Andrew lived in NYC where he music directed for various theatres and schools including Luna Stage, Golden Fleece Opera, Fordham University, and the Professional Performing Arts School. While living there, he also taught for the Rudolf Steiner School in Manhattan and the John Harms Performing Arts Center in Englewood, NJ. In addition to music directing, Andrew is an accomplished composer, singer, and arranger. He is a graduate of James Madison University where he studied both music composition and vocal performance.
PAULA HAMMONS SLOAN (Choreographer) Happy to be returning to Gateway, Ms. Sloan has directed and/or choreographed numerous National Tours including: My One and Only, Funny Girl, George M, Titanic, Crazy For You, The Unsinkable Molly Brown, Seven Brides for Seven Brothers, Urban Cowboy and Mame. She recently served as choreographer of the production ofSingin' in the Rain,Jekyll and Hyde and also 42nd Street for the Trump Plaza Hotel and Casino Broadway Series in Atlantic City. Other credits include Plan B Productions - Los Angeles, West Virginia Public Theatre, the Houston Symphony, Surflight Theatre, Casa Manana and Theatre Under the Stars. She has served as the Resident Choreographer/Director of Galveston Island Musicals, Texas since 1997, having directed/choreo-graphed well over 40 musical productions for Galveston. Since 1992, Ms. Sloan has served as faculty in the Dance and Theatre Department of the nationally-acclaimed High School for the Performing and Visual Arts in Houston, Texas. Thanks to Bob, Aaron and Gateway, love to ms and p.
ROBIN JOY ALLAN (Casting and Artistic Director) has been the Casting Director at Gateway for the last twelve years. Four years ago, she became the Artistic Director at Gateway. Prior to moving back home into the wonderland setting of her childhood, she did thrive in Corporate America, spending five years in Los Angeles, casting several TV pilots, MOW's and feature films. You'll find her name on the feature films; Parenthood, When Harry Met Sally, Lord of the Flies, Side Out and Ghost. Along with her Artistic and Casting Director duties, she is the force behind Gateway's Acting School Division, where she teaches the advanced classes. This is her most impassioned work. Her daughter Hayley, inspires her every day. She hopes her effort is good enough to honor her family, and their amazing effort all these years to bring theatre with integrity to Long Island.
CHRIS LANDY(Lighting Designer) is thrilled to be back home at Gateway, where he has designed numerous productions over the years including Oliver, Evita, Phantom, Tommy(CT Critic Circle Award), Jekyll & Hyde, Showboat, West Side Story, Brigadoon, Cabaret, and Crazy For You. Other credits include A Little Night Music for Goodspeed; Rosencrantz and Guildenstern are Dead for Long Wharf and Williamstown; Hay Fever, Princess Turandot and Angel Street for Westport Country Playhouse; Orfeo ed Euridice and Turandot for Virginia Opera and Madame Butterfly, Marriage of Figaro, Die Fledermaus and Rigoletto for Boheme Opera. Off-Broadway credits include Oedipus, Hotel Universe, Princess Turandot, Ivanov, and Retribution.Working in television, Chris lit Isaacfor E!, Movies 101for AMC, Tough Crowd w/ Colin Quinn for Comedy Central, Showbiz Tonightand Nancy Grace Livefor CNN, as well as specials for BET and Fuse. He has designed extensively for MTV including TRL, DFX, Beach House, Mardi Gras, New Years Eve Specials, 1st Listen Concerts for U2, Britney Spears, Dave Mathews, Justin Timberlake, and Destiny's Child as well as Unplugged's for R.E.M., Jay-Z, Lauren Hill, Staind, Dashboard Confessional and Ken Hirai (for MTV Japan). He recently launched MTV Canada's Studios in Toronto. For Oxygen, he lights their Custom Concert series featuring LL Cool J, The Goo Goo Dolls, Macy Gray, Tori Amos, Alanis Morissette and India.Arie, Michelle Branch, John Legend, and LeeAnn Rimes. He holds an MFA in lighting and set design from NYU and run's his own design firm, Vibrant Design.

JOSE M. RIVERACostume Designer) is thrilled to once again be working at The Gateway. Originally from New York, he currently resides in Los Angeles. He has designed, assisted, consulted and coordinated on over 200 productions for theatre, film and television. Recent credits include: Thoroughly Modern Millie for The Cape Playhouse; Hello Dolly!for The Glendale Centre Theatre; the National Tour of Urban Cowboy for Windwood Theatricals and National Lampoon's TV: The Movie. You can see his work on The Lifetime Network with the TV movies: The Perfect Nanny (starring Bruce Boxleitner, Tracy Nelson and Katherine Helmond); The Perfect Wife (starring William Moses, Perry King and Leslie Anne Downe); Blind Obsessions (starring Megan Gallagher and Brad Johnson): Facing the Enemy (starring Maxwell Caufield, Linden Ashby and Alexandra Paul) and She's No Angel (starring Dee Wallace Stone, Tracy Gold and Kevin Dobson). Other television credits include: 3 seasons of One Minute Soapfor Soap Net! and the reality TV Show, Strip Searchfor VH-1. Film credits: The Storyteller(starring Dina Meyer, Sean Patrick Flannery, Michael Berryman, Kim Darby and Fred Kohler) and Evil Alien Conquerors (starring Deidrich Bader, Chris Parnell and Tori Spelling).
DOM RUGGIERO (Production Stage Manager) a member of Actors Equity, has been stage managing for the past 27 years. Broadway PSM credits include: The Gathering starring Hal Linden, Borscht Belt on Broadway starring, Bruce Adler, Mal Z. Lawrence, and Ain't That A Kick In The Head – The Music of Sammy Cahn directed by Chet Walker. 1st National Tours include: The Cole Porter Songbook starring Melba Moore, The Irving Berlin Songbook starring Carole Lawrence, Greetings! Shalom Aleichem Lives starring Judy Kaye, Bruce Adler and Theo Bikel. Dom has stage-man aged across the US, Europe, South America and Australia with Aint' Misbehavin, Phantom, Anything Goes, and Song & Dance, among many others. He is no stranger to the Gateway Playhouse, having begun his involvement 18 years ago with his production of "Little Shop of Horrors", which he also directed. Dom has directed numerous shows for Gateway, most notably the 3 productions of Phantom, Tommy, Cabaret and Once On This Island. Thanks to Paul and Robin Allan as well as the "Big Producer" above, for convincing me to return to my heart & soul – Theatre!