Back To Past Seasons Page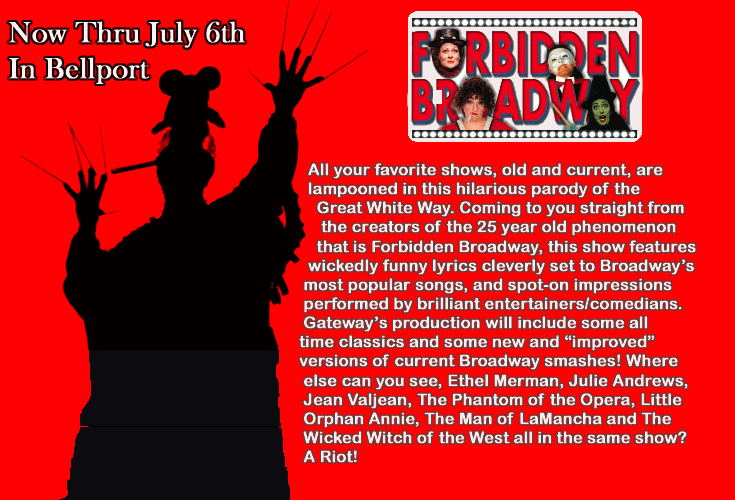 *This show includes strong language and adult situations. Parental discretion is advised.
Sun
Mon
Tues
Wed
Thurs
Fri
Sat

15

16

17

18

8:00PM

19

2:00PM
8:00PM

20

8:00PM

21

22

2:00PM
7:00PM

23

24

8:00PM

25

8:00PM

26

2:00PM
8:00PM

27

8:00PM

28

29

2:00PM
7:00PM

June 30

July 1

8:00PM

2

8:00PM

3

2:00PM
8:00PM

4

5

4:00PM
8:30PM

6

2:00PM

7

8

9

10

11

12
Gateway Playhouse
presents

Forbidden Broadway

Created, Written, and Originally Directed By Gerard Alessandrini

Starring

| | |
| --- | --- |
| ERIN CROSBY | JAMES DONEGAN |
| KEVIN B. McGLYN | KRISTEN MENGELKOCH |

Producer
PAUL ALLAN

Associate Producer
JEFF BELLANTE

General Manager
GALE EDWARDS

Artistic Director
ROBIN JOY ALLAN

Production Manager
BRIAN LOESCH

Company Manager
MICHAEL BAKER

Costume Design
ALVIN COLT

Wig Design
CAROL SHERRY

Lighting Design
BRIAN LOESCH

Scenic Design
MICHAEL BOYER

Wardrobe Supervisor
MARIANNE DOMNIY

Production Stage Manager
SHANNON O'CONNOR

Musical Direction




ROBERT FELDSTIEN

Directed by

PHILIP GEORGE
Who's Who

ERIN CROSBY (Performer) Erin is so excited to make her Gateway debut. Erin was last seen Off-Broadway in Forbidden Broadway: The Roast of Utopia (47th Street Theater), Shout! The Mod Musical (Yellow Girl, Original Cast at the Julia Miles Theater), Forbidden Broadway: SVU (47th Street Theater and The Douglas Fairbanks Theater). Erin also recorded the original cast album of Shout! (Rhino Records). Other credits include: The Rink (Illinois Theater Center), Meet Me in St. Louis (Illinois Theater Center), Anne and Gilbert (York Theater), Snow the Musical (ASCAP), Bring me a Dwarf (The Players Theater), and Roadkill (The Triad), Shout! The Mod Musical (The Duplex, AMA's, and The Lambs Theater). Much thanks and love to Phil. I love you Hunter! Erin is a proud member of Actor's Equity.
JAMES DONEGAN (Performer) James makes his Gateway debut. James was in the original cast of Forbidden Broadway: Rude Awakening (2008 Drama Desk: Best Revue, original cast album). Other New York and regional credits: Company (Bobby), Hello, Dolly! (Cornelius), My Fair Lady (Freddy), Jesus Christ Superstar (Jesus), Evita (Che), Triumph of Love (Agis), Roberta (Huck), and Hair (Berger). His recording So Much Spring is available on iTunes or CD Baby. Next month, James will appear as the Snail (and others) in A Year with Frog and Toad. Member AEA, AFTRA and AGMA. For Marc. www.jamesdonegan.net

KEVIN B. McGLYNN (Performer) Kevin, a native of Medford, Massachusetts and a graduate of the Boston Conservatory has toured the United States with the first national productions of Kiss Me Kate, All Shook Up, and Forbidden Broadway. Regional credits include: Titanic (Thomas Andrews), Beauty and the Beast (Lumiere), Jesus Christ Superstar (Jesus), and World Goes Round. Many thanks to family and friends for their constant love and support, especially Mom and Dad.

KRISTEN MENGELKOCH (Performer) Kristen currently resides in New York City & made her Off-Broadway debut December 2006 in Forbidden Broadway: Special Victims Unit. She has since worked on FB: The Roast of Utopia and just appeared in FB: Rude Awakening. San Diego credits include The Most Happy Fella, Pete 'n' Keely, The Nerd, Tomfoolery, Gypsy & Nunsense. As a founding company member of Southern Colorado Repertory Theatre, she appeared in The Last Five Years, Sylvia, Chapter Two & A Flea in Her Ear. Television: Veronica Mars (Co-Star). Originally from Kansas, Kristen is a graduate of San Diego State University's Master of Fine Arts in Musical Theatre program. She is the enthusiastic co-founder of the Manhattan based non-profit Ampersand Theatre Company. www.kristenmengelkoch.com
PHILLIP GEORGE (Director) Off-Broadway: Shout, The Mod Musical, Forbidden Broadway: Rude Awakening (Drama Desk Award, Best Musical Revue), Forbidden Broadway SVU(Drama Desk Award, Best Musical Revue), Forbidden Hollywood, Whoop-Dee-Doo, (Drama Desk Award, Best Musical Revue), Forbidden Broadway Cleans Up Its Act, Forbidden Broadway Strikes Back, Forbidden Broadway 2001: A Spoof Odyssey (Drama Desk Award, Best Musical Revue), The Remarkable Ruth Fields, When Pigs Fly, Forbidden Broadway 1988-93, Burly-Q! and Blackout for AMAS. In London: Kean, Shout!, Frankly Scarlett, Listen to the Wind, Much Revue About Nothing, Forbidden Broadway (West End, The Albery Theatre), The Famous Five, The Arcadians, Escape From Pterodactyl Island. Regionally: A Funny Thing Happened on the Way to the Forum (5th Avenue Theatre, Seattle), Best Little Whorehouse, Footloose (Gateway), Return to the Forbidden Planet (American Heartland Theatre), Annie Get Your Gun, The Secret Garden, Escape From Pterodactyl Island for 2003 Fringe Festival. Aristic Director of The Wing & Drop Company. Recently, Forbidden Broadway won a special 2006 Tony Award. AMDA faculty since 1997.
PAUL ALLAN (Producer) has been involved in theatre since before he can remember. In the early days of Gateway, he spent his summers following around his grandfather who had his hands full trying to make ends meet - running a theatre in the 60's. Paul grew up here, looking forward to each summer and being able to do more each year. By the time he was a teenager he was beginning to take charge of maintaining this 7 acre complex as well as becoming an integral part of the back stage crew. In the 80's as a young Gateway producer, Paul spent part of the winter months working in NY on many off-Broadway shows - serving as technical supervisor, production manager, and/or show carpenter. At the same time he co-founded a touring company whose shows traveled throughout the US and other countries worldwide. The set rental company was also founded at this time and Gateway scenery is constantly being trucked to various theatres across the country. The main focus, though, is still the productions he produces here for our patrons.
ROBERT FELDSTEIN Musical Director) Robert Felstein's career has included jazz, classical and theatre music. He has music directed over 50 professional Equity theatre productions at theatres around the country. With Bravo Boadway! he conducts concerts with many of musical theatre's best-known singers, including two Tony Award winners and three Tony nominees, and has recently appeared in concert with Marvin Hamlisch on dueling grand pianos. He is musical director of the NY production of The Fantasticks, directed by and featuring author Tom Jones. This is his seventh show at Gateway. Original compositions include a musical Orpheus in America, in collaboration with playwright Robert Patrick, The Ghosts of Rowan Oak produced at the NJ Institute of Technology in 2006, and incidental music for several plays. He is on the faculty of the Hart School of the University of Hartford.
ROBIN JOY ALLAN (Casting and Artistic Director) has been the Casting Director at Gateway for the last thirteen years. Five years ago, she became the Artistic Director at Gateway. Prior to moving back home into the wonderland setting of her childhood, she did thrive in Corporate America, spending five years in Los Angeles, casting several TV pilots, MOW's and feature films. You'll find her name on the feature films; Parenthood, When Harry Met Sally, Lord of the Flies, Side Out and Ghost. Along with her Artistic and Casting Director duties, she is the force behind Gateway's Acting School Division, where she teaches the advanced classes. This is her most impassioned work. Her daughter, Hayley, inspires her every day. She hopes her effort is good enough to honor her family, and their amazing effort all these years to bring theatre with integrity to Long Island.
MICHAEL BOYER (Scenic Designer) Michael Boyer has designed scenery for over 250 productions, which have been seen from Stockholm to Diamond Head and from Key West to Hong Kong. Recent productions he has designed at Gateway Playhouse have included Fiddler on the Roof, On the Town, and Cabaret. He is a member of Actors Equity Association and United Scenic Artists, Local 829.
ALVIN COLT (Costume Designer) Alvin's costumes have been represented in 76 Broadway shows which include the original productions of On The Town and Guys and Dolls, plus Li'l Abner, Fanny, Destry Rides Again, Sugar, Pipe Dream, Wildcat, Lorelei, Greenwillow and numerous others. A Tony Award-winner, he has been nominated four times and is a four-time nominee for television's Emmy Award, having designed costumes for over 90 productions on all major networks.
BRIAN LOESCH (Lighting Designer/Production Manager) Brian graduated with a Degree in Technical Theatre from Suffolk County Community College. He has previously designed The Full Monty, A Holiday Spectacular On Ice (2004 version), South Pacific, Footloose, Jesus Christ Superstar, Kiss Me, Kate, Holiday Hop, Cabaret and numerous children's theatre productions including Peter Pan (2004) and Jungle Book (2005) for Gateway. Brian is thrilled to be part of the Gateway Family for his eleventh straight season. Other design credits include Language of Angels (Henry Street Experimental Theatre, NYC), Paraffin Touch (World Premiere at Suffolk County Community College), The Man Who Would Be King (World Premiere at the Antrim Playhouse), Kiss Me, Kate (Cape Fear Regional Theatre), the 2003 National Tour of George M! (Candlewood Int./ Mainstage Productions), the 2004 National Tour of Titanic (Candlewood Int.), the 2004 National Tour of A Holiday Spectacular On Ice (A Gateway / Candlewood Production), the 2005-06 National Tour of Mame (Candlewood Int.), and the 2006-07 National Tour of Camelot.
SHANNON O'CONNOR (Production Stage Manager) Shannon O'Connor is thrilled to be back for her third season at Gateway Playhouse! Past favorites include: Evita, 42nd Street, Full Monty, Thoroughly Modern Millie, La Cage Aux Folles and My Way. Shannon would like to thank Jovon, Erin, and her amazing family for all their support. Shannon would like to give special thanks to the Allan's for giving her this amazing opportunity. Shannon is a proud member of Actor's Equity Association.