Back To Past Seasons Page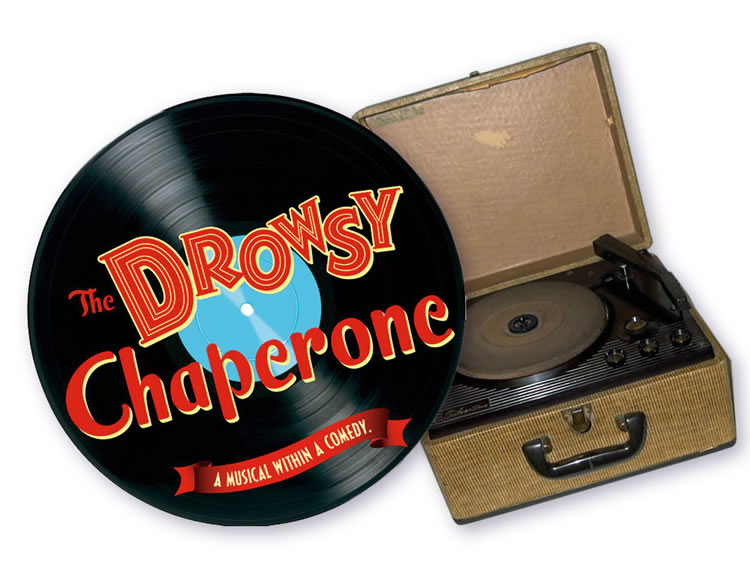 Welcome to THE DROWSY CHAPERONE, the Long Island premiere of the musical comedy with tons of laughs and the most 2006 Tony® Awards of any musical on Broadway! It all begins when a die-hard musical fan plays his favorite cast album, a 1928 smash hit called "The Drowsy Chaperone," and the show magically bursts to life.

We are instantly immersed in the glamorous, hilarious tale of a celebrity bride and her uproarious wedding day, complete with thrills and surprises that take both the cast (literally) and the audience (metaphorically) soaring to the rafters.

Video Preview

July/August 2009

Sun
Mon
Tues
Wed
Thurs
Fri
Sat

26

27

28

29

8:00PM

30

2:00PM
8:00PM

31

8:00PM

Aug 1

3:00PM
8:30PM

2

2:00PM
7:00PM

3

4

5

2:00PM
8:00PM

6

2:00PM
8:00PM

7

8:00PM

8

3:00PM
8:30PM

9

7:00PM

10

11

8:00PM

12

2:00PM
8:00PM

13

2:00PM
8:00PM

14

8:00PM

15

3:00PM
8:30PM

16

2:00PM

17

18

8:00PM

19

2:00PM
8:00PM

20

2:00PM
8:00PM

21

8:00PM

22

3:00PM
8:30PM



The Drowsy Chaperone

Book By


BOB MARTIN and DON McKELLAR

Music & Lyrics By
LISA LAMBERT and GREG MORRISON

Starring

NAT
DeWOLF

JENNIFER
BYRNE

and

LAUREN COHN

Also Starring
MATTHEW CROWLE JAMES DONEGAN
BOB FRESCHI ELLIE MOONEY SEAN MONTGOMERY
NATALIE RENEE ANTHONY REIMER

Featuring
ALLYCE BEASLEY

Producer
PAUL ALLAN

Associate Producer
JEFF BELLANTE

General Manager
GALE EDWARDS

Artistic Director
ROBIN JOY ALLAN

Production Manager
BRIAN LOESCH

Company Manager
MICHAEL BAKER

Lighting Design
CHRISTOPHER J. LANDY

Wardrobe Supervisor
MARIANNE DOMINY

Costume Design
MARGARET A. McKOWEN

Scenic Design
BRITTANY LOESCH

Production Stage Manager
JOE McGUIRE

Musical Direction by
JEFF HOFFMAN

Choreographed by
JODY MADARAS

Directed and Staged by

DOM RUGGIERO

CAST

Man In Chair

NAT DeWOLF *

Mrs. Tottendale

ALLYCE BEASLEY *

Underling

BOB FRESCHI *

Robert Martin (The Groom)

SEAN MONTGOMERY *

George (The Best Man)

MATTHEW CROWLE *

Feldzieg (A Broadway Producer)

ANTHONY REIMER *

Kitty (Assitant to Mr. Feldzieg)

ELLIE MOONEY *

Adolpho

JAMES DONEGAN *

Janet Van De Graaff

JENNIFER BYRNE *

The Drowsy Chaperone

LAUREN COHN *

Trix

NATALIE RENEE *

Gangster #1

TYLER RIVERA STEIN

Gangster #2

WILL COHEN


REPORTERS, STAFF, GUESTS, ENSEMBLE

MATTHEW ALEXANDER, CARA NOEL ANTOSCA, BRYANT SMITH,
CHELSEY WHITELOCK


UNDERSTUDIES

Mrs. Tottendale, Aviatrix

CHELSEY WHITELOCK

Underling, Feldzieg, Adolpho

BRYANT SMITH

Robert Martin, George

MATTHEW ALEXANDER

Kitty, Janet Van De Graaff

CARA ANTOSCA

Superintendant

MICHAEL BAKER *

*member of Actors' Equity Association


MUSICIANS

Conductor/Keyboard I

JEFF HOFFMAN

Keyboard II

BRENDAN WHITING

Reed I

MIKE KENDROT

Reed II

JASON MINK

Trumpet

JOE BOARDMAN

Trombone

JOE FERRANTE

Bass

CATHERINE O'MALLEY

Percussion

GREGG MONTIETH


ADMINISTRATIVE

Executive Producer

RUTH ALLAN

Producer

PAUL ALLAN

Associate Producer

JEFF BELLANTE

General Manager

GALE EDWARDS

Company Manager

MICHAEL BAKER

Assistant Company Manager

STEFAN SCHUETTE

Administrative Assistant/Interns

MIA MULVEY, SARAH INNES

Musical Contractor

JEFF HOFFMAN


ARTISTIC

Atistic/Casting Director

ROBIN JOY ALLAN

Director

DOM RUGGIERO

Choreographer

JODY MADARAS

Musical Director

JEFF HOFFMAN

Lighting Designer

CHRISTOPHER J. LANDY

Scenic Designer

BRITTANY LOESCH

Costume Designer

MARGARET A. McKOWEN

Resident Sound Designer

CODY SPENCER

Associate Costume Designer

TREVOR BOWEN

Assistant Musical Director

BRENDAN WHITING

Assistant to the Artistic/Casting Director

JESSICA HARRISON

Production Photographer

JEFF BELLANTE


PRODUCTION

Production Manager

BRIAN LOESCH

Production Stage Manager

JOE McGUIRE *

Wardrobe Supervisor

MARIANNE DOMINY

Scenic Coordinator

BRITTANY LOESCH

Technical Director

AD GARRETT

Master Electrician

KURT KROHNE

Sound Engineer

SHANE BOURGEOIS

Assistant Master Electrician

JUSTIN HOFFMAN

Assistant Technical Director

RICHARD HAUG

Shop Foreman

MARK FREDERICK

Scenic Artist

SARAH TINTI

Props

DEREK LINGLE, JOSE "EL JEFE" SANTIAGO

Wardrobe Assistants

JESSICA SPOTA, RACHAEL RALBY

General Technicians

MATT ANASTASIO, AJ LEBENNS, KEITH REILLY, MIKE BRIAN ALLEN, LOUIS LEE, CLIFF ANDREA, JOSEPH LOESCH

Sound Consultant

DOMONIC SACK

Production Management Intern/CTSM

JON DYKSTRA

Stage Management Interns

ASHLEY BIGGE, MATTHEW MONTVILLE

Electrics Interns

COLIN CHAUCHE, JACOB FORSTEIN, AVI MECK

Sound Intern

DON HANNAH

General Technician Interns

ZAC KOLLEGGER, ROB BREY, DAN NEWINS, ED MASSARI

Props Interns

ROBERT BURZSTYN, BRYAN PRYWES

Wardrobe Intern

STEPHEN SZYMANSKI


BOX OFFICE

Box Office Manager

LAURIE PARR

Group Sales

CLAIRE WARD

House Manager

JOANNE FAMIGLIETTI

Box Office Staff

ALLISON CONLEY, NADINE HAZARD, DIANE KOERBER, CHRISTINA MONTALTO, LINDA UNGER, FRANCESCA WELHOUS, KYLE REITAN, MICHELLE MONTALTO


FACILITIES

Facilities Manager

DON HARRISON

Concessions Manager

CARL DeMASI

Custodial Staff

FELIX BONILLA, RAY TOBIA

Grounds Maintenance

HTM LANDSCAPING COMPANY

Facilities Apprentice

BRENDAN SMITH

Grounds Maintenance

HTM Landscaping Company

Hospitality Consultant

MICHAEL TAYLOR

House Staff

MARTIN MANINGO, EDWARD WECERA, LAUREN PARR, RYAN HUDAK

General Counsel

ANN L. NOWAK & ASSOCIATES

Matthew Alexander (Ensemble) is pleased to be making his Gateway Playhouse debut. He just recently finished performing in the national tour of Bye Bye Birdie. Other credits include dancing in Jubilee at Bally's hotel in Las Vegas and singing aboard Norwegian Cruise Lines. Favorite credits: Dames at Sea (Dick), Contact, Anything Goes, On the Town. Ohio native, Point Park University BFA musical theatre graduate. Much thanks to everyone at Gateway for this wonderful opportunity. Thanks mom & dad! Proverbs 3:5-6

Cara Noel Antosca (Ensemble) is pleased to return to "Camp Gateway" after appearing as Cyndi Lauper in last seasons' The Wedding Singer. Cara has most recently been seen on the national tours of Cats and Puttin' On The Hitz-An Irving Berlin Revue. Favorite roles include Sheila in Hair, Gladys in The Pajama Game, Jane Eyre in Jane Eyre, and Anita in West Side Story. Much love to my maroon four, ma and pa, and my soon-tobe husband, John. Love!

Allyce Beasley (Mrs. Tottendale) Best known for her role as Ms. Dipesto on the ABC hit, "Moonlighting," for which she received two Emmy, Golden Globe and American Comedy Award nominations, Ms. Beasley was last seen on this past season's NBC hit show, "Medium" and will appear in HBO's, "Bored 2 Death," premiering next fall, as Jason Schwartzman's Mother. Other television and film credits include classic episodes of "Taxi" and "Cheers", "Touched by an Angel", "Seventh Heaven", "Joan of Arcadia", "10/8", Legally Blonde, Stuart Little, Rumplestilskin, Tommyknockers, Entertaining Angels and Two Brothers and a Bride. Starring as Agnes Gooch in the Hollywood Bowl 2004's production of Mame, other stage credits include Anything Goes at the Carpenter Center, the female Odd Couple at the Cerritos Center and the national tour with Barbara Eden, and the West Coast Premiere of Morticians in Love. A twenty year veteran of radio and voiceover work, Ms. Beasley is currently the voice of Miss Grotke on the animated series, "Recess", and was heard every morning, for seven years, as the voice of Playhouse Disney.

Jennifer Byrne (Janet Van De Graaff) is so excited to return to the Gateway after performing in Sophisticated Ladies earlier this season. Recent credits include: Evil Dead the Musical (Linda, original cast recording; Toronto, Choreographer), It's Karate, Kid! the Musical (NYIT Outstanding Lead Actress Nomination), The Rocky Horror Show (Columbia), Smokey Joe's Café (Patty), Seven Brides for Seven Brothers (Milly), Gypsy (Louise), Singing in the Rain (Zelda), Godspell (UK, Sonia), Pirates of Penzance (Ruth) and Side By Side By Sondheim (Sally). She has her BA in theatre from PSU and a musical theatre degree from RAPA in Toronto. Special thanks and love to her parents for once again taking care of Teddy while she is away. www.jennifer-byrne.com

Will Cohen (Ensemble) couldn't be happier to be back at Gateway! Previous shows include The Producers and A Century of Christmas from which you may recognize him as a Nazi Puppet, Frosty the Snowman, Rudolph the tap dancing Reindeer, or Boy George. National Tours: A Year With Frog and Toad (Toad), Joseph...Dreamcoat (Baker). Regional/NYC: Crazy For You (Mingo), Grease (Roger), Into The Woods (Baker), Ragtime (Houdini), She Loves me (Arpad), Gypsy (Yonkers), Merrily We Roll Along (Tyler). Training: Broadway Theatre Project, New York University Bachelor of Music/Vocal Performance. Endless thanks and kisses for Robin, Dom, Patti, Michael, Jessica, and everyone at the playhouse!

Lauren Cohn (The Drowsy Chaperone) is thrilled to be making her Gateway debut as the titular character in The Drowsy Chaperone! She returned to New York City early last year after a decade in Los Angeles, working in Televisionand Film. You may recognize her from Catch Me If You Can, Secretary, Legally Blonde 2, "Desperate Housewives", "House", "ER", etc. But if you are 6-12 years old, you've seen her as Yolanda Cohen on "The Suite Life With Zach & Cody". Lauren also proudly spent her time in LA as Head of Musical Development for the critically-acclaimed theatre company, Neurotic Young Urbanites (comprised of fellow NYU alumni). She and writing partner, Lauren Bowles, twice collaborated with songwriting team, Curtis Moore and Amanda Green, creating and starring in the multiple-awardwinning musicals, up the week without a paddle and Once Upon A Primetime. Lauren recently filmed some big and small screen appearances on this coast as well. She can be seen in the upcoming feature, Morning Glory, yucking it up with Diane Keaton as well as the new series, "Bored To Death" on HBO and "Royal Pains" on USA. Friends call her Coco.

Matthew Crowle (George) is making his Gateway Playhouse debut in his mother's favorite musical! He most recently performed in the Broadway company of Monty Python's Spamalot and has had the great honor of tap dancing across the country with Tommy Tune in the national tour of Doctor Dolittle. Many thanks to Mary G. for randomly getting this goofball a job! And, as always, thanks to Ma and Pa for the never-ending love and support.

Nat DeWolf (Man In Chair) New York Theater: Take Me Out (Broadway, The Public Theater), Betty's Summer Vacation (Playwrights Horizons). Regional credits include Betty's Summer Vacation, Burn This and Two Men of Florence (The Huntington Theater), The Taming of the Shrew (Commonwealth Shakespeare), The Comedy of Errors (The Pittsburgh Public), Take Me Out (The Repertory Theater of St Louis - Kevin Kline Award - and Hartford TheaterWorks), The Violet Hour (Barrington Stage), The Accident and Tartuffe (American Repertory Theatre). He co-wrote and co-starred with Laura Kirk in the film Lisa Picard Is Famous, which made its world premiere at the 2000 Cannes Film Festival. Other film and television credits include the Merchant/Ivory produced Heights, Trick, and We Pedal Up Hill, "Law & Order: SVU," and "Ed." Mr. DeWolf is a graduate of The Boston Conservatory and the A.R.T. Institute for Advanced Theatre Training at Harvard University. www.NatDeWolf.com

James Donegan (Aldolpho) is thrilled to return to The Gateway Playhouse after last summer's Forbidden Broadway. He also appeared in the Off-Broadway companies of Forbidden Broadway's last two incarnations (Goes to Rehab and Rude Awakening) and on their respective cast albums. Other favorite credits in New York and regionally: Company (Bobby), Hello Dolly! (Cornelius), My Fair Lady (Freddy), Jesus.Superstar (Jesus), Triumph of Love (Huck) and Hair (Berger). He is also a part of numerous musicals in development. When not performing, James maintains a thriving voice studio and web design business. His recording, So Much Spring, is available on iTunes and CD Baby. www.jamesdonegan.net. For Marc.

Bob Freschi (Underling) returns to Gateway after having played Bellomy in the 2006 production of The Fantasticks. Broadway credits include Most Happy Fella, Me and My Girl, The 1940's Radio Hour, Little Me, the original Annie, Irene, and most recently, 70 Girls 70 at City Center's ENCORES. Bob has played in theatres across the country, including Goodspeed Opera House, Kennedy Center, the Doolittle Theatre in L.A. and Yale Rep. Some favorite roles include Uncle Max in The Sound of Music, Senex in A Funny Happened On The Way To The Forum, Papa in Meet Me in St. Louis, and Jerry Cohan in George M.

Sean Montgomery (Robert Martin) is thrilled to return to Gateway Playhouse after playing Frank in last summer's Show Boat! Regional: Will Parker in Oklahoma! (Atlanta TOTS), Bobby Child in Crazy For You (Theatre By The Sea), Backwards In High Heels: The Ginger Rogers Musical (AHT), Les Miserables, The Pajama Game, Hello, Dolly! (MUNY), Beauty and the Beast and Sleeping Beauty (La Comedia). New York: Big Tent, Last Starfighter (NYMF). Television: "As the World Turns", "Guiding Light". BFA University of Cincinnati College-Conservatory of Music. Member of AEA and AFTRA. Thank you Nicolosi and Co. and especially to Robin for the amazing opportunities, Mom, Dani and all of my friends for their love and support. Enjoy the show!

Ellie Mooney (Kitty) is thrilled to join the Gateway family! Recent productions include the first national tour of Chitty Chitty Bang Bang (Violet), The Spitfire Grill (Shelby) at the Fulton Theatre, Thoroughly Modern Millie (Miss Dorothy) with Maine State Music Theatre, and Forbidden Broadway at Walnut Street Theatre. Love and thanks to Mom, the Basile family and to Jim, my hero.
Anthony Reimer (Feldzieg) thrilled to be making his Gateway Playhouse debut. He just finished playing Dr. Spivey in the New York City revival of One Flew Over the Cuckoo's Nest produced by Wide Eyed Productions. Other New York credits have included Copper Green at the Players Theatre, An Ideal Husband (Red Fern Theatre), Macbeth (New York Classical Theatre) and 5+ shows with the New York Dinner Theatre. Regional: The Boys Next Door (Brown County Playhouse), Macbeth (Pennsylvania Shakespeare Festival); Doctor Faustus, Man of La Mancha, Disney's Beauty & The Beast, Richard III, Henry VI (Parts 1&2), Treasure Island, Twelfth Night, Three Sisters, A Christmas Carol (Alabama Shakespeare Festival); The Sound of Music, Sylvia, My Fair Lady, Last of the Red Hot Lovers (Little Theatre of the Rockies) MFA: Alabama Shakespeare Festival/University of Alabama. BA: University of Northern Colorado. Graduate of the New York Conservatory for Dramatic Arts. Proverbs 16:9. Much thanks to Mom & Dad.

Natalie Renee (Trix) Aida in Aida, Sarah in Ragtime, and Jasmine in Beehive. She has also played major roles in shows such as Hair and Big River. Most recently, Natalie has been seen as one of the Dynamites in the Hairspray National Tour, the Seasons of Love soloist in the Rent National Tour, in the regional premiere of The Wedding Singer at Gateway Playhouse and Crystal in Little Shop of Horrors at Casa Manana. Special thanks to the Kimberly Vaughn Performance Studio and The Talent Mine. Praise God from whom all blessings flow!

Bryant Smith (Ensemble/Superintendent) is excited to make his first appearance here at the Gateway Playhouse. Originally from Georgia, he received his B.A. in Theatre and B.B.A. in usiness Management from Mercer University and his M.F.A. in Acting from the University of Florida. Favorite onstage roles include Eddie in the World Premiere of COLLEGE: The Musical; Jean in Rhinoceros; Max in The Real Thing; Mr. Andrews in Titanic; John Utterson in Jekyll & Hyde; Younger Brother in Ragtime; Mike Costa in A Chorus Line; Chuck Rascal in Dollywood's Buddy Baxter's Bandstand USA; Donny in American Buffalo; Max in Lend Me A Tenor; Wolfgang Amadeus Mozart in Amadeus; Cosmo Brown in Singin'In The Rain; Satan in The Last Days of Judas Iscariot; Bill in Pinter's The Collection; and Matthew St. Germaine in the East Coast Premiere of The Sleeper. Bryant can also be seen as Detective Carter in the upcoming independent film Project Threshold (Dupree Brothers Films). All my love to Mom, Dad, BethAnn, Tracy, Shanna, and Joe for their neverending love and support... without which I could never make it. Phil. 1:3. www.bryantsmith.net

Tyler Rivera Stein (Ensemble) graduated cum laude NYU 2009, performing in most notably, Floyd Collins, I'll Be Damned, and Something's Afoot. Following his graduation, he worked with new composers Joel Derfner (Terezin) and David Levinson (Bathory, Mark of the Signature Theatre's Overtures Program in June. Tyler is also a self-taught composer, and has workshopped with Tisch Graduate Music Theatre Writing. He is excited to be working with the Gateway this summer, and hopes you enjoy the show!

Chelsey Whitelock (Ensemble/Dance Captain) is super psyched to be making her Gateway Playhouse premier! Various other stints in the theatre include the national tour of Annie (Boylan/US Lily), Guys and Dolls (Adelaide), Kiss Me Kate (Lois/Bianca), Chicago (Roxie Hart), Oklahoma (Ado Annie), Noises Off (Brooke/Vicki) and a slew of other shows, playing characters that could be described as "dim witted" or "loose virtued". She holds BFA in Musical Theatre from the New School, and is a graduate of AMDA, NY. Much love to her wonderful fiance Mikey, the fam and all her peeps!
Dom Ruggiero (Director) is known for his directorial work in the United States as well as in Great Britain, South America, Europe and Australia. His works include a run of the world-renowned version of the Yeston/Kopit Phantom throughout the U.S., and La Traviata at New York City Opera. Audiences throughout Italy viewed his production of West Side Story. Most recently his work has been seen in the national tours of The Scarlet Pimpernel, Titanic, George M!, My One and Only, and Mame. Dom directed Louisiana Purchase, sponsored by Louisiana State University for their Bicentennial program of celebrations. Dom made his Off-Broadway debut at Playhouse 91 with a production of The Secret Annex; a new musical based on the story of Anne Frank. Other Off-Broadway credits include The New York City debut of Stephen Sondheim's The Frogs, and an original musical version of Sheridan's "School for Scandal" entitled, SCANDAL!. He has also directed the Australian, Asian, and South American tours of Ain't Misbehavin', the Asian tour of Anything Goes, a European tour of Phantom of the Opera in Copenhagen and Geneva. For the U.S., Dom has directed the national companies of Song & Dance, Shenandoah, Funny Girl, and How To Succeed In Business Without Really Trying. Dom has been a Resident Director at The Gateway Playhouse for the past 20 years. Represented by over 35 musical and comedy productions, Rumors, Lend Me A Tenor, Into the Woods, Once On This Island, The Secret Garden, Beehive, Cabaret, Big River, Carousel, Beauty and the Beast, and Tommy are among his favorites. Regional credits include productions of Romance, Romance, I'm Getting My Act Together and Taking It Out on the Road, Pump Boys & Dinettes, Little Shop of Horrors, Working, Company, South Pacific, and Grease. Dom received The Connecticut Critics Circle Award for his production of Phantom and the Best Director and Best Musical awards for his production of Tommy. He has also been the recipient of Best Director awards for his direction of Into the Woods, Big River and Little Shop of Horrors. Dom is the co-creator and director of his original review, The Magic of Musicals, which played an extended run in Athens and Thessaloniki Greece.
Jody Madaras (Choreographer) is delighted to be back for his 6th Gateway production! 1st National Tour: The Drowsy Chaperone (u/s Man In Chair, Robert, George, Aldolpho, Asst. Dance Captain). Regional Director/Choreographer: Little Women, Guys and Dolls, Pirates of Penzance, Call Me Madam, Crazy For You, Children of Eden, Hello Dolly! Gateway credits: Me and My Girl, Wizard of Oz, Show Boat, Annie Get Your Gun, Funny Girl. Off-Broadway: Peg O'My Heart (Irish Rep), Most Remarkable Fella: Frank Loesser (Lyrics & Lyricists 92nd ST Y). Original European Company: Crazy For You (Bobby/swing). Regional: Crazy For You (2008 AriZoni Award), Red, Hot, and Blue (Goodspeed and Papermill), Annie (Papermill), Phil in Irving Berlin's White Christmas (Actors' Playhouse, VMT), You Can't Take It With You (Two River Theatre). TV: "As the World Turns". Artistic Director: Pemberville Opera House (2001-2007). Next stop: Crazy For You (Modesto, CA). Graduate University of Michigan. www.jodymadaras.com. Special thanks to Casey N., Paul, Robin, Dom. Love to Natalie.
Jeff Hoffman (Musical Director) this season marks Jeff's nine-year anniversary with Gateway. He has served as Musical Director for Fosse in 2004, and last season's Beauty And The Beast. Jeff has also been the Musical Contractor for the theater for the past seven seasons and has played keyboard and assisted musical directors for Aida, Swing!, Fiddler on the Roof, Cats, Ragtime, Miss Saigon, Scarlet Pimpernel, Jekyll and Hyde, Phantom, Dreamgirls, and Full Monty. Having directed, musical directed, and performed in regional theaters for the past thirty-three years, this show marks his 125th show (OMG!). Jeff has also toured the country as arranger/musical director with the revue Tonys Tonite! and The Meritt and Moreau Show. He has also shared the stage as musical director/pianist with various artists including Phyllis Diller, Joe Piscopo, David Brenner, and Rip Taylor. Jeff is the founder/conductor of the Long Island Musical Theatre Orchestra which performs concert versions of Broadway musicals. Thank you to Paul, Robin, Michael, Dom and the Gateway family, and of course his incredible wife Diane, and their best production, their two sons Matthew and Bobby.
Christopher J. Landy (Lighting Designer) is always thrilled to return to Gateway, where he has been working for the past 20 years. His theatre and opera credits include A Little Night Music for Goodspeed; Rosencrantz and Guildenstern are Dead for Long Wharf and Williamstown; Hay Fever, Princess Turandot and Angel Street for Westport Country Playhouse; Orfeo ed Euridice and Turandot for Virginia Opera and Madame Butterfly, Marriage of Figaro, Die Fledermaus and Rigoletto for Boheme Opera. He has designed numerous productions for Gateway Playhouse including Oliver, Urban Cowboy, Phantom, Tommy (CT Critic Circle Award), Jekyll & Hyde, Showboat, West Side Story, Brigadoon, Cabaret, and Crazy For You. Off-Broadway credits include Oedipus, Hotel Universe, Princess Turandot, Ivanov, and Retribution. Christopher's extensive television credits include work for MTV, BET, VH1, Comedy Central, SpikeTV, Style Network, AMC, Oxygen, NBA, CMT, and CNN among others. With a strong background in music and live events, Chris has designed many series for MTV including "Total Request Live, Unplugged 2.0", "MTV's New Years Eve", "Choose or Loose","MTV's Beach House" and countless specials. For the Oxygen Network he has designed their "Custom Concert series" with such artists as LL Cool J, John Legend, The Wallflowers, Sarah McLachlan, Macy Gray, Alanis Morissette, Patti Labelle, Tori Amos and Michelle Branch. Chris was the designer for Comedy Central's "Tough Crowd with Colin Quinn". He also lit "ISAAC" for the Style Network and "Movies 101" for AMC. For news he designed "Showbiz Tonight" and "Nancy Grace" for CNN and the MSNBC "2004 Election" coverage for which he received an Emmy nomination. He holds an MFA in lighting and set design from NYU and runs his own design and production firm, Vibrant Design.
Margaret A. McKowen (Costume Designer) has designed productions in the United States, Europe and China. During her residency for the Obie Award-winning Jean Cocteau Repertory Theatre in New York City, designs included Brecht's Mother Courage and Her Children (utilizing the Darius Milhaud score in its world premiere), the Nobel Prize-winning poet Seamus Heany's The Cure at Troy, and several productions directed by Eve Adamson. Other New York highlights: the world premiere of Amber Patches starring Julie Harris at the Pendragon Theatre and PTE's The Trial and Wolfpit. Selected regional theatre credits: the world premier of JAZZLAND for the Contemporary American Theatre Festival; The Grapes of Wrath, Othello, All The King's Men, and Of Mice and Men for Arkansas Repertory Theatre; Henry V, Antony and Cleopatra, King Lear, The Winter's Tale, and Macbeth for The Texas Shakespeare Festival; and Romeo and Juliet, for the National Endowment for the Arts' series Shakespeare in the American Communities. Internationally: The Baltimore Waltz B.A.T. Studio Theatre (Berlin), Harold and Maude for the E. T. A. Hoffmann Theatre (Bamberg, Germany). Six Characters in Search of an Author at the Teatro Alfa Real (São Paulo, Brazil), and the first full length, English speaking production of The Tempest performed in Beijing, China. Opera: World premieres of The Boor at The Performing Arts Center (Austin); Wuornos, at the Yerba Buena Center in San Francisco and Every Man Jack for the Sonoma City Opera.
Brittany Loesch (Scenic Designer) graduated with a BFA in Theater from Pace University in New York City. Previous designs include Violet, Kiss of The Spider Woman, A Perfect Ganesh, and Iboga at Pace University, Language of Angels at the Abrons Art Center and Quiet Cry (Passajj Productions) on Theater Row. Most recently she was the scenic designer for Brian 'n Brittany's Wedding at the Jericho Terrace Playhouse and this seasons Gateway production of Sophisticated Ladies. Her 8 year journey from Intern to Scenic Coordinator has brought her all over the country touring with Rent and Mooseltoe, as well as designing various children's theatre productions. She is so grateful to have come so far and to be designing for the theater that raised her from a quiet intern to the professional she is today. Love to her husband and extended family!
Joe McGuire (Production Stage Manager) Broadway: The Master Builder with Lynn Redgrave. Off-Broadway: 14 shows including Blue Man Group; Tubes, Sight Unseen, Closer Than Ever, Tony and Tina's Wedding, The Haunted Host with Harvey Fierstein and Beehive. Tours: Beehive, This Funny World with Mimi Hines. International: Beehive; Tokyo, La Gran Scena Opera Company/ London, Madrid, Barcelona, Uruguay, Amsterdam. Phantom of the Opera/Geneva and Copenhagen. From 2000 - 2008 Joe was Vice President of Production and Creative Director for Hemming and Gilman Productions in New York City. In 2008 he started his own Entertainment and Video Production Company My Friend Entertainment (Myfriendentertainment.com.) Joe is also an accomplished video producer and editor.
Robin Joy Allan (Casting and Artistic Director) has been the Casting Director at Gateway for the last fifteen years. This will mark her seventh year as Artistic Director. Robin spent most of her early life performing, directing, musical directing, writing and teaching drama. She then became involved in Casting, spending several years in Manhattan and Los Angeles working in Film and Television. You'll find her name on: Parenthood, When Harry Met Sally, Lord of the Flies, Side Out, Ghost, Witness to the Execution, Cutters, along with many other projects, more obscure. She was directly involved in starting the careers of several of today's celebrities. Along with her Artistic and Casting Director duties, she is the force behind Gateway's Acting School Division, where she teaches the advanced classes, and directs the Manhattan Showcase for the school's competitive students. Her daughter Hayley, now twelve, is her joy. She continues to give her heartfelt effort to the evolvement and success of her family's legacy that is Gateway Playhouse.
Paul Allan (Producer) As Gateway celebrates it's 60th season, Paul sits in what was once his grandfathers office and reflects on this monumental achievement. Gateway has always been a family business, and each era has brought significant challenges particularly in the 80's and 90's when shows became more complicated and technically challenging. Additionally, the grounds changed, the buildings were modernized, and the facilities updated. In the most recent decade, the caliber of the artistic staff, performers, musicians, and technicians has risen to a level equaling and sometimes surpassing many Broadway shows. It has been difficult for Paul to find time to do other projects outside of Gateway seasons, but over the years he has been able to work on several NY shows in different capacities, as well as run a touring company with shows traveling around the country and abroad, operate a sister theatre in Connecticut, and maintain a set rental business - where Gateway scenery is used in theatres across the country after appearing on the Gateway stage. Paul appreciates, admires, and honors his family's dedication to the arts and is proud to help continue the legacy.