Back To Past Seasons Page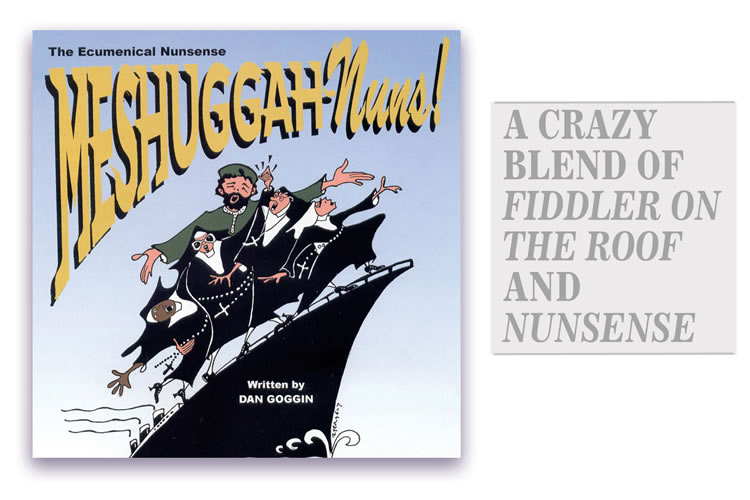 MESHUGGAH-NUNS! – the sisters are on an all-expense paid trip on the "Faiths of All Nations" Cruise, when the cast of "Fiddler on the Roof" (with the exception of the guy playing Tevye) gets seasick. The ship's captain asks the sisters and Tevye to put on a show.




| | |
| --- | --- |
| | Hilarity reigns supreme on the high seas with songs like Say It In Yiddish, Contrition, In the Convent, and If I Were a Catholic. From Sister Amnesia's attempt at magic to the sing-along Fiddlerspiel, Meshuggah-Nuns! is an ecumenical fun-fest. You don't have to be Catholic. You don't have to be Jewish. This is a show for anyone who loves a good laugh. |
June/July 2009

Sun
Mon
Tues
Wed
Thurs
Fri
Sat

14

15

16

17

8:00PM

18

2:00PM
8:00PM

19

8:00PM

20

3:00PM
8:30PM

21

2:00PM
7:00PM

22

23

8:00PM

24

8:00PM

25

2:00PM
8:00PM

26

8:00PM

27

3:00PM
8:30PM

28

7:00PM

29

30

8:00PM

July 1

2:00PM
8:00PM

2

2:00PM
8:00PM

3

8:00PM

4

5

2:00PM
7:00PM

6

7

8

9

10

11





Meshuggah-Nuns!
The Ecumenical Nunsense

By Dan Goggin

Starring

ERIN CROSBY
KRISTEN MENGELKOCH

JOY LYNN MATTHEWS
KATHERINE PECEVICH

And

DAVID EDWARDS

Producer
PAUL ALLAN

Associate Producer
JEFF BELLANTE

General Manager
GALE EDWARDS

Artistic Director
ROBIN JOY ALLAN

Production Manager
BRIAN LOESCH

Company Manager
MICHAEL BAKER

Wardrobe Supervisor
MARIANNE DOMINY

Lighting Design
KIM HANSON

Scenic Design
BARRY AXTELL

Production Stage Manager
PATRICIA MASON

Musical Direction by
BRENDAN WHITING

Directed and Choreographed by
DAVID EDWARDS


Cast of Characters


PRINCIPALS

Reverend Mother

KATHERINE PECEVICH *

Howard Liszt

DAVID EDWARDS *

Sister Hubert

JOY LYNN MATTHEWS *

Sister Amnesia

KRISTEN MENGELKOCH *

Sister Robert Anne

ERIN CROSBY*

UNDERSTUDIES

Ms. Pecevich

JESSICA HARRISON

Mr. Edwards

MICHAEL EDWARD BAKER *

Ms. Matthews

JESSICA HARRISON

Ms. Mengelkoch

JESSICA HARRISON

Ms. Crosby

JESSICA HARRISON

*member of Actors' Equity Association

MUSICIANS

Conductor/Keyboard I


Brendan Whiting

Keyboard II

Michael Santangelo

Violin/Tambourine

Marni Harris

Reed/Washboard

Michael Kendrot

Drums

Pete Desalvo




Administrative

Executive Producer

RUTH ALLAN

Producer

PAUL ALLAN

Associate Producer

JEFF BELLANTE

General Manager

GALE EDWARDS

Company Manager

MICHAEL BAKER

Assistant Company Manager

STEFAN SCHUETTE

Assistant to the Producer

KEVIN SCHAEFER

Administrative Assistant/Intern

SARAH INNES

Musician Contractor

JEFF HOFFMAN

Artistic

Atistic/Casting Director

ROBIN JOY ALLAN

Director/Choreographer

DAVID EDWARDS

Musical Director

BRENDAN WHITING

Lighting Designer

KIM HANSON

Scenic Designer

BARRY AXTELL

Scenic Coordinator

BRITTANY LOESCH

Resident Sound Designer

CODY SPENCER

Assistant to the Artistic/Casting Director

JESSICA HARRISON

Production Photographer

JEFF BELLANTE

Production

Production Manager

BRIAN LOESCH

Production Stage Manager

PATRICIA MASON

Wardrobe Supervisor

MARIANNE DOMINY

Scenic Coordinator

BRITTANY LOESCH

Technical Director

AD GARRETT

Master Electrician

KURT KROHNE

Sound Engineer

SHANE BOURGEOIS

Assistant Master Electrician

JUSTIN HOFFMAN

Shop Foreman

MARK FREDERICK

Wardrobe Assistants

JESSICA SPOTA, RACHAEL RALBY

General Technicians

MATT ANASTASIO, COURTENAY DRAKOS, AJ LEBENNS, KEITH REILLY

Sound Consultant

DOMINIC SACK

Production Management Intern

JON DYKSTRA

Stage Management Interns

ASHLEY BIGGE, MATTHEW MONTVILLE

Electrics Interns

COLIN CHAUCHE, AVI MECK

General Technician Interns

ROBERT BURSZTYN, JACOB FORSTEIN, ZAC KOLLEGGER, PETER J. TRAWINSKI

Wardrobe Interns

ALLEN DAVIDSON, STEPHEN SZYMANSKI

Box Office

Box Office Manager

LAURIE PARR

Director of Group Sales

Annmarie Allan

Group Sales

CLAIRE WARD

House Manager

JOANNE FAMIGLIETTI

Box Office Staff

NADINE HAZARD, DIANE KOERBER, CHRISTINA MONTALTO, LINDA UNGER, FRANCESCA WELHOUS

Facilities

Facilities Manager

The DON HARRISON

Concessions Manager

CARL DeMASI

Custodial Staff

FELIX BONILLA, CHRISTOPHER WASHINGTON

Grounds Maintenance

HTM LANDSCAPING COMPANY

Facilities Apprentice

BRENDAN T. SMITH

Grounds Maintenance

HTM Landscaping Company

House Staff

MARTIN MANINGO, ERIC BURT, RAYMOND TOBIA, EDWARD WECERA, LAUREN PARR, RYAN HUDAK

General Counsel

ANN L. NOWAK & ASSOCIATES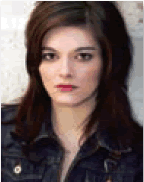 Erin Crosby (Sister Robert Anne) is so excited to return to Gateway after making her Gateway debut last season in Forbidden Broadway. Erin was last seen Off-Broadway in Forbidden Broadway: The Roast of Utopia (47th Street Theater), Shout! The Mod Musical (Yellow Girl, Original Cast at the Julia Miles Theater), Forbidden Broadway: SVU (47th Street Theater and The Douglas Fairbanks Theater). Erin also recorded the original cast album of Shout! (Rhino Records). Other credits include: The Rink (Illinois Theater Center), Meet Me in St. Louis (Illinois Theater Center), Anne and Gilbert (York Theater), Snow the Musical (ASCAP), Bring me a Dwarf (The Players Theater), and Roadkill (The Triad), Shout! The Mod Musical (The Duplex, AMA's, and The Lambs Theater). Erin is a member of Actor's Equity. She has had appearances on "Good Morning America", "A&E Breakfast with the Arts", the WB11 "Morning Show" and "The Jerry Lewis Telethon". Much love to Hunter!

David Edwards (Howard Liszt and Director/Choreographer) Broadway: By Jeeves, The Rothschilds. National Tour: The Producers. Off-Broadway: final "El Gallo" in the original run of The Fantasticks and recently starred in the critically acclaimed revival of Room Service. Other NYC credits include The Disputation, Dr. Sex, The Roar of the Greasepaint., That's Life, Jolson & Co., What's A Nice Country Like You Doing In A State Like This?, Zion, Company, and Bittersuite (cast recording). At Gateway Playhouse: La Cage Aux Folles (Albin), Beauty and the Beast (Lumiere), The Producers (Roger DeBris). Regional roles include Man of La Mancha (Don Quixote), Bells Are Ringing (Jeff Moss), A Little Night Music (Fredrick), Camelot (King Arthur), 1776 (John Adams), Little Me (Star Ledger Award Best Actor), Driving Miss Daisy (Boolie) and A Few Good Men (Jessup) at such theatres as Ordway, Portland Stage, Eugene O'Neill Center, Westchester Broadway, Old Globe, GeVa, and Syracuse Stage. Film: Belly, The Fantasticks: Try To Remember. TV: "Eternal Light". Directing credits include the world premiere of The Balancer and regional productions of The Producers (WBT), By Jeeves (Meadow Brook), South Pacific, Rumors, and Showboat (Surflight). www.davidedwardsonline.com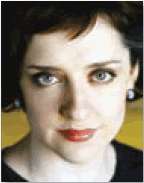 Kristen Mengelkoch (Sister Amnesia)'s smiling ear-to-Catholic-ear to be back at Gateway after performing Forbidden Broadway here last summer. She has performed Off-Broadway & on tour with recent editions of Forbidden...Other credits include The Most Happy Fella, Pete 'n' Keely, The Nerd & Nunsense. As a founding member of Southern Colorado Repertory Theatre, she appeared in The Last Five Years & Sylvia. Television: Veronica Mars (Co-Star). Kristen has a MFA in musical theatre from San Diego State University & a BFA from Emporia State University in Kansas. Thanks to Robin, Paul & Michael for welcoming me back...Love to Jonathan. www.kristenmengelkoch.com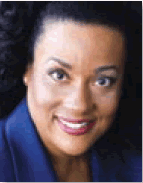 Joy Lynn Matthews (Sister Hubert) Delighted to debut here on the Gateway Playhouse stage! Recent credits include- Broadway: The Music Man; Marie Christine. First national Broadway tours: Ragtime, Show Boat. Off Broadway: Madame Wu-Chan(s/b) Our Leading Lady, Delia- Asylum- The Strange Case of Mary Lincoln; Power Woman- Menopause the Musical (original N.Y. cast).Regional: Muzzy – Thoroughly Modern Millie, Wanda- Crowns, Reno Sweeney - Anything Goes, Lady Thiang - The King & I,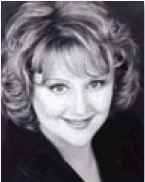 Katherine Pecevich (Reverend Mother) is a Massachusetts native and a musical theatre graduate of The Boston Conservatory. Recent credits include the 30th Anniversary National Tour of Annie as well as the newly released cast album, "Scrooge In Rouge" and "The Kathy and Mo Show". Katherine would like to thank Gateway Playhouse for this wonderful opportunity and her friends and family for their continued support.
Brendan Whiting (Musical Director) a native of Kamloops, British Columbia, Canada, Brendan has found a home away from home here at Gateway Playhouse. He has been assistant music director for the past three seasons, and recently conducted Sophisticated Ladies. Some Gateway favorites include Thoroughly Modern Millie, Dreamgirls, The Producers, and Sweet Charity. Other credits: Seussical (Western Canada Theatre), An Evening With Alan Menken (Lincoln Center) and Roller Derby: the musical (NYMF). Many thanks to Paul and Robin.
Barry Axtell (Scenic Designer) has designed almost every major production all over North America of Nunsense, Nunsense II, Nunsense Jamboree, Nunsense A-Men, Nuncrackers, and Meshugahh-Nuns! He has been a designer in NY for over 20 years designing sets for over 200 productions all around the world. Barry has been set designer for 12 years on the long running drama Guiding Light for which he received 3 Emmy nominations. He has also designed the 20th anniversary all-star tour of Nunsense and most recently he created the pump-room for Nunsensations.
Kim Hanson (Lighting Designer) has been designing lights for Gateway Playhouse since 1985. During that time he also designed lighting for many National & International tours. His work was first viewed in Asia with the tour of 42nd Street with stops in Israel, Singapore and Hong Kong. He revisited those wonderful venues and added KL to his passport as Lighting Director for the Rogers and Hammerstein review Some Enchanted Evening. His first visit to Taiwan came when he Stage Managed the tour on Hello Dolly. Additional international design credits include tours of My Fair Lady, Aladdin, Man of La Mancha, Song and Dance, Evita and ,of course, A Chorus Line. Kim has designed and managed many galas and special events in New York City where he enjoyed providing designs for stars such as Tommy Tune, Gregory Hines, Ray Charles, Barbara Cook, and Harry Belafonte. Prolific in the dance world, Kim has designed star tours for Robert LaFosse, Darci Kistler, Jacques Sotto, Allegra Kent, Gary Chryst and many others. As resident lighting designer for NYC's New American Ballet Ensemble he had the privilege of designing the world premiere of Ben Harkarvey's Premonition . Before moving to Connecticut, Kim was the long time resident lighting designer for the avante garde modern dance company Chen and Dancers based in New York City's Chinatown.
Brittany Loesch (Scenic Coordinator) graduated with a BFA in Theater from Pace University in New York City. Previous designs include Violet, Kiss of The Spider Woman, A Perfect Ganesh, and Iboga at Pace University, Language of Angels at the Abrons Art Center and Quiet Cry (Passajj Productions) on Theater Row. Most recently she was the scenic designer for Brian 'n Brittany's Wedding at the Jericho Terrace Playhouse. From her humble beginning at Bellport High School Her 8 year journey from Intern to Scenic Coordiniator has brought her all over the country touring with Rent and Mooseltoe, as well as designing various children's theatre productions. She is so grateful to have come so far and to be designing for the theater that raised her from a quiet intern to the professional she is today. Thank you Brian, Paul, AD and Mark!!
Patricia Mason (Production Stage Manager) is excited to be back for her second season at Gateway to celebrate the 60th Anniversary. Patti was Assistant Stage Manager last season for Will Rogers Follies, Beauty and The Beast, The Producers, The Wedding Singer and Christmas Spectacular: A Century of Christmas. Most recently she was Stage Manager for Homeward Bound, a new play produced by Greenlight Productions in New York City. Her favorite past shows include The Wedding Singer at Gateway Playhouse, I Am My Own Wife and Chick, The Great Osram at Hartford Stage Company, and Godspell at The Walnut Street Theatre.
Robin Joy Allan (Casting and Artistic Director) has been the Casting Director at Gateway for the last fifteen years. This will mark her seventh year as Artistic Director. Robin spent most of her early life performing, directing, musical directing, writing and teaching drama. She then became involved in Casting, spending several years in Manhattan and Los Angeles working in Film and Television. You'll find her name on: Parenthood, When Harry Met Sally, Lord of the Flies, Side Out, Ghost, Witness to the Execution, Cutters, along with many other projects, more obscure. She was directly involved in starting the careers of several of today's celebrities. Along with her Artistic and Casting Director duties, she is the force behind Gateway's Acting School Division, where she teaches the advanced classes, and directs the Manhattan Showcase for the school's competitive students. Her daughter Hayley, now twelve, is her joy. She continues to give her heartfelt effort to the evolvement and success of her family's legacy that is Gateway Playhouse.
Paul Allan (Producer) As Gateway celebrates it's 60th season, Paul sits in what was once his grandfathers office and reflects on this monumental achievement. Gateway has always been a family business, and each era has brought significant challenges particularly in the 80's and 90's when shows became more complicated and technically challenging. Additionally, the grounds changed, the buildings were modernized, and the facilities updated. In the most recent decade, the caliber of the artistic staff, performers, musicians, and technicians has risen to a level equaling and sometimes surpassing many Broadway shows. It has been difficult for Paul to find time to do other projects outside of Gateway seasons, but over the years he has been able to work on several NY shows in different capacities, as well as run a touring company with shows traveling around the country and abroad, operate a sister theatre in Connecticut, and maintain a set rental business - where Gateway scenery is used in theatres across the country after appearing on the Gateway stage. Paul appreciates, admires, and honors his family's dedication to the arts and is proud to help continue the legacy.