Back To Past Seasons Page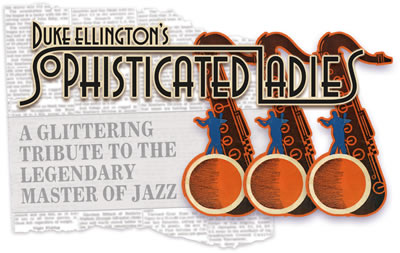 You don't have to "Take the A Train," to see the Tony Award winning, Duke Ellington's Sophisticated Ladies, where the legacy of "The Duke", is showcased in a bedazzling spectacle of swing and sultry dance, and a gorgeous earful of the most popular songs of the twentieth century.
| | |
| --- | --- |
| | From the hot beats of "It Don't Mean a Thing (If It Ain't Got That Swing)" to the sly fun of "Don't Get Around Much Anymore," Sophisticated Ladies is show stopping jazz, blues and big band boogie. A perfect afternoon or night out with your best friend or sweetie, you'll be swinging all the way home, never wanting the "Mood Indigo" to end. You can bet you'll be in "A Sentimental Mood" for Sophisticated Ladies! |
May/June 2009

Sun
Mon
Tues
Wed
Thurs
Fri
Sat

26

25

26

27

11:00AM
8:00PM

28

2:00PM
8:00PM

29

8:00PM

30

3:00PM
8:30PM

31

2:00PM
7:00PM

June 1

2

8:00PM

3

8:00PM

4

2:00PM
8:00PM

5

8:00PM

6

3:00PM
8:30PM

7

7:00PM

8

9

8:00PM

10

2:00PM
8:00PM

11

2:00PM
8:00PM

12

8:00PM

13

3:00PM
8:30PM





Duke Ellington's

Sophisticated Ladies
Based on the Music of Duke Ellington

Concept By Donald McKayle

Musical and Dance Arrangements by Lloyd Mayers

Vocal Arrangements
Malcom Dodds & Lloyd Mayers

Originally Produced on Broadway by Roger S. Berlind, Manheim Fox, Sondra Gilman, Burton Litwin and Louise Westergaard

In Association with Belwin Mills Publishing Corp. and Norzar Productions, Inc.

Original Musical Direction By Mercer Ellington

Starring

| JENNIFER BYRNE | EUGENE FLEMING | FRANCESCA HARPER |
| --- | --- | --- |

| CARLY HUGHES | JON PETERSON |
| --- | --- |

Producer
PAUL ALLAN

Associate Producer
JEFF BELLANTE

General Manager
GALE EDWARDS

Artistic Director
ROBIN JOY ALLAN

Production Manager
BRIAN LOESCH

Company Manager
MICHAEL BAKER

Costume Design
B.G. FITZGERALD

Lighting Design
BRIAN LOESCH

Scenic Design
BRITTANY LOESCH

Wardrobe Supervisor

MARIANNE DOMINY

Production Stage Manager
DOM RUGGIERO

Musical Direction
JEFF HOFFMAN BRENDAN WHITING

Directed and Choreographed by
CHET WALKER

Sophisticated ladies is presented through special arrangement with

R & H Theatricals: www.rnhtheatricals.com.

Playbill Designed and Printed by Searles Graphics, Inc.

CAST OF CHARACTERS

PRINCIPALS

Eugene

EUGENE FLEMING *

Francesca

FRANCESCA HARPER *

Carly

CARLY HUGHES *

Jennifer

JENNIFER BYRNE *

Jon

JON PETERSON *

ENSEMBLE

ELLIOT BRADLEY*, JULIUS CHASE*, ZAK EDWARDS*, BRITTNEY GRIFFIN, TIMOTHY KASPER*, VASTHY MOMPOINT*, ANNE OTTO, LIZ PATEK*, DEVERE ROGERS*

UNDERSTUDIES

Eugene Fleming

JON PETERSON*

Francesca Harper

VASTHY MOMPOINT*

Carly Hughes

VASTHY MOMPOINT*

Jennifer Byrne

BRITTNEY GRIFFIN

Jon Peterson

ZAK EDWARDS *

MUSICIANS

Conductor/Piano

BRENDAN WHITING

Trumpet I

CHARLIE SARLING

Trumpet II

TOM MANUEL

Trumpet III

MICHAEL GIRESI

Reed I

MIKE KENDROT

Reed II

BOB DALPIAZ

Bass

CATHERINE O'MALLEY

Percussion

DAVID VINCOLA

Trombone

GARY JONES

*member of Actors' Equity Association

Administrative

Executive Producer

RUTH ALLAN

Producer

PAUL ALLAN

Associate Producer

JEFF BELLANTE

General Manager

GALE EDWARDS

Company Manager

MICHAEL BAKER

Assistant Company Manager

STEFAN SCHUETTE

Assistant to the Producer

KEVIN SCHAEFER

Administrative Assistant/Intern

SARAH INNES

Musician Contractor

JEFF HOFFMAN

Artistic

Atistic/Casting Director

ROBIN JOY ALLAN

Director/Choreographer

CHET WALKER

Assistant to Director/Choreographer

TIMOTHY KASPER

Musical Direction

JEFF HOFFMAN, BRENDAN WHITING

Scenic Designer

BRITTANY LOESCH

Lighting Designer

BRIAN LOESCH

Costume Designer

B.G. FITZGERALD

Resident Sound Designer

CODY SPENCER

Assistant Lighting Designer

JUSTIN HOFFMAN

Assistant to the Artistic/Casting Director

JESSICA HARRISON

Production Photographer

JEFF BELLANTE

Production

Production Manager

BRIAN LOESCH

Production Stage Manager

DOM RUGGIERO

Wardrobe Supervisor

MARIANNE DOMINY

Scenic Coordinator

BRITTANY LOESCH

Technical Director

AD GARRETT

Master Electrician

KURT KROHNE

Sound Engineer

SHANE BOURGEOIS

Assistant Master Electrician

JUSTIN HOFFMAN

Shop Foreman

MARK FREDERICK

Wardrobe Assistants

JESSICA SPOTA, RACHEL RALBY

General Technicians

MATT ANASTASIO, COURTENAY DRAKOS, AJ LEBBONS, KEITH REILLY

Sound Consultant

DOMINIC SAC

Production Management Intern

JOHN DYKSTRA

Stage Management Interns

ASHLEY BIGGE, MATTHEW MONTVILLE

Electrics Interns

COLIN CHAUCHE, BILLY DYMOND JR., AVI MECKS

Sound Intern

SARAH RAMOS

General Technician Interns

ROBERT BURSZTYN, JACOB FORSTEIN, ZAC KOLLEGGER, PETER J. TRAWINSKI

Wardrobe Interns

ALLEN DAVIDSON, STEPHEN SZYMANSKI

Video Systems

KEVIN SCHAEFER

Box Office

Box Office Manager

LAURIE PARR

Group Sales

CLAIRE WARD

House Manager

JOANNE FAMIGLIETTI

Box Office Staff

NADINE HAZARD, DIANE KOERBER, CHRISTINA MONTALTO, LINDA UNGER, FRANCESCA WELHOUS

Facilities

Facilities Manager

DON HARRISON

Concessions Manager

CARL DeMASI

Custodial Staff

FELIX BONILLA, CHRISTOPHER WASHINGTON

HTM LANDSCAPING COMPANY

BRENDAN S. SMITH

House Staff

MARTIN MANINGO, ERIC BURT, RAYMOND TOBIA, EDWARD WECERA

General Counsel

ANN L. NOWAK & ASSOCIATES




Elliott Bradley (Ensemble) This is Elliott's first production at Gateway Playhouse. Most recently he was in Radio City Christmas Spectacular in NYC. Elliott has performed internationally in West Side Story, We Will Rock You, and on Holland America's Oosterdam. Regional U.S. credits include Kiss Me Kate (Paper Mill Playhouse), Music Man (Kansas City Starlight), Crazy For You (Ogunquit Playhouse). Proud member of AEA.

Jennifer Byrne (Terri) is thrilled to be returning to the Gateway after performing the role of Louise in Gypsy back in 2004. Recent credits include: Evil Dead the Musical (Linda, Original Cast recording; Toronto, Choreographer), It's Karate, Kid! the Musical (NYIT Outstanding Lead Actress Nomination), The Rocky Horror Show (Columbia), The WaterCoolers (Judy), Smokey Joe's Café (Patti), Seven Brides for Seven Brothers (Milly), Singing in the Rain (Zelda), Godspell (UK, Sonia), Pirates of Penzance (Ruth) and Side By Side By Sondheim (Sally). This fall she will be recreating her role as Patti in the Depot Theatre's production of Smokey Joe's Café. She has her BA in theatre from PSU and a musical theatre degree from RAPA in Toronto. Thanks to family and friends and to Chet – third time's a charm!

Julius Chase (Ensemble) is extremely enthusiastic to be joining the Gateway family! A native of New Orleans, Louisiana; Julius has appeared as Speedy Valenti in Wonderful Town, danced in Andrew Palermo's Two Gentlemen of Verona (musical) (founder of dre.dance) and featured dancer in Disney POPS with Ashley Brown from Broadway's Mary Poppins. Regional: Curtis (Dreamgirls), Zeke (HSM), Skeets Miller (Floyd Collins) and All Shook Up (The New Theatre). Sincere thanks to Friends, Family, Brother "Without your support I wouldn't be who and where I am today." Julius will be a Senior at CCM, graduating with a BFA in Musical Theatre in Spring 2010. Peace & Much Love!!

Zak Edwards (Ensemble u/s P.J.) is a proud OU graduate and Equity member. His favorite credits include No, No, Nanette (with Rosie O'Donnell and Beth Leavel), Wizard of Oz (Tin Man), Joseph...Dreamcoat (Benjamin), Hello, Dolly! (Ambrose Kemper, with Sally Struthers), The Wild Party (Oscar), Jesus Christ Superstar (Simon/Jesus U.S.), and three productions of Thoroughly Modern Millie, at theatres including New York's City Center, Casa Manana, Lyric of Oklahoma, Music Theatre of Wichita, Stages St. Louis, the Arvada Center, and North Shore. Thanks as always to his incredible family, fantastic friends, and Jon.

Eugene Fleming (Gregory) Broadway credits include: Never Gonna Dance, Look of Love, One Mo' Time, Kiss Me Kate, Fosse, Street Corner Symphony, Swingin' on a Star, high Roller Social and Pleasure Club, Black and Blue, The Tap Dance Kid, Sophisticated Ladies and A Chorus Line. His National Tours include: Smokey Joe's Cafe, The Wiz and Song and Dance. Film credits include Stephen Spielberg's Catch Me If You Can. Eugene dedicates his performance to Samaria.

Brittney Griffin (Ensemble u/s Terri) is a New York native and received her BFA in Dance from the University at Buffalo. Credits: Asian Tour of 42nd Street (Anytime Annie), National Tour: Hairspray (Dynamite), Regional: Smokey Joe's Cafe (Brenda). She would like to thank her Mom, Dad , family, and Jaesyn for their love & support.

Francesca Harper (Judith) was raised in New York City, where she studied at the School of American Ballet, the Joffrey Ballet School, The Ailey School, and under Madame Darvash and Barbara Walczak. After performing with the Dance Theater of Harlem, she danced as a principal in William Forsythe's Ballet Frankfurt from 1994-1999. Since returning to the USA in 2000, Harper has performed in several Broadway productions including Fosse, The Producers, The Frogs and The Color Purple. She most recently played Helene, opposite Molly Ringwald in a national tour of Sweet Charity. She premiered her critically-acclaimed one-woman show The Fragile Stone Theory at the 2002 Jacob's Pillow Dance Festival. As a singer and lyricist Harper has released singles in Europe and Japan. In November 2003, her single Would I? was released on Powerhouse Records. In 2006, she released her debut solo album Modo Fusion with 10 original tracks of soul-inspired R&B and electronica. Francesca thanks Chet for this amazing opportunity and thanks her Mother, Eric, Mama, and Margo for their love, support, and inspiration. Please visit www.francescaharper.com for more information

Carly Hughes (Phyllis) Is Happy to be joining the Gateway family! Credits include Broadway: How the Grinch Stole Christmas (Trixie Who, u/s Mama Who), Putnam County Spelling Bee (u/s for Marcy Park, Rona Luisa Peretti). Off-Broadway: SIDD: The Musical. Fav' Regional: Dessa Rose (Dessa Rose, West Coast Premiere, Theatre Works Palo Alto), Footloose (Rusty), AIDA (Aida), Constant Star (Ida One), Ragtime (Sarah), Smokey Joe's Cafe (Brenda), Mrs. Miller Does Her Thing (Denise, James Lapine workshop), Dreamgirls (Michelle). She has a BFA in Musical Theater and received the Princess Grace Award for Acting & Excellence in the Arts, 2003-2004, (www.pgfusa.com).

Timothy Kasper (Ensemble/Dance Captain) is excited to join the Gateway family in celebrating its anniversary with this refreshing production of Sophisticated Ladies. Timothy is a teacher, director/choreographer, and performer. He has traveled the world collaborating on Baroque and classical operas, concert dance works, master class/dance intensives, and of course Musical Theater Productions. He has choreographed productions of A Chorus Line, West Side Story, Brigadoon, World Goes Round, Phantom of the Opera, and more. He is most grateful to have met Chet Walker 18 years ago, who remains a constant source of inspiration and Friend.

Vasthy Mompoint (Ensemble u/s Judith) is excited to be returning to the Gateway Playhouse after performing Ragtime, Annie Get Your Gun, and Jesus Christ Superstar in the 2002 season! Broadway credits include: Good Vibrations, Hot Feet, and most recently, Mary Poppins!. Select Regional/National tours: Aida(Aida), Hair(Dionne), Smokey Joes Cafe(Brenda), Sweet Charity(Helene), 42nd Street (Gladys) National Tour of Ragtime (dance captain, Pas de duex dancer). She has performed with Micheal Jackson, Destinys Child, Gloria Gayner among others! She is currently the voice of Layla on Fox Tv's the "Winx Club". Thanks to God, Family, Friends, Teachers, and Michael!

Anne Otto (Ensemble) is very excited to be joining the cast and crew of Sophisticated Ladies at the Gateway Playhouse. Her past credits include Sweet Charity, Donn Arden's Jubilee and Singin' in the Rain as the "Green Dress". Anne was also in the "Victoria's Secret Fashion Show" this past fall and is a member of Chet Walker's "Walkerdance". She would love to thank the love of her life for his love and support no matter the distance.

Liz Patek (Ensemble u/s Phyllis) - Proud member of Actors Equity. Liz is thrilled to join the cast of Sophisticated Ladies at Gateway. Other credits include: A Celebration of Women in the Arts, w/Chita Rivera (Kennedy Center) Candide (NYC Opera), Sugar Babies (Downtown Cabaret), Cabaret (Arkansas Rep and La Comedia), A Chorus Line. Former Radio City Rockette. TV and film credits include "The David Letterman Show", Stepford Wives (2004) and Little Manhattan. Proud member of "Walkerdance", she is grateful to Chet to keep dancing in Jonathan's memory. Love always to her husband, Brendan.

Jon Peterson (P.J. u/s Gregory) Broadway: Cabaret (Emcee). Off Broadway: Song Man Dance Man, George M. Cohan Tonight! (George M-Drama Desk Award nominee, Best Solo Performance, 2006 Drama League Honoree, Connecticut Critics' Circle Award, Outstanding Actor in a Musical), Have A Heart (Henry), The George M. Cohan Revue (George-Bistro Award Best Performer in a Revue). National Tour and Regional: Half A Sixpence (Arthur Kipps) - Goodspeed Opera House. The World Goes Round (Man #1), The Rocky Horror Show (Frank 'n' Furter), Cabaret (National Tour-Emcee-nominee National Broadway Theatre Award Best Actor in a Musical), A Chorus Line (Paul). West End and UK National Tours: The Sound of Music, with Petula Clark (Rolf), A Chorus Line (Paul), Sophisticated Ladies, Cavalcade (Joey), Whoop-Dee-Doo! (Revue), Cats (Skimbleshanks, then Mistofolees, then Shimbleshanks again…), On Your Toes, Blitz! (Georgie). Feature Film includes: Anna Ballerina, Mail Order Wife, Surviving Picasso, Chish 'n' Fips. Television includes: "The Bill", "Inmates", "Out On Thursday". Cabaret and concert appearances with Ruthie Henshall, Michael Ball, Bonnie Lanmgford, Stephen Brinberg, Chita Rivera, as well as his own shows, Comes Love… and Skidoo!. Albums Jon appears in include The Johnny Mercer Jamboree, Skidoo!, George M. Cohan Tonight!

Devere Rogers (Ensemble) is so excited to be doing Sophisticated Ladies here at Gateway Playhouse! National: Five Guys Names Moe. Off Broadway: STEP! The Musical, Dance Dance Revolution, For Flow. Regional: Ain't Misbehavin', The Wiz, Five Guys Named Moe, Little Shop of Horrors, Ragtime, and many more! Education: New York University B.F.A. in Theatre. He also gives thanks to his Momma, his Dad(R.I.P.), family, friends, and to the wonderful cast and crew! Special thanks to his Dereon crew, his brojo, J-bo & Justin, Erica, and to his Tisch Class of 2009! I love you all and God Bless!
Chet Walker (Director/Choreographer) Creator and Co-Choreographer of the Tony and multi-international-award-winning Best Musical FOSSE, Chet Walker has directed and choreographed original works ranging from CIRQUE DU SOLEIL to JACOBS PILLOW where he serves as Director of the Jazz/Musical Theater Program, to original dance pieces created for Compania Internacional de Teatro Musical, the International Jazz/Musical Theater Dance Company which he co-artistic directs in Buenos Aires, Argentina. Chet began performing on Broadway at the age of sixteen when he appeared in the first revival of ON THE TOWN. Other Broadway credits include LORELEI, THE AMBASSADORS, and four Bob Fosse musicals: THE PAJAMA GAME, PIPPIN, DANCIN' and SWEET CHARITY. As Director/Choreographer, Chet's extensive stage credits include most recently SMOKEY JOE'S CAFÉ at the Bethesda Theatre, CABARET at the Terazije Theatre in Serbia where he was first invited by the U.S. State Department; The Producers (Israel's equivalent of the Tony Award for his Original Choreography; Argentina's ACE Award nomination for Best Choreography); The Dancing Man in Norway, followed by a European tour; Seven Brides for Seven Brothers (U.S. National Tour); SWEET CHARITY in the U. S., Holland, Japan, Mexico, Norway and London's West End; the tenth anniversary tour of LA CAGE AUX FOLLES; and DORY! A MUSICAL PORTRAIT at the Will Geer Theater in Los Angeles. Other productions include ChicagO, 42nd Street, A Chorus Line, Follies, A Funny Thing Happened on the Way to the Forum, Working, Kiss of the Spider Woman (Mexico's equivalent of the Tony Award for Best Musical), Singing In The Rain, BEST LITTLE WHOREHOUSE IN TEXAS (L.A. Drama-Logue Award for Best Choreography), Annie Get Your Gun (Sweden's equivalent of the Tony Award), and PAL JOEY (Chicago's Joseph Jefferson Award). For television, Chet's credits include the NBC special Loretta Lynne Country in the Big Apple and Just Dance for Japan's CTV. His work has been seen on THE ROSIE O'DONNELL SHOW, SHOWTIME, and several international television networks, video presentations, and commercials. He was recently profiled in Rose Eichenbaum's THE DANCER WITHIN and is often featured in DANCE MAGAZINE. Chet is currently at work on several new musicals including DIAMONDS; MARATHON; The Reel: Valentino; and Ain't That A Kick in the Head: The Songs of Sammy Cahn. Chet Walker is Artistic Director of Walker Dance, a Jazz/Musical Theatre Dance Company. In recent years WALKER DANCE has premiered the original Dance Opera, SEDUCTION Off-Broadway, performed CONFESSIONS OF LOVE at the Jacobs Pillow Dance Festival, and in the near future expects to premiere a new piece entitled JAZZ ON JAZZ in New York City.
B.G. FitzGerald (Costume Designer) is delighted to return to Gateway Playhouse where, in previous seasons, he has designed the costumes for La Cage aux Folles, The Mystery of Edwin Drood, Broadway Bound, Beehive, Rumors, Anything Goes, Me and My Girl, Into the Woods, and State Fair, as well as performing the role of the Chairman in Drood and Captain Hook in Peter Pan. Following Sophisticated Ladies, he returns to Chautauqua Opera for a four opera summer season, then back home to Florida for his 12th year at Sarasota Opera's five opera winter season. As for next summer-as they sing in La Cage- who knows, the best of times is now!
Brian Loesch (Lighting Designer) is proud to be part of the Gateway Family for his twelfth straight season! He's also thrilled that he and his wife Brittany are designing their first production together as a married couple right here at Gateway, where they met eight years ago! He has previously designed Forbidden Broadway (2008 version), A Christmas Carol, The Full Monty, A Holiday Spectacular On Ice (2004 version), South Pacific, Footloose, Jesus Christ Superstar, Kiss Me Kate, Holiday Hop (1999), Urinetown, Mooseltoe, Cabaret and numerous children's theatre productions including Peter Pan (2004) and Jungle Book (2005) for Gateway. Brian graduated with a Degree in Technical Theatre from Suffolk County Community College. Other design credits include Language of Angels (Henry Street Experimental Theatre, NYC), Paraffin Touch (World Premiere at Suffolk County Community College), The Man Who Would Be King (World Premiere at the Antrim Playhouse), and Kiss Me Kate (Cape Fear Regional Theatre). National Tour credits include the George M! (2003 Candlewood Int./ Mainstage Productions), Titanic (2004 Candlewood Int.), A Holiday Spectacular On Ice (2004 A Gateway / Candlewood Production), Mame (2005-06 Candlewood Int.), Camelot (2006-07 Candlewood Int.), and the 2007 and 2008 productions of Mooseltoe (Semmelman Productions).
Brittany Loesch (Scenic Designer) graduated with a BFA in Theater from Pace University in New York City. Previous designs include Violet, Kiss of The Spider Woman, A Perfect Ganesh, and Iboga at Pace University, Language of Angels at the Abrons Art Center and Quiet Cry (Passajj Productions) on Theater Row. Most recently she was the scenic designer for Brian 'n Brittany's Wedding at the Jericho Terrace Playhouse. From her humble beginning at Bellport High School Her 8 year journey from Intern to Scenic Coordiniator has brought her all over the country touring with Rent and Mooseltoe, as well as designing various children's theatre productions. She is so grateful to have come so far and to be designing for the theater that raised her from a quiet intern to the professional she is today. Thank you Brian, Paul, AD and Mark!!
Dom Ruggiero (Production Stage Manager) Dom Ruggiero, a member of Actors Equity, has been stage managing for the past 27 years. Broadway PSM credits include The Gathering starring Hal Linden, Borscht Belt on Broadway starring Bruce Adler and Mal Z. Lawrence, and Ain't That a Kick in the Head – the Music of Sammy Cahn directed by Chet Walker. 1st National Tours include: The Cole Porter Songbook starring Melba Moore, The Irving Berlin Songbook starring Carole Lawrence, Greetings! Shalom Aleichem Lives starring Judy Kaye, Bruce Adler and Theo Bikel. Dom has stage managed across the US, Europe, South America and Australia with Aint' Misbehavin, Phantom, Anything Goes, and Song & Dance among many others. He is no stranger to the Gateway Playhouse, having begun his involvement 20 years ago with his production of Little Shop of Horrors, which he also directed. Dom has directed numerous shows for Gateway, most notably the 3 productions of Phantom, Tommy, Cabaret, and Once on This Island. Dom also directed Gateway Playhouse's production of Beauty and the Beast last summer, and will direct the upcoming production of The Drowsy Chaperone.
Robin Joy Allan (Casting and Artistic Director) has been the Casting Director at Gateway for the last fifteen years. This will mark her seventh year as Artistic Director. Robin spent most of her early life performing, directing, musical directing, writing and teaching drama. She then became involved in Casting, spending several years in Manhattan and Los Angeles working in Film and Television. You'll find her name on: Parenthood, When Harry Met Sally, Lord of the Flies, Side Out, Ghost, Witness to the Execution, Cutters, along with many other projects, more obscure. She was directly involved in starting the careers of several of today's celebrities. Along with her Artistic and Casting Director duties, she is the force behind Gateway's Acting School Division, where she teaches the advanced classes, and directs the Manhattan Showcase for the school's competitive students. Her daughter Hayley, now twelve, is her joy. She continues to give her heartfelt effort to the evolvement and success of her family's legacy that is Gateway Playhouse.
Paul Allan (Producer) As Gateway celebrates it's 60th season, Paul sits in what was once his grandfathers office and reflects on this monumental achievement. Gateway has always been a family business, and each era has brought significant challenges particularly in the 80's and 90's when shows became more complicated and technically challenging. Additionally, the grounds changed, the buildings were modernized, and the facilities updated. In the most recent decade, the caliber of the artistic staff, performers, musicians, and technicians has risen to a level equaling and sometimes surpassing many Broadway shows. It has been difficult for Paul to find time to do other projects outside of Gateway seasons, but over the years he has been able to work on several NY shows in different capacities, as well as run a touring company with shows traveling around the country and abroad, operate a sister theatre in Connecticut, and maintain a set rental business - where Gateway scenery is used in theatres across the country after appearing on the Gateway stage. Paul appreciates, admires, and honors his family's dedication to the arts and is proud to help continue the legacy.