Dora The Explorer Live
Dora's Pirate Adventure

Friday's and Saturday's
August 5 - 20
at the Gateway Playhouse
OVERVIEW
TICKETS
CAST & CREATIVE
REVIEWS
PHOTOS
VIDEO
PLAYBILL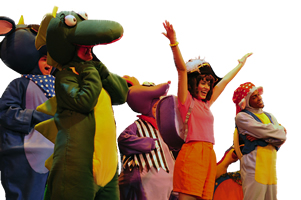 A quote from a patron who saw the Gateway production last year:
"This is so phenomenal! I saw this at Radio City and this one is so much better…from costumes, to lighting to set! "
Background- Dora the Explorer Live: Dora's Pirate Adventure is a family-friendly show, that has been adapted from the episode of the popular Nickelodeon television program. The show is easy to follow and is well translated to the stage. The show glues the children to the seat. In addition, the show has got lots of interactive elements that makes it interesting not only for the children but even for the adults also.
In Dora's Pirate Adventure!, you will find the popular character Dora, Boots the Monkey her best buddy, and her other friends. All of them undertake an exciting trip to the Treasure Island. The kids will also get to see the cousin of Dora named, Diego who is an expert of nature and science. Since it is an interactive show, the audience gets the chance to help Dora and her friends over Singing Mountain, past the silly Singing Bridge and also help them confront the Pirate Piggies. The format of the show is full of challenges, puzzles and obstacles that both the audience and Dora must solve together so as to step up in the next challenge. Dora can speak fluently, both English and Spanish and this helps her to communicate with her friends to overcome the problems, to reach their desired goals. She also teaches some words and phrases to the audience which is useful to the audience to help them solve the puzzles and move ahead.
About the Author:
Chris Gifford is creator and executive producer of Nick Jr.'s hit preschool series Go, Diego, Go! He is also the creator and executive producer of preschool phenomenon Dora the Explorer. Gifford has written and composed music for the two Dora the Explorer live stage shows, Dora's Search for the City of Lost Toys and Dora's Pirate Adventure, and has written for Go, Diego, Go Live! The Great Jaguar Rescue, all of which have broken box office records.
Gifford joined Nickelodeon in 1989 as unit manager. He was soon promoted to production manager, Nickelodeon/Nick at Nite, where he worked on a number of productions including Family Double Dare, Think Fast, Total Panic, Hi Honey, I'm Home, and Outtahere. In 1991, he was named associate producer, and then producer of the hit series Clarissa Explains It All, where he oversaw the production of 52 episodes.
In 1995, Gifford served as executive in charge of development and production at Nick Jr., where he oversaw the development and production of Allegra's Window, The Wubbulous World of Dr. Seuss, The Busy World of Richard Scarry and the first season of Gullah Gullah Island. In 1998, he created, wrote, and produced the interstitial series "Abby's Friends." Prior to joining Nickelodeon, Gifford worked at the Children's Television Workshop as the unit manager for 3-2-1 Contact. He began his television career in 1980 playing the character Danny on the Peabody Award-winning children's show The Great Space Coaster. Gifford is a former educator with experience teaching both speech and drama to elementary and high school students. He holds a degree in theatre from Connecticut College.
All Seats: $12.00 • Group Discounts Available
Sorry, children aged 2 or older only. No infants admitted. Every child must enter with a purchased ticket.
August 2011

SUN
MON
TUES
WED
THUR
FRI
SAT
1
2

3

4




5

10:30AM

6

10:30AM


7




8

9

10

11




12

10:30AM

13

10:30AM


14




15

16

17




18




19

10:30AM


20

10:30AM


MICHELLE VEINTIMILLA

(Dora)

is thrilled to be reprising her role of Dora. Michelle attended the Gateway Acting School for seven years, and now attends Carnegie Mellon University where she is pursuing a BFA in Acting. She sends love and thanks to her family, her mentors here at Gateway, and of course, the Dora fans! She hopes you enjoy the show as much as she enjoys performing it.

AJ LEBBENS

(Diego)

JAMEL HUDSON

(Boots)

COLETTE GIRARDIN

(Map)

ALYSSA CASTELLANO

(Is

a) is so excited to "turn the wheel" again as Isa the iguana this summer. She graduated the Gateway acting school and is now attending Syracuse University for her BFA in acting. Over the years Gateway has become a very special place in Alyssa's heart and she is very happy as always to be able to spend another summer here! Thank you so much to Min, Matt, Peter, Michael, Robin and Paul for another great rendition of Dora the Explorer, "We did it!"

TAYLOR SMITH (Benny) is delighted to be playing Benny in Dora The Explorer once again. Taylor will be a senior next year at Eastport South Manor High School. He was lucky enough to do his first shows at Gateway Playhouse last summer, in Les Miserables as Jean Valjean and as Benny in Dora the Explorer. He is so excited to put on his Benny costume again this summer. Since then Taylor has been taking acting classes at Gateway and loving every moment of it. He hopes to do more shows at Gateway and work with all his friends on stage again. Taylor would like to thank Min, Matt, Peter, Michael, Robin and Paul for their hard work and dedication. Congratulations to the cast and crew again on another great run of Dora!

MIA MULVEY

(Tico)

is a junior at Boston University who is so excited to reprise her role in such an enjoyable show. She is very grateful to be able to combine her love of theatre and children, while spending another summer here at Gateway. She was a long time student of the Gateway Acting School, and has been a part of numerous mainstage and children's theatre productions. Mia is so happy to be able to share the stage with her amazing sister and beautiful friends, and sends lots of love and thanks to Mr. Min, Peter, Matt, Robin, Michael and family.

LOUIE RINALDI

(Swiper)

Is happy to spend another summer swiping with this awesome production. Louie graduated from the Gateway Acting School last year and is now currently getting his BFA in Acting at The Theatre School at DePaul University. He wants to thank Min, Matt, Michael, Robin and Angel. 1111

KEVIN SPELLMAN

(Pirate Pig Captain)

AMY WOSCHNIK

(Piggie #1)

MADIE MULVEY

(Piggie #2)

is happy to share the stage with this energetic and loving cast again! She is a senior at Westhampton Beach High School and a ten year Gateway acting school student. She has been seen in several other children's theater and main stage shows and will next be seen here in Sweeney Todd. She would like to thank her best friend and sister, Mia, Robin, Michael, Mr. Min, Matt, and her friends and family. Love you all!

ALISON CORDARO (Baby Jaguar) Alison is 10 years old and lives with her family in Ridge, NY. Alison's love of acting began at the tender age of 6 when she was enrolled in classes at Gateway. Her acting has brought her many exciting opportunities including some commercial work, playing the role of "Vicky" in the feature film Brooklyn's Finest, and taking part in the Mainstage Gateway shows; A Century of Christmas, Holiday Spectacular on Ice, and A Christmas Carol.

Alison has also been part of the Gateway Children's Theater Productions of The Wizard of Oz, Les Mis (Young Eponine),and most recently, Dora's Pirate Adventure(Baby Jaguar). Along with continuing her acting studies, Alison enjoys dance lessons, playing the clarinet, drawing, and spending time with her family and friends. She would like to thank Ms. Robin, Mr. Paul, and the rest of her family here at Gateway for continuing to give her the opportunity to grow and do what she loves to do.

RYAN KOERBER

(Ensemble)

is very excited to be back in Dora's Pirate Adventure after playing Baby Jaguar in last year's production! Ryan has been a student at The Gateway for the past 9 years. Gateway- A Century of Christmas, Carousel, Evita, Aida, Oliver!, A Christmas Carol, The Will Rogers Follies (Freddy), Beauty and the Beast (Chip), Hello Dolly!, and a few Children's Theater productions. Ryan will also be in Gateway's upcoming production of Sweeney Todd! Thanks to Mr. Min, Peter Pece, and Matt for making our Pirate Party possible!

JESSE KEITEL

(Ensemble)
KAITLYN L

A

GREGA is very excited to be a part of this summer's production of Dora The Explorer. This is her first performance at The Gateway Playhouse. I'm a student at Gateway's acting school, also I am in a dance company at Stage Door School of Dance. Being a performer is my life. I want to thank Jess, and Michael for asking me to be in this production. Enjoy the Show!

SHANNON CUNNINGHAM

(Ensemble)

JULIA BELLANTE

(Ensemble)

JOE MINNUTILLO (Director) I have worked at Eastport South Manor School District since 1980 and have created the model High School Theatre Program for the NY State. I have worked at various theatres around the state and have given workshops in directing, acting and how to promote theatre education in schools. I am one of the founding fathers of the New York Theatre Education Association (NYSTEA) and have helped in the development of a theatre certification for teachers in the NY State Education department. I have been working at gateway since 1994 as a director and teacher but also directed the young playwright's festival at Bay Street Theatre and also for the YAWP Young American Writers Project with Emma Walton Hamilton and Will Chandler at Stony Brook University, Southampton Campus.

MEGHAN GUNTHER is thankful to be a part of Gateway's production of Dora the Explorer: Pirate Adventure. This is her second show at Gateway. She is involved in dance at The Stage Door Dance Studio and has been involved in Gateway's acting school for two sessions. Meghan has been involved in the productions of Once Upon a Mattress, The Pajama Game, and Once on this Island, all under the direction of Jeff Hoffman. She has also been seen in Bye Bye Birdie, Little Shop Of Horrors, Grease, Joseph…, The Music Man, and Gateway's student production of Les Miserables. She has been seen in NYPD IDOL, as well as showtime's Live at the Apollo

DR. PETER A. PECE- has been professionally involved in music for over 40 years and has been an educator since 1973. Peter received his doctorate in the field of Neuromusicology where he examined the issues involved in how the brain processes music, memory and language, and what the effects of brain trauma has upon these processes. He has lectured in Neuromusicology and the Mozart Effect in districts on L.I. and spoke at the New England Symposium for Music Education. Peter has performed at Lincoln Center as well as having arranged and performed musical revues for former President Bush and former Prime Minister, Margaret Thatcher. Peter was also involved in a musical arrangement for Tony LoBianco's "LaGuardia." He has also been the musical director of Gateway Playhouses Children's Theatre since 1992, where he musically directed over 30 productions. Peter is the musical director and musical arranger for "Courting the Jester: A Salute to Danny Kaye" and "That's Amore" A Musical Salute to the Composer Harry Warren which have been performed in the tri-state area since 2001. He is also an adjunct professor in the School of Professional Development at Stony Brook University where he teaches graduate courses on Music and the Brain, Thesis Writing and Early Adolescent Development.
Reviews Coming soon
Production Photos Coming Soon
Video Preview Coming Soon