The Who's Tommy

July 21 -30
at the Gateway Playhouse
OVERVIEW
TICKETS
CAST & CREATIVE
REVIEWS
PHOTOS
VIDEO
PLAYBILL
Before AMERICAN IDIOT, there was TOMMY, the classic 60s rock opera from "The Who", that illustrates a young boy's journey from pain to triumph in an electrifying multimedia evening of rock and roll in a theater. The production at Gateway will presented with a student cast, backed by professional staff and production values.

Last season's Les Misérables - Student Edition was a close to sell out blockbuster with patrons exclaiming that they were amazed they were watching young people in such an awe inspiring show. This year is sure to be no exception with skilled performing arts students directed by industry professionals, an award winning set from Gateway's 1996 production, spectacular lights, projections and costumes.
The Who's classic rock opera is brought to the stage with a live band conducted by Justin Fischer, who recently finished the 2nd national Tour of SPRING AWAKENING. The production is directed by Robin Joy Allan, Gateway's Artistic Director and Acting School Founder and Director. Ms. Allan directed last year's triumphant Les Misérables. She has also worked with young people teaching, directing and casting for many years, having been the Associate Casting Director on the films Parenthood, Ghost and When Harry Met Sally Robin was the Casting Director for 1990's feature film Lord of the Flies, discovering Balthazar Getty,(Brothers and Sisters) and James Badge Dale (Rubicon.) She is developing many young Long Islanders in Gateway's Acting School division, which has spawned several former alumni who are already finding much success, on a scholastic and professional level.
PRE PRODUCTION PRESS SHOTS
Pinball Lads and Lasses
Kaylee Spano, Madison Mulvey, Brenda Birkeland, Veronica Kelly
Ryan Koerber, Jesse Keitel, Jesse Lewis, Dante Baldassin
Ms. Walker, Ten Year Old Tommy, Capt. Walker
Christie Lombardi, Jace Simoes Rodrigues, Joe Wood
July 2011

SUN
MON
TUES
WED
THUR
FRI
SAT
17
18
19

20

21

8:00PM




22

8:00PM

23

2:00PM



24

7:00PM


25

26

27

8:00PM

28

8:00PM


29

8:00PM

30

3:00PM
7:00PM
Cast
| | |
| --- | --- |
| Mrs. Walker............................................................. | Christie Lombardi |
| Captain Walker......................................................... | Joe Wood |
| Uncle Ernie.............................................................. | Christopher Isolano |
| Lover........................................................................ | Jesse Lewis |
| Four-Year-Old Tommy............................................... | Nolan Lyons |
| Narrator/Tommy........................................................ | Miles Whittaker |
| Ten-Year-Old Tommy................................................ | Jace Rodriguez |
| Cousin Kevin............................................................ | Dante Baldassin |
| Hawker.................................................................... | Jesse Keitel |
| The Gypsy............................................................... | Melissa Mahoney |
| 1st Local Lad........................................................... | Jesse Lewis |
| 2nd Local Lad........................................................... | Jesse Keitel |
| Sally Simpson.......................................................... | Brenda Birkeland |
| | |
| Ensemble................................................................ | Brittany DeAngelis, Robert DeFilippo, Raymond Ebarb, Theo Ebarb, Liam Golde, Marielle Greguski, Liam Hofmeister, Veronica Kelly, Ryan Koerber, Libby Larkin, George Marschall, Madison Mulvey, Alex Sneddon, Kaylee Spano, Ambrose Teniozo, Andrew Vertucci, Brian Walsh |
Reviews Coming soon
Production Photos
Click any image to see it larger
Hover over the larger image for controls to advance through them
Playbill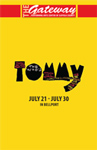 Download the Playbill
2 Meg PDF File