Gateway Today
61 Seasons of World-Class Entertainment
Some Highlights from past seasons.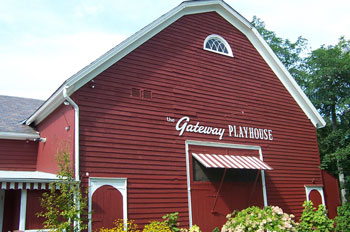 2011 began a new chapter for the Gateway. The Performing Arts Center of Suffolk County, a new nonprofit corporation, was formed to present the 62nd season—and all future season—of the spectacular entertainment Long Islanders have come to expect. The theater is one of only three professional theaters on Long Island as well as the oldest of the three. The modern facility at Bellport is surrounded by a beautifully landscaped rustic exterior that creates a unique theater-going experience unparalleled on Long Island. The history and evolution of the Gateway could be a movie in the making, with its many transitions, variety of productions, and long list of colorful characters from on stage and off. It would be a movie about how three generations of a single family have fashioned what was once a farm on eastern Long Island into one of the top ten summer theaters in the nation (you can read about our history here).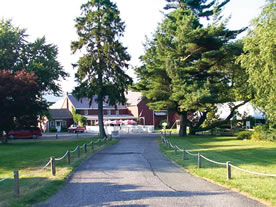 Gateway Playhouse is located on the eastern edge of Bellport, Long Island, on about seven acres of wooded, grassy land. The grounds encompass the Main Stage Theatre, the Barn Theatre (for acting school classes and projects), a scene shop, two rehearsal studios, three dorm-style housing units, a newly remodeled kitchen, a costume shop, a design office/studio, a paint shop, a box office, business offices, various storage spaces, a recreation room and a large hedge-lined lawn with outdoor swimming pool (which holds the distinction of being the first ever in-ground swimming pool on Long Island).
State-of-the-art Facilities
Since we first began, we have continuously changed and updated our facilities. The Main Stage Theatre in Bellport seats 500 and is comfortably heated and air-conditioned. The proscenium opening measures 34' x 16' with a stage depth of 25'. The grid height is 34', holding 25 line sets for scenery and lights. ( Click here to see a 360° tour of our beautiful theater.) The lighting is computer controlled, making use of moving lights and color changers. In recent years, our set rental business has grown, now having over forty full sets to lease. Our sound system relies heavily on wireless microphones (worn by the performers) and additional sound reinforcement as necessary.
A Family of Professionals
Because of our longevity and reputation, we are able to attract a high caliber of professional directors, performers, musicians and technicians from New York City and around the country. All of our actors are professional performers; most are members of Actors Equity Association, the union of professional actors and stage managers. Our musicians (8-12 per show) are members of The American Federation of Musicians (Local 802), and we employ SSDC© directors (Society of Stage Directors and Choreographers) and USA© designers (United Scenic Artists). Many of our actors, technicians, musicians, and other staff members have worked on Broadway, while others go on to Broadway and National Tours after leaving Gateway, and many return in between. View a partial list of notable Alumni.

Training Future Artists
Rooted in the theater's early years of prominence in training young actors, Gateway's Acting School is now in it's 17th year of providing professional training to local kids and adults. Recent alumni have worked successfully in the entertainment industry on B'way, in Nat. Tours, TV and feature films. Los Angeles Casting Director, Robin Joy Allan, a third generation of the founding family, brought her industry knowledge and expertise back with her to infuse the school with current auditioning know-how. The school is geared toward film and television acting with musical theater being a secondary emphasis. Those who are career-oriented have opportunities to be connected with industry professionals for further advancement. You can read more about this on our Acting School pages.
Our Home in Beautiful Bellport
Gateway is located in the Village of Bellport, about sixty miles east of New York City on the south shore of Long Island, nestled into the curve of Bellport Bay. The Village retains the atmosphere and charm of a hometown village, with a quaint mixture of small shops and restaurants, a health food store, neighborhood deli, four hair salons, four bars, two small supermarkets, a liquor store, pharmacy, small gym, paint store, several churches, a dock where you can take the ferry out to Bellport's own private beach on Fire Island, as well as several other assorted clothing and gift shops. Gateway Playhouse and Bellport Village go hand-in-hand, making for the perfect choice for summer day trips.