A Christmas Carol
December 17 - 23
at the Patchogue Theatre


OVERVIEW
TICKETS
CAST & CREATIVE
REVIEWS
PHOTOS
VIDEO
PLAYBILL
As you have come to expect from a Gateway Playhouse production, the stage will erupt with fabulous period sets, moving lights, rich costumes special effects, a live orchestra, the brightest talent from New York City and a handful of adorably talented kids!

Hailed by critics, and an overwhelming audience favorite for a decade during its historic run at Madison Square Garden, this A CHRISTMAS CAROL is a delightful, enchanting and mesmerizing production. It has every bit of entertainment you and yours could want for the holidays!

Put away your shopping, and come and spend a couple of hours with your family or those dear to you. The spirit of the season is truly within this magical show. You just may walk into the cool December air needing perhaps only a scarf, as the abundant joy will leave you feeling warm all over.
December 2010

SUN
MON
TUES
WED
THUR
FRI
SAT
12
13
14

15

16




17

8:00PM

18

12:00PM
8:00PM

19

2:00PM
7:00PM

20

21

7:00PM

22

11:00AM

7:00PM

23

2:00PM
8:00PM

24

25



Nathan Anderson

(Ensemble) is proud to be making his debut with the Gateway Playhouse. Prior to this he had been seen in many regional theatres and tour playing such characters as, The Mayor of Whoville, in Seussical the Musical, Marcelus Washburn, The Music Man, and Mr. Fezziwig in the tour of Scrooge the Musical! with the New York Stage Originals. He would like to dedicate this show to Tom, Jamie, and Scott. Thanks for being with me on this part of the journey, guys! xo



Michael Edward Baker

(Ghost of Jacob Marley) Michael is very thrilled to be a part of this amazing production with such a talented cast and crew. Over the past ten years, Michael has been involved at Gateway Playhouse in many capacities- teaching in the acting school, assisting in the casting office and for the last three years as Company Manager. Michael has been seen in national tours, NYC theatre and even on the screen. Favorite production credits from theatres near and far include; Miss Saigon, Jesus Christ Superstar, Jekyll and Hyde, Scarlet Pimpernel, Ragtime, A Christmas Carol, The Secret Garden and more. Most recently, Michael is proud to have portrayed the role of Brian in Gateway's highly praised production of Avenue Q. This winter, Michael is traveling to California to study improv comedy at the Groundling school. He is grateful to end this season with this amazing opportunity and thanks the entire Allan Family and the Gateway staff for their love and support. Special thanks and love to Mom at home near Seattle, JP, Ricky, Keith, his students and other friends and family. Michael earned his BFA in acting from CW Post Campus of LIU and is a member of Actor's Equity Association. For Dad. "An idea, like a ghost, must be spoken to a little before it will explain itself." –Charles Dickens



Tyler Bellmon

(Ensemble) is a recent graduate of Emerson College's BFA Musical Theatre program, and is thrilled to be making his Gateway Playhouse debut! Credits include: Brighton Beach Memoirs (Eugene), The Foreigner (Ellard), Illyria (Sir Andrew), Crazy For You (Custus), Little Shop of Horrors (Seymour), Jesus Christ Superstar, The Best Little Whorehouse in Texas, and Carousel. He will be appearing in All Shook Up at Circa '21 Dinner Theatre next month. Thanks to his family, friends, and mentors for their constant support.



Jessica Bradish

(Ensemble) is thrilled to be making her debut at Gateway Playhouse. She received a degree in musical theater performance from Wagner College, and she's since gotten to perform all over the country including four summers in Alaska. Past favorite roles include Lucy in Jekyll & Hyde, Maggie in A Chorus Line, Lucy in You're a Good Man Charlie Brown, Sister Robert Anne in Nunsense II, and Rhetta Cupp in Pump Boys & Dinettes. Much thanks to her wonderful friends and family for all their love and support!



Steve Brady

(Scrooge) is a veteran of Broadway's Inherit the Wind, and numerous productions at renowned regional theaters across the nation and grateful to have this second chance at redemption, having played Scrooge at Gateway in their original production four years ago. Other Gateway shows include Hello Dolly, Urinetown, & The Fantasticks. Thanks Susie. Peace on Earth, Goodwill to All.



Eric Byrd

(Ensemble) is thrilled to be joining the Gateway family this holiday. Favorite credits include West Side Story (Tony), Fiddler on the Roof (Fyedka), Urban Cowboy (Steve Strange), High School Musical, and Smokey Joe's Café. Eric most recently traveled the world performing on board Holland America Cruise Lines. BFA Wright State University. Gratitude to The Mine, my amazing family and wonderful teachers.



Caleb Damschroder

(Fred/Ensemble) Caleb is thrilled to return to the Gateway Playhouse for another production of A Christmas Carol. Recent credits include the Pittsburgh CLO/ Toronto company of Miss Saigon (Chris u/s), Cinderella, My Fair Lady, Thoroughly Modern Millie, Forever Plaid and 42nd Street among others. Caleb is currently the face (and naked body) of Centennial Wireless. Thanks to Robin, Bob and the crew at About Artists Agency. Love to Mom and Dad.



Bethany Elkin

(Associate Director/ Choreographer/Ghost of Christmas Yet To Be) Most recently choreographed A Grand Night for Singing at San Diego State University. Last summer she made her Gateway Playhouse debut as Associate Director/Choreographer to Bob Durkin on I Love a Piano. Bethany has worked as an associate choreographer to Broadway Director and Choreographer Donald Saddler and Broadway Choreographer Larry Fuller. Bethany is an alumni and adjunct professor at Marymount Manhattan College. She is currently attending the MFA Musical Theatre Program at San Diego State University.



James Erickson

(Young Ebenezer/ Ensemble) hails originally from Colorado. Metropolitan Opera: Aida. Off Broadway: Booth! The Musical. Regional: My Fair Lady, Damn Yankees (U/S Joe Hardy). Other favorite roles include: The Light In The Piazza (Fabrizio), Forever Plaid (Frankie), Hotel For Criminals (Max), and The Producers (Tenor Storm Trooper). James is featured with his cast of My Fair Lady in the "Carols for a Cure" CD for Broadway Cares: Equity Fights AIDS campaign. Thanks to CTG, my Family, Gma, Mom, and especially Laura for their undying love and support of me. www.james-erickson.com



Brett Figel

(Ensemble/ Young Marley) is thrilled to be joining the Gateway Playhouse for the holidays! He is a graduate of Wagner College in Staten Island where he received his degree in theatre performance and speech. Favorite credits include The Mikado (Koko), Our Town (George Gibbs), Brighton Beach Memoirs (Stanley Jerome), Tick, Tick…Boom! (Michael), Anything Goes (Mr. Whitney), and The Threepenny Opera (Mr. Peachum). H e wishes everyone a very happy holiday!



Colleen Gallagher

(Ensemble) Colleen is very excited to be spreading holiday cheer here at the Gateway Playhouse! Recent roles include Mabel in Pirates of Penzance, Martha in The Secret Garden, Gloria in Damn Yankees, and Julie Jordan in Carousel. Colleen holds a BA in Music with a concentration in Musical Theater from Manhattanville College. Many thanks to her family and friends for all their love and support.



Scott McLean Harrison

(Ghost of Christmas Past/ Lamplighter) is happy to return to Gateway after previously appearing in last year's Miss Saigon. Off Broadway/NYC: Rocket Boys (original cast), NBS!, Subways Are for Sleeping, Stop! Look! Listen!, Bring Back Birdie. National Tours: Oklahoma! (first national revival), Go Diego Go Live! (original cast), Big River. Other favorites: Hello, Dolly! with Sally Struthers, The Foreigner, Pippin, Noises Off, A Funny Thing…Forum, Disney Cruise Line. TV/Internet: "Royal Pains," "Law and Order," "Life on Mars," "King of the Rodeo" by the Kings of Leon, "Going to Extremes." Scott holds a degree in broadcast journalism from the University of Oklahoma. A big ol' thanks to Bob and Robin. www.scottmcleanharrison.com



Jill Jacobs

(Sally/Emily) is so excited to make her debut on the east coast with Gateway Playhouse! In May she graduated with a BFA in musical theatre from California State University Fullerton and moved to New York to pursue her acting dreams. Jill has several California credits to her name including; Singing in the Rain (Kathy Seldon), Meredith (Bat Boy), and Cosette (Les Miserables), but this is her first New York credit to date! Jill would like to thank her family for their constant love and encouragement; and Jeff for flying across the country to see her perform! Merry Christmas!



Robert Anthony Jones

(Fezziwig) is thrilled to be performing at Gateway again, his favorite place to spend the holidays. Broadway/National Tour: The 101 Dalmatians Musical (dir.- Jerry Zaks, choreo.-Warren Carlyle; final performance at Madison Square Garden). Off Broadway: The Prince and the Pauper (original OBC-Lambs Theatre) and Dorian Gray (York Theatre). Regional: Hairspray, The Producers, Little Shop of Horrors (West Virginia Public Theatre), Chicago, La Cage Aux Folles (Riverside Theatre). Recordings/ TV: Drew's Famous Magical Jukebox Children's Series (Turn Up The Music, INC.), The Prince and the Pauper (Original Cast Recording, Jay Records). www.robertanthonyjones.com



Duke Lafoon

(Bob Cratchit) is thrilled to back among friends at the Gateway having last appeared as Henry in Gentlemen Prefer Blondes. NEW YORK: A Wonderful Life (George Bailey), Are We There Yet? (Westchester Broadway), Monica! The Musical (MTC's Theatre 3), The Audience (Transport Group), I Love My Wife (Queens Theatre in the Park). REGIONAL: Ace (Old Globe, Rep. Theatre of St. Louis, Cincinnati Theatre in the Park); Father Flynn in Doubt (West VA Public, Barksdale Theatre); Sideman (Company of Fools); A native of Richmond Virginia, TV/Film credits include the CBS miniseries Sally Hemings.



Denise Molnar

(Ensemble) is excited to return to Gateway after appearing in previous shows here including The Will Rogers Follies, Showboat, and The Producers. She received her BFA in Dance from Marymount Manhattan College in New York City. Originally from New Jersey, Denise has traveled the world as a dancer, dance captain, and stager aboard Norwegian Cruise Lines as part of the Jean Ann Ryan Company. Denise has also had the pleasure to perform as a first company member of the New Jersey Tap Ensemble. She is thrilled to be a part of this production! Thanks to family and friends for their love and support. Thanks to the cast and crew for everything!



Katherine Pecevich

(Mrs. Fezziwig) Originally from the Boston area and a musical theatre graduate of The Boston Conservatory, Katherine toured nationally in the 30th Anniversary production of Annie and is featured on the new cast album. She is thrilled to be making her second appearance at Gateway after performing the role of Mother Superior in Meshuggah Nuns in 2009. Other recent credits include, The News in Revue, The Full Monty, The Kathy and Mo show and Chicago. Katherine is a proud member of Actors Equity and currently lives in NYC where she also works as a corporate teambuilding facilitator.



Wayne W. Pretlow

(Ghost of Christmas Present/Sandwich Board Man) Wayne is pleased to return to Gateway Playhouse. Previous Gateway productions: 5 Guys Named Moe, Ain't Misbehavin. Recently seen as the Lion in the Wiz, Center Stage Baltimore. Television: The Good Wife; Sopranos; Law & Order and Law & Order SVU. Broadway/off Broadway/ regional: A Christmas Carol at Madison Square Garden, The Civil War, Encores: St. Louis Women, Golden Boy, Guys & Doll Arena Stage; Award Nominations: 2000 Helen Hayes best supporting actor in a musical; Film: Next Stop Wonderland, The Accident, In Retrospect. He has appeared in over 37 national commercials; website. waynepretlow.com



Anette Michelle Sanders

(Mrs. Cratchit) Anette is so happy to be spending the holiday season with the Gateway family! She was last seen here as Parthy in Show Boat, and as Mrs. Cratchit in the '06 production. Anette just finished a reading/concert of a new musical version of Grumpy Old Men, starring F. Murray Abraham. First National Tour: Mamma Mia!(Rosie u/s). Regional favorites: Neil Simon's The Dinner Party (Mariette, original cast with John Ritter and Henry Winkler) Mark Taper Forum, Kennedy Center; How the Grinch Stole Christmas (Mama Who) Old Globe; Sweeney Todd (Beggar Woman with Amanda McBroom and George Ball); King Lear (Goneril). She loves her husband Gary, dogs Rhett and Kirby, and is a proud member of Actors' Equity.



Samantha Slomin

(Ensemble) is thrilled to be part of another Gateway production after performing in Les Miserable's Student Edition this past summer. Favorite credits include Mrs. Potts in Beauty and the Beast, Elaine in A Connecticut Yankee…, and Mrs. Harcourt in Anything Goes. Samantha is a student at Suffolk Community College and is currently studying music. She is thankful for the unending support of her family and friends, and would like to thank the Gateway family for this wonderful opportunity.



Bryant Smith

(Ensemble) is delighted to be back at Gateway Playhouse after appearing in last season's productions of The Drowsy Chaperone, Dirty Rotten Scoundrels, and A Chorus Line. Regional Credits: Stealing Dixie (William Campbell, World Premiere), Once Upon A Mattress (Sir Harry), COLLEGE: The Musical (Eddie, World Premiere), The Real Thing (Max), Rhinoceros (Jean), The Smell of the Kill (Donny), The Sleeper (Matthew St. Germaine, East Coast Premiere), The Specialist (Johnny, World Premiere), and Pinter's The Collection (Bill). Education: B.A. Theatre (Mercer University), M.F.A. Acting (University of Florida). All my love to my newborn nephew, Smith . . . can't wait to get South and hold you! 1 Peter 5:6. www.bryantsmith.net



John Tighe

(Old Joe) John is happy to be back on the Gateway stage in such a beautiful show with a wonderful cast. He is a retired Lieutenant of the NYC Fire Department where he began his theatrical career as a vocalist and bagpiper in the Emerald Society Pipes and Drums. He has sung for dignitaries both here and abroad and has performed the National Anthem at Shea Stadium for a NY Mets game. He has also appeared as a guest vocalist on several local cable TV shows . Independent film credits include Rafe/ Our Souls to Keep and Uncle John/The Evil Killers. Some of his favorite regional roles include: Ben Weatherstaff/Secret Garden, Mavrodani/Zorba, Arvide Abernathy/Guys and Dolls, Innkeeper/Man of La Mancha, Jamie/My Fair Lady.



Megan Wean

(Ensemble) is ecstatic to be returning to The Gateway Playhouse after just being seen as Lori Beth in the summer's production of Happy Days. She graduated from Wright State University with a B.F.A in musical theatre/dance. Regional credits include: North Shore Music Theatre, Ogunquit Playhouse, Maine State Music Theatre, Arrow Rock Lyceum Theatre, Beef and Boards, LaComedia, The Palace Theatre, Prather Entertainment, and The Barn Theatre. Thanks and much love to God, Mom, Dad, Kandis, and Scott. This one's for you Mom, keep fighting!!!



Karen Webb

(Ensemble) Karen is so thankful to be spending this holiday season with her Gateway family in A Christmas Carol after a wonderful summer here with Hairspray and Hello Dolly!. She will then return to Westchester Broadway Theatre after Christmas to continue the run of Jekyll & Hyde until February. Recent credits include: Nine (WBT), Will Rogers Follies (Gateway), Cats, The Producers, Joseph… Dreamcoat (Beef & Boards), Beauty and the Beast, Pajama Game (Mountain Playhouse), Cabaret, South Pacific, The Full Monty (Show Palace), and Chicago (Peach State). Happy Holidays Y'all! To Mama, Dad, and Jennifer…I'll be home for Christmas!!!


Bob Durkin

(Director/Choreographer)   directed and choreographed Irving Berlin's I Love A Piano this past summer and Miss Saigon for the Gateway Playhouse the previous season. Bob is a Director and Choreographer with thirtyseven years of experience to his credit. He has directed and choreographed both nationally and internationally. His stock, regional theatre, and touring credits combined number well over 250 productions of musicals, plays, and reviews. Internationally, his work has played before audiences in Austria, Australia, Canada, Spain, Portugal, Sweden, Italy, Finland, Scotland, England, Singapore, Taiwan, and Malaysia. Mr. Durkin's list of international and national touring credits include: Anything Goes, Ain't Misbehavin', Big River, Crazy For You, Dreamgirls, The Goodbye Girl, Hello Dolly, Little Shop of Horrors, One Mo' Time, Copacabana, Purlie, Seven Brides for Seven Brothers, Unforgettable (The Nat King Cole Story), and They're Playing Our Song. His work on concerts both nationally and internationally include The Three Irish Tenors and Voices of Native America. In 1997, Bob and Co-Choreographer Mitzi Hamilton, were awarded the Connecticut Critic's Circle Award for "Outstanding Choreography" for their collaborative work effort on Seven Brides for Seven Brothers at the Candlewood Playhouse in Connecticut. Bob has served as both Guest Artist and teacher at a number of prestigious universities and colleges such as The University of Alabama in Birmingham, The University of Vermont, West Virginia University, Oklahoma City University, Marymount Manhattan College, Wagner College, and The West Point Military Academy. Some of the fine regional theatres and companies that he has recently had the pleasure of working with include the Gateway Playhouse, West Virginia Public Theatre, Cherry County Playhouse, Westbury Music Fair, Theatre By The Sea, Candlewood Playhouse, Saint Michael's Playhouse and Pittsburgh Musical Theatre. For More information visit www.bobdurkin.com.


Trevor Bowen

(Costume Design) is glad to be back with Gateway Playhouse. Credits include: Costume Design assistant, Hamlet, Arkansas Repertory Theater Margaret McKowen designer; Costume design assistant, Opus, Two River Theater Company (NJ) Lesley Sorenson designer; Costume consultant, Seven Bodily Mistakes, Dixon Place (NYC); Costume Designer Inana and Eelwax Jesus Pop-up Music Show, Contemporary American Theater Festival 2010 season; Costume Design assistant, Drowsy Chaperone, Gateway Playhouse, Margaret McKowen designer; shopper, My Fair Lady, Virginia Stage, Devon Painter, designer; shopper, Let Me Down Easy, Long Wharf Theater, Ann Hould Ward, designer.


Dom Ruggiero

(Production Stage Manager) a member of Actors Equity, has been stage managing for the past 29years. Broadway PSM credits include The Gathering starring Hal Linden, Borscht Belt on Broadway starring Bruce Adler and Mal Z. Lawrence, and Ain't That a Kick in the Head – the Music of Sammy Cahn directed by Chet Walker. 1st National Tours include: The Cole Porter Songbook starring Melba Moore, The Irving Berlin Songbook starring Carole Lawrence, Greetings! Shalom Aleichem Lives starring Judy Kaye, Bruce Adler and Theo Bikel. Dom has stage managed across the US, Europe, South America and Australia with Aint' Misbehavin, Phantom, Anything Goes, and Song & Dance among many others. He is no stranger to the Gateway Playhouse, having begun his involvement 22 years ago with his production of Little Shop of Horrors, which he also directed. Dom has directed numerous shows for Gateway, most notably the 3 productions of Phantom, Tommy and Cabaret. Other Gateway productions include Once on This Island, Beauty and the Beast last summer, and The Drowsy Chaperone earlier this summer.


Justin S. Fischer

(Musical Director) is currently Associate Music Director on the 2nd national tour of Spring Awakening. Past national tours include Hairspray and I Love a Piano. He was also AMD for Trip of Love, a new dance musical, which had its international premiere in Osaka, Japan in April 2008. Favorite credits include Avenue Q, Altar Boyz (Gateway Playhouse, Bellport, NY), Nine (Seaside Music Theatre, Daytona Beach, FL) and Seussical (Orlando Reprtory Theatre, Orlando, FL). As a composer/lyrcist, his most recent work includes an adaptation of Pinocchio for the Random Farms Kids Theater (Elmsford, NY), and the original musical The Princess of Riverside Drive for the Vital Theatre Company (New York, NY). In addition, Justin has received musical theatre commissions from the Erie Playhouse (Erie, PA), and the Seagle Music Colony (Schroon Lake, NY), and choral commissions from organizations across the country.


Brian Loesch

(Lighting Designer/ Production Manager) is proud to be part of the Gateway Family for his thirteenth straight season. Gateway Playhouse lighting design credits include: Sophisticated Ladies, Forbidden Broadway (2008), A Christmas Carol, The Full Monty, A Holiday Spectacular On Ice (2004 + 2009), South Pacific, Footloose, Jesus Christ Superstar, Kiss Me Kate, Holiday Hop (1999), Urinetown, Mooseltoe, Cabaret and numerous children's theatre productions including Peter Pan (2004) and Jungle Book 2005). Brian graduated with a Degree in Technical Theatre from Suffolk County Community College. Other design credits include Language of Angels (Henry Street Experimental Theatre, NYC), Paraffin Touch (World Premiere at Suffolk County Community College), The Man Who Would Be King (World Premiere at the Antrim Playhouse), and Kiss Me Kate (Cape Fear Regional Theatre). National Tour credits include the George M! (2003 Candlewood Int./ Mainstage Productions), Titanic (2004 Candlewood Int.), A Holiday Spectacular On Ice (2004 A Gateway / Candlewood Production), Mame (2005-06 Candlewood Int.), Camelot (2006-07 Candlewood Int.), and the 2007 and 2008 productions of Mooseltoe (Semmelman Productions).


Trent Pcenicni

(Wigs/Makeup Design) Getting his start at an early age Trent has worked in Theatre, Opera, and Film for many years in all departments. He Apprenticed with Wig Master Cindy Ludwig of The Baltimore Opera Company and works professionally as a wig and makeup artist as well as a Designer of Lighting, Set, and Costumes; his work has been seen all over the east coast including Avenue Q (Off Broadway) Triad Stage, NCSA, Artistic Motion Dance Studio, City Arts Drama Center, History Channel, Showtime Television Network, and Soomo Publishing. Trent is happy to be returning to Gateway Playhouse after working this summer and during Halloween as their resident Makeup and Wig designer.


Robin Joy Allan

(Artistic Director) Not knowing what would sound interesting enough for a read, Robin would just like to give credit to the creative spirits and "way-showers" in her life who inspired her, taught her, supported her, lived a great example for her, and lit the journey as she sang, danced, played, taught, directed, cast and twirled herself through her varied life in the arts. Jane Jenkins, Denise Chamian, Michael Cutler, Jessica (O'S) Kelly, Bob Durkin, Chuck Carter, David and Joan Sheldon, Sally and Les Harris, Ruth and Stan Allan, Harry and Libby Pomeran and her brother, Paul Allan with whom she works daily to run the family business known as The Gateway. From her hands on theatrical experience on stage and off to her behind the scenes work in Film and TV as a Casting Director on both coasts, Robin has been fortunate to work with actors, directors, writers, and producers from today's celebrities to tomorrow's future stars. In her life bio she includes 16 years performing, 25 years casting and 30 years teaching, much of that overlaps, from her teens, on. The films "When Harry Met Sally," "Lord Of The Flies," "Parenthood," and "Ghost" are on her casting resume as well as one-hundred and forty-two Main Stage productions for Gateway. She feels blessed and hopes to continue to give back to the universe as much as she has been given. Robin lives in Brookhaven Hamlet with her amazing daughter Hayley and constant companions Lucy Dog, Mops and Momma Kitty.


Paul Allan

(Producer) has been the producer of the Gateway Playhouse since the 1980's. It's hard to believe the number of shows, performers, staff, technicians, etc. he has come in contact with over the years, and the number of personal and professional friendships that developed and remain strong today. Paul's grandfather (Harry Pomeran) was the first producer of Gateway in 1950, followed by his uncle (David Sheldon), his parents (Ruth and Stan Allan), and together with his sister Robin. Gateway has always been a family business, and each era has brought significant challenges particularly in the 80's and 90's when shows became more complicated and technically challenging. Additionally, the grounds changed, the buildings were modernized, and the facilities updated. In the most recent decade, the caliber of the artistic staff, performers, musicians, and technicians has risen to a level equaling and sometimes surpassing many Broadway shows. It has been difficult to find time to do other projects outside of Gateway seasons, but over the years Paul has been able to work in NYC on various shows in different capacities, run a touring company with shows traveling around the country and abroad, operate a sister theatre in Connecticut, act as consultant and facilitator for the restoration and reopening of the Patchogue Theatre, and maintain a set rental business - where Gateway scenery is used in theatres across the country after appearing on the Gateway stage. Paul appreciates, admires and honors his family's dedication to the arts and is proud to help continue the legacy. Paul lives in Bellport with his wife Annmarie and their 2 children - Luke 6 and Alexa 3.


Reviews coming soon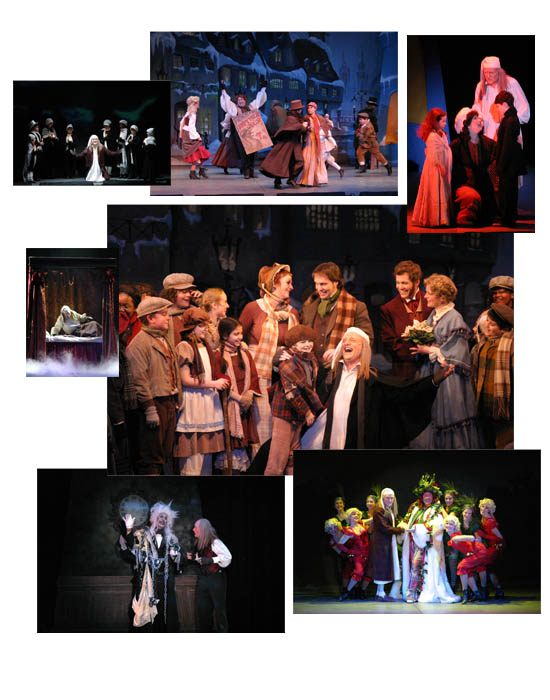 Video Preview

Clips from our 2006 Production
Cast
Mr. Smythe

Bryant Smith*



Download the Playbill
7 Meg PDF File
Jack Smythe
Conner Meehan
Grace Smythe
Katie Garthe
Undertaker/Old Joe
John Tighe
Ebenezer Scrooge
Steve Brady*
Bob Cratchit
Duke Lafoon*
Mrs. Cratchit
Anette Michelle Sanders*
Martha Cratchit
Colette Girardin
Tiny Tim
Nolan Lyons
Nikolas
Ryan Koerber
Fred
Caleb Damschroder*
Ghost of Jacob Marley
Michael Edward Baker*
Ghost of Christmas Past/ Lamplighter
Scott McLean Harrison*
Fan (at 6)
Alison Cordaro
Scrooge (at 8)
Justin Cimmino
Fan (at 10)
Hayley Gillman
Scrooge (at 12)
Liam Golde/Liam Hofmeister
Mr. Fezziwig
Robert Anthony Jones*
Mrs. Fezziwig
Katherine Pecevich*
Emily
Jill Jacobs
Young Ebenezer
James Erickson
Young Marley
Brett Figel
Ghost of Christmas Present
Wayne W. Pretlow*
Sandwich Board Man
Wayne W. Pretlow*
Ghost of Christmas Yet To Be
Bethany Elkin
Old Hag
Jessica Bradish
Sally
Jill Jacobs
Fred's Kid
Justin Cimmino
Jonathon
Kevin Spellman


Villagers, Townspeople, Bankers, Grave Diggers, Monks, Fan Dancers, Goodies

Nathan Anderson, Tyler Bellmon, Jessica Bradish, Eric Byrd, Caleb Damschroder*, James Erickson, Brett Figel, Colleen Gallagher, Jill Jacobs, Robert Anthony Jones*, Denise Molnar, Katherine Pecevich*, Samantha Slomin, Bryant Smith*, John Tighe, Karen Webb, Megan Wean

Youth Ensemble
(Young Villagers, Younger Cratchit Children, Family Members, Childrens Choir)

Justin Cimmino, Allison Cordaro, Katie Garthe, Collete Giardin, Hayley Gillman, Liam Golde, Marielle Greguski, Liam Hofmeister, Colleen Kelly, Ryan Koerber, Nolan Lyons, Connor Meehan, Dominic Mondi, Madison Mulvey, Kaela Murphy, Kaylee Spano, Kevin Spellman, Morgan Tiller
Understudies
| | |
| --- | --- |
| Mr. Smythe | Nathan Anderson |
| Scrooge | Michael Edward Baker* |
| Bob Cratchit | EriC Byrd |
| Mrs. Cratchit | Karen Webb |
| Fred | Eric Byrd |
| Ghost of Jacob Marley | Nathan Anderson |
| Ghost of Christmas Past | Tyler Bellmon |
| Mr. Fezziwig | Nathan Anderson |
| Mrs. Fezziwig | Marielle Greguski |
| Emily | Colleen Gallagher |
| Ghost of Christmas Present | Bryant Smith* |
| Sally | Colleen Gallagher |
*Denotes member of Actors Equity Association
Musicians
| | |
| --- | --- |
| Conductor/ Keyboard I | Justin S. Fischer |
| Violin/Keyboard II | Steven Cuevas |
| Reed 1 | Rick Kissinger |
| Reed 2 | Mike Kendrot |
| French Horn | Lee Duke |
| Bass | Catherine O'Malley |
| Percussion | Brad Carbone |
| | |
Administrative
| | |
| --- | --- |
| Executive Producer | Ruth Allan |
| Producer | Paul Allan |
| Associate Producer | Jeff Bellante |
| General Manager | Gale Edwards |
| Company Manager | Michael Baker |
| Assistant Company Manager | Keith Llewellyn |
Artistic
| | |
| --- | --- |
| Artistic/Casting Director | Robin Joy Allan |
| Director/Choreographer | Bob Durkin |
| Musical Director | Justin Fischer |
| Asst. Director/Choreographer | Bethany Elkin |
| Set Design | Kelly Tighe |
| Costume Design | Trevor Bowen |
| Lighting Designer | Brian Loesch |
| Assistant Lighting Designer | Jose Santiago |
| Wig Design/Maintenance | Trent Pcenicni |
| Assistant Costume Designer | Jenn Stimple |
| Sound Design | Shane Bourgeois |
| Associate Casting/Artistic Director | Jessica Harrison |
| Production Photographer | Jeff Bellante |
| Musical Contractor | Jeff Hoffman |
| Sound Consultants | Dominic Sac, Cody Spencer |
Box Office
Box Office Manager
Laurie Parr
House Manager
Joanne Famiglietti
Group Sales
Claire Ward
Box Office Staff
Ashley Cooke, Nadine Hazard, Diane Koerber, Don Rebar,
Kyle Reitan, Linda Unger
Production
| | |
| --- | --- |
| Production Manager | Brian Loesch |
| Production Stage Manager | Dom Ruggiero |
| Technical Director | Jeff Taylor |
| Automation Design/Supervisor | John Sabo |
| Wardrobe Supervisor | Marianne Dominy |
| Master Electrician | Spencer Padilla |
| Shop Foreman | Mark Fredrick |
| Props Master | Michael Mulligan |
| Sound Engineer | Shane Bourgeois |
| Assistant Stage Manager | Brittany Loesch |
| Technicians | Charlie Bell, Don Hannah, James Holobrow, Corey Kloos, AJ Lebenns, Brendan Smith |
| Wardrobe Assistants | Vanessa Pynn |
Interns
| | |
| --- | --- |
| Company Management/Admin Intern. | Cassandra Levey |
| Stage Management Intern | Robert DeFilppo |
| Sound Intern | Zach Ireson |
| Wardrobe Interns | Ariel Marcus, Amber Mallon |
| General Technician Intern | Ivy Conyers |
Facilities
| | |
| --- | --- |
| Facilities Maintenance | Mark Frederick |
| Cleaning Staff | Ray Tobia |
| Landscaping | HTM Landscaping Company |
| Hospitality Consultant | Mike Taylor |
| General Counsel | Ann L. Nowak & Associates |