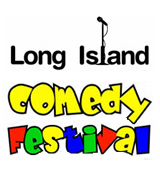 Long Island Comedy Festival
August 6
in Bellport


The 5th Annual Long Island Comedy Festival returns to the Gateway Playhouse for an evening of outrageous laughter & fun!  The largest comedy festival ever produced on Long Island continues to grow each year, bringing fresh new comic talent to audiences all across Long Island.  Don't miss this 90 minute comedy showcase of non-stop laughs!
This year's 5th annual Long Island Comedy Festival features an entirely new line-up of comedians from Long Island and the NYC Comedy Scene.
AUGUST 2010

SUN
MON
TUES
WED
THUR
FRI
SAT
1
2
3

4

5




6

8:30PM

7
CHRIS MONTY

featured act in Atlantic City and at comedy venues across the country, Chris Monty is one of the top working comedians from the LI region today.

STAN KESHNER

with a style reminiscent of the Borscht Belt Catskills, Stan Keshner appeals to all audiences with his cutting sense of humor & timing.

ANDY PITZ

direct from the NYC Comedy Scene, Andy Pitz has been featured on The Late Show with David Letterman and The Late Late Show with Craig Ferguson.

LINDA BELT

one of the hardest working comedians to come out New England, Linda Belt is a featured act throughout the US & Canada.

PAUL ANTHONY

the official comic host of the Long Island Comedy Festival.