OVERVIEW
TICKETS
CAST & CREATIVE
REVIEWS
PHOTOS
VIDEO
PLAYBILL
"This is the story of Princeton, a bright-eyed college grad who comes to New York City with big dreams and a tiny bank account. This Tony Award winning musical is absolutely for adults only. From Republican investment bankers to internet addicts, these puppets are sure to have you laughing until you cry. Join Princeton and his newfound friends struggle to find jobs, dates, and their ever-elusive purpose in life. After six years on Broadway, Long Island gets a new avenue - Avenue Q that is, in Bellport, at the Gateway Playhouse."
AUGUST/SEPTEMBER 2010

SUN
MON
TUES
WED
THUR
FRI
SAT
22
23
24

25

8:00PM

26

2:00PM

8:00PM


27

8:00PM

28

3:00PM
8:30PM

29

2:00PM
7:00PM

30

31

8:00PM

Sept. 1

8:00PM

2

2:00PM
8:00PM

3

8:00PM

4

3:00PM
8:30PM

5

7:00PM


6

7

8:00PM

8

8:00PM

9

2:00PM
8:00PM

10

8:00PM


11

3:00PM
8:30PM

12

2:00PM


13
14

15

2:00PM

8:00PM

16

8:00PM

17

8:00PM


18

3:00PM
8:30PM

19

2:00PM

MICHAEL EDWARD BAKER

(Brian) is excited to be returning to the Gateway Stage after appearing in the Holiday Spectacular on Ice last December. Since the age of five Michael had a dream of being a guest on the "Muppet Show" or "Sesame Street" and now he gets his chance! Most recently, Michael performed in APAC's Ragtime in Astoria, Queens and has performed in several shows at Gateway over the past seven years making New York his home after college. Favorite credits include: Miss Saigon, Jekyll and Hyde, Scarlet Pimpernel and The Wedding Singer. When not on the Gateway Stage or Company Managing, or teaching at the Gateway Acting School, Michael has been seen touring in shows throughout the country and in New York City. He misses his mother back at home on Bainbridge Island, Washington, and sends his love and thanks to her and his brothers, with special thanks to his Gateway family. He holds a B.F.A. in Acting from CW Post/LIU. For Dad.



CARRIE CIMMA

(Mrs. T/Bear) was recently nominated for a Drama Desk Award (Best Featured Actress in a Musical, 2010) for her portrayal of Bridget Sullivan in Lizzie Borden.   Other credits include Frank Wildhorn's new musical "Wonderland" and the most recent reading of Pure Country . National tours include Sweeney Todd (Mrs. Lovett), The Wedding Singer (Angie/Large Lady), Oliver and The Full Monty (Georgie u/s). Regionally, she has been seen as Mickey in Cowgirls, Rizzo in Grease, Fraulein Kost in Cabaret, Doatsey Mae in Best Little Whorehouse.... and Mrs. Walker in Tommy. Also a choreographer, her work on The Vortex Theatre Company's H.M.S. Pinafore helped garner a Drama Desk nomination in 2007 for Best Revival of a Musical.



CHRIS COOKE

(Nicky, Trekkie Monster, Bear & others) was last seen in Happy Days performing the role of Ralph Malph at Gateway Playhouse. National Tour: Henry & Mudge (Dad). Regional: Happy Days (Ralph Malph), Little Shop of Horrors (Dentist), Joseph... Dreamcoat (Simeon), High Society (Mike Conner), The Last 5 Years (Jamie), Carousel (Mr. Snow), Tick Tick Boom (Michael).    He is also a graduate from Pace University with a BFA in Musical Theater. Thanks to Keith and Rick, it's been an amazing process! Much love to his wife Kelsey, who's home watching their dog Millie. www.ChrisCookeOnline.com




CARLA J. HARGROVE

(Gary Coleman) is pleased to be making her first appearance at Gateway Playhouse. She was Peaches in Broadway's closing cast of Hairspray and made her Broadway debut as Ronnette in Little Shop Of Horrors. She toured nationally with Jason Robert Brown's Parade. Her regional credits include Dinah Was, Once On This Island, Breath Boom, Thunder Knocking On The Door and most recently Soul Doctor. Thanks to God and Grace.

GWEN HOLLANDER

(Kate/Lucy the Slut) Gwen is so happy to return to Gateway! Some favorite credits include: Broadway Tour of Little Women (Amy, Carbonell Award), National Tour of 101 Dalmatians (Perdita), Les Miserables (Eponine, Carbonell Award), Urinetown (Hope), Great American Trailer Park Musical (Pickles), Beauty and the Beast (Belle), and the premiere of See Rock City and Other Destinations at Barrington Stage. TV/Web: "From Earth to the Moon" (Tom Hanks, HBO), Nickelodeon's "The Mystery Files of Shelby Woo," and the webseries "Acting School Academy." Much love to Ben and her amazing family. For Mom! www.gwenhollander.com



LISA MINDELLE

(Ensemble) is excited to be at The Gateway Playhouse! New York credits: The Hudsucker Proxy (Manhattan Theatre Club), Taxi Cabaret (Prospect Theatre Company at the York Theatre), Iron Curtain (NAMT 2009). Regional: Urinetown (Hope), Bat Boy: The Musical (Meredith), Little Women (Meg), Ragtime (Mother). Lisa is the recipient of the 2009 Laurie Beechman Award for Vocal Excellence. Thanks to family, friends and About Artists! BFA Musical Theatre, CCM 2009.

HOWIE MICHAEL SMITH

(Princeton) is delighted to be here at Gateway and freakin thrilled to be playing with Princeton and Rod again! Howie played Princeton/Rod over 1000 times in the Broadway production of Avenue Q. Regional: A Christmas Carol (Ford's Theatre), 1776, Carousel (Marriott Theatre), As You Like It (Chicago Shakespeare Theatre), The Tempest (Dallas Shakespeare), Tribute to Sondheim with George Hearn (Pittsburgh Pops), Bill Nelson's All Male Revue (Barrington), Beethoven Lives Upstairs (Tour), Singin' in the Rain, Brigadoon, Oliver, Joseph and the Amazing Technicolor Dreamcoat. TV: Puppet Planet for the Travel Channel. Howie holds a BFA from Carnegie Mellon University. www.howiemichaelsmith.com



ZACH TRIMMER

(Ensemble/Puppet Captain) A California native, Zach is so grateful to be making his Gateway Playhouse debut in Avenue Q! National Tours: Avenue Q, Hairspray.   Other favorite credits include: Thoroughly Modern Millie (Jimmy Smith), Beauty and the Beast (Lumiere), Fiddler on the Roof  (Motel), and My Way  (Man #2). He would like to thank the Gateway family for this opportunity, as well as his friends and family for their undying love and support.



EJ ZIMMERMAN

(Christmas Eve) is thrilled to make her Gateway Playhouse debut and to be back on Avenue Q after understudying on the First National Tour. Most recently, EJ has played Kim in Miss Saigon at various regional theatres, including the Arvada Center (Henry Award), Actors' Playhouse, and Arizona Broadway Theatre. Other favorites: Jane Eyre, My New York, Closer Than Ever, Sophisticated Ladies, and Typed. EJ holds degrees in both Theatre Performance and English Literature from the University of Maryland, and she is a proud AEA member. "Thank you family, friends, KTA, and especially Josh for all your support and RUV!" www.ejzimmerman.com



KEITH ANDREWS 

(Director/Choreographer) is very excited to take a stroll down Avenue Q and to be back at Gateway  after previously directing and choreographing the Playhouse's productions of  The Full Monty, Dirty Rotten Scoundrels (starring Joe Piscopo), The Wedding Singer, My Way (the Sinatra Tribute), Cold as Ice, Urinetown, and 2009's Holiday Spectacular on Ice, as well as Happy Days, the Musical earlier this season. He has also directed the National Tours of The Full Monty and Hello Muddah, Hello Fadduh. Other recent directing/choreography credits include: The 25th Annual Putnam County Spelling Bee, Always... Patsy Cline, Dames at Sea, Breaking Up is Hard to Do, Barnum, Pump Boys and Dinettes, Little Shop of Horrors, The Pirates of Penzance, Big River, Forever Plaid  and Suds, to name just a few. As a choreographer, Keith has recently worked on the world premiere of Love, Incorporated and has received an Innovative Theater Award  for Best Production of a Musical and nomination  for Best Choreography for his work on the new show- Like You Like It.   On the ice, Keith has directed and choreographed Home for the Holidays- a Celebration on Ice, starring 2010 Olympic Gold Medalist- Evan Lysacek, and Silver Medalists- Charlie White and Meryl Davis, as well as two productions of Stars, Stripes and Skates, a benefit on ice to help survivors and families of 9/11. As a performer, Keith has toured all over the world with shows such as: West Side Story, Mame, Jesus Christ Superstar and the Radio City Christmas Spectacular. In educational theater, Keith directs and choreographs student industry showcases at the American Musical and Dramatic Academy in NYC as well as having directed many musicals at the USDAN Center for the Performing Arts, here on Long Island. Keith thanks Robin, Paul and Ruth  for pretty much everything and Rick Lyon for imparting his invaluable puppet wisdom upon the company. KeithAndrewsonline.com.




JUSTIN S. FISCHER

(Musical Director) Justin is excited to live on Avenue Q after music directing Gateway's productions of I Love a Piano and Altar Boyz. Most recently, He recently played on the 2009-10 National Tour of Hairspray, after serving as the Assistant Music Director for the 2009 National Tour of I Love a Piano. He was also AMD for Trip of Love, a new dance musical, which had its international premiere in Osaka, Japan in April 2008. As a composer/lyrcist, his most recent work includes an adaptation of Pinocchio for the Random Farms Kids Theater (Elmsford, NY), and the original musical The Princess of Riverside Drive for the Vital Theatre Company (New York, NY). In addition, Justin has received musical theatre commissions from the Erie Playhouse (Erie, PA), and the Seagle Music Colony (Schroon Lake, NY), and choral commissions from organizations across the country. Love to John.



RICK LYON

(Puppet Conceiver & Designer, Puppetry Consultant) Rick Lyon is Avenue Q's real triple threat: he designed all of the original puppets, Rick and his company The Lyon Puppets built all of the puppets, and Rick created the roles of Nicky/Trekkie/Blue Bear in the original Tony-winning Broadway production! A puppeteer and designer with more than 25 years of professional experience in television, film, and theatre, Rick is proud to have supplied the puppets for the productions of Avenue Q on Broadway, in London, Las Vegas, and the First American National Tour, as well as Australia, Brazil, Mexico, and Switzerland – and Gateway! Rick also frequently coaches puppetry for Avenue Q, which he did for Gateway's production. Rick gratefully acknowledges the inspiration and encouragement of the late Jim Henson. Husband to Tonya Dixon, and first-time father to beautiful daughter Kennedy! Web site: www.lyonpuppets.com



JOVON E. SHUCK

(Stage Manager) returns to Gateway after a two and a half year touring adventure with the cast and crew of Monty Python's Spamalot. Other favorite credits include: Noises Off, and The Graduate (Broadway), The Irish Curse (Off Broadway), Saint Heaven (SCA Rich Forum), The Seagull (NYSF/Public Theatre), six Christmases with The Radio City Christmas Spectacular, four summers right here at Gateway Playhouse, and six wonderful years with Sheila Marie.

BRIAN LOESCH

(Lighting Designer/Production Manager) is proud to be part of the Gateway Family for his thirteenth straight season. Gateway Playhouse lighting design credits include: Sophisticated Ladies, Forbidden Broadway (2008), A Christmas Carol, The Full Monty, A Holiday Spectacular On Ice (2004 + 2009), South Pacific, Footloose, Jesus Christ Superstar, Kiss Me Kate, Holiday Hop (1999), Urinetown, Mooseltoe, Cabaret and numerous children's theatre productions including Peter Pan (2004) and Jungle Book (2005). Brian graduated with a Degree in Technical Theatre from Suffolk County Community College. Other design credits include Language of Angels (Henry Street Experimental Theatre, NYC), Paraffin Touch (World Premiere at Suffolk County Community College), The Man Who Would Be King (World Premiere at the Antrim Playhouse), and Kiss Me Kate (Cape Fear Regional Theatre). National Tour credits include the George M! (2003 Candlewood Int./ Mainstage Productions), Titanic (2004 Candlewood Int.), A Holiday Spectacular On Ice (2004 A Gateway / Candlewood Production), Mame (2005-06 Candlewood Int.), Camelot (2006-07 Candlewood Int.), and the 2007 and 2008 productions of Mooseltoe (Semmelman Productions).



BRITTANY LOESCH

(Scenic Designer) graduated with a BFA in Theater from Pace University in New York City. Previous designs include Violet, Kiss of The Spider Woman, A Perfect Ganesh, and Iboga at Pace University, Language of Angels at the Abrons Art Center and Quiet Cry (Passajj Productions) on Theater Row. Previous Gateway credits include Sophisticated Ladies and The Drowsy Chaperone as well as this year's I Love a Piano for both set and projection design. Her 10 year journey from Intern to Scenic Designer has brought her all over the country touring with Rent and Mooseltoe, as well as designing various children's theater productions. She is so grateful to have come so far and to be designing for the theater that raised her from a quiet intern to the professional she is today, but would also like to know how to get to Sesame Street.



ROBIN JOY ALLAN

(Artistic Director) Not knowing what would sound interesting enough for a read, Robin would just like to give credit to the creative spirits and "way-showers" in her life who inspired her, taught her, supported her, lived a great example for her, and lit the journey as she sang, danced, played, taught, directed, cast and twirled herself through her varied life in the arts. Jane Jenkins, Denise Chamian, Michael Cutler, Jessica (O'S) Kelly, Bob Durkin, Chuck Carter, David and Joan Sheldon, Sally and Les Harris, Ruth and Stan Allan, Harry and Libby Pomeran and her brother, Paul Allan with whom she works daily to run the family business known as The Gateway. From her hands on theatrical experience on stage and off to her behind the scenes work in Film and TV as a Casting Director on both coasts, Robin has been fortunate to work with actors, directors, writers, and producers from today's celebrities to tomorrow's future stars. In her life bio she includes 16 years performing, 25 years casting and 30 years teaching, much of that overlaps, from her teens, on. The films "When Harry Met Sally," "Lord Of The Flies," "Parenthood," and "Ghost" are on her casting resume as well as one-hundred and thirty-six Main Stage productions for Gateway. She feels blessed and hopes to continue to give back to the universe as much as she has been given. Robin lives in Brookhaven Hamlet with her amazing daughter Hayley and constant companions Lucy Dog, Mops and Momma Kitty.



PAUL ALLAN

(Producer) has been producing the seasons here at Gateway since the 1980's. It's hard to believe the number of shows, performers, staff, technicians, etc. he has come in contact with over the years, and the number of personal and professional friendships that developed and remain strong today. Paul's grandfather (Harry Pomeran) was the first producer of Gateway in 1950, followed by his uncle (David Sheldon), his parents (Ruth and Stan Allan), and together with his sister Robin. Gateway has always been a family business, and each era has brought significant challenges particularly in the 80's and 90's when shows became more complicated and technically challenging. Additionally, the grounds changed, the buildings were modernized, and the facilities updated. In the most recent decade, the caliber of the artistic staff, performers, musicians, and technicians has risen to a level equaling and sometimes surpassing many Broadway shows. It has been difficult to find time to do other projects outside of Gateway seasons, but over the years Paul has been able to work in NYC on various shows in different capacities, run a touring company with shows traveling around the country and abroad, operate a sister theatre in Connecticut, act as consultant and facilitator for the restoration and reopening of the Patchogue Theatre, and maintain a set rental business - where Gateway scenery is used in theatres across the country after appearing on the Gateway stage. Paul appreciates, admires and honors his family's dedication to the arts and is proud to help continue the legacy. Paul lives in Bellport with his wife Annmarie and their 2 children - Luke 5 and Alexa 3.
The Southampton Press
Inventive "Avenue Q" at Gateway
By: LEE DAVIS
September 7, 2010

What an inventive, clever hoot "Avenue Q" is! This winner of three 2004 Tonys (Best Musical, Best Original Score and Best Book) and a display cabinet full of other awards in New York, London and Tel Aviv, which also holds the honor of being the 21st longest running musical on Broadway, is currently running as the closing show of the Gateway Playhouse's 61st season.

In its Bellport incarnation, it has so much appeal, so much heart and so much ingeniousness, it fairly bursts from its simple, rundown tenement set by Brittany Loesch.

The show's resemblance to "Sesame Street" in title and content, if not in purpose, is no accident. Jeff Marx, who worked with Robert Lopez to conceive the show and write its music and lyrics, apprenticed at "Sesame Street" early in his career, and four of the original cast members acted on the kids' show. But "Avenue Q" is no kindergartner's romp, nor is it particularly scandalous either.

Trekkie Monster, who looks and sounds very much like Cookie Monster, craves computer porn rather than baked goods. There are words heard in the lyrics that are featured in just about every movie made in the last 10 years, and there's a sex scene between two puppets that involves puppet nudity. And that's it.

These puppets, the creation of Rick Lyon, who also made the puppets for the Gateway, journeyed to Bellport and trained the cast in the art of puppeteering. And they're marvelous and funny, and handled with extraordinary skill and relish by four of the eight on-stage cast members. Doubling and sometimes tripling in puppet characters, dancing and singing, they, with a ballet dancer's ease, demolish disbelief early on, and involve the audience thoroughly in the lives and struggles of the puppet characters and the three live inhabitants of Avenue Q.

And they do unfailing justice to the delicious and tuneful Lopez and Marx score and bouncy book by the appropriately named Jeff Whitty.

First, the live performers: Carla Hargove, as the building superintendent, named by the show's creators Gary Coleman, to indicate, possibly, what becomes of child stars when they grow up, delivers strongly as an anchor of reality rooted in compassion. Her socking out of the affirmative "Schadenfreude" to rally her fellow Avenue Q neighbors is a rousing romp.

Michael Edward Baker, as Brian, the aspiring stand-up comedian who finally gets his chance to perform at the Around the Clock Café, and scores with his number, "I'm Not Wearing Underwear Today," is charmingly accommodating and therefore lovable.

As Christmas Eve, the Asian companion of Brian, who snares him into marriage by announcement, EJ Zimmerman is a spreader of love among the "Avenue Q" puppet populace, and sweetly infectious. Her rendition of "The More You Ruv Someone," delivered to the despondent and rejected Kate in the second act, is a lovely and touching interlude.

Of the nearly secondary puppet characters, the Bad Idea Bears, a couple of scallywag troublemakers, are handled and given voice by several cast members, including the offstage Lisa Mindelle and Zach Trimmer.

Carrie Cimma, while filling in with some of the more rambunctious puppet characters, has suitable satiric fun with the role of Mrs. T, Kate's monstrous boss.

Chris Cooke does double duty and double voices with the wacky Trekkie Monster's rumble and rambunctiousness and with the more human character of Nicky, the roommate of Rod, an upright Republican banker whom Nicky suspects of being gay. Nicky is a free soul, and although he agrees with most of the other Avenue Qers, as he sings with them at the opening "It Sucks To Be Me," he's already well on the way to modifying that self analysis. Mr. Cooke conveys this with subtle skill.

Howie Michael Smith, who played his Bellport roles over a thousand times in the Broadway production, is the puppet character Rod, who eventually, with the other characters, finds the true way to a happy life.

But Mr. Smith's larger creation of life in a puppet is with Princeton, a recent college graduate who arrives at Avenue Q at the opening, convinced that his life sucks because of his college major, lamenting in the song, "What Do You Do with a B.A. in English?"

Princeton, as the musical progresses, sees past Kate's partial hirsuteness and falls in love with her, and in so doing, progresses in his vow to find a purpose in his life. (At the end of the show, all of the characters find their purpose, too, through a discovery I'll wait for you to discover by seeing the show.) Mr. Smith is masterful in delineating both characters, without spilling from one into the other.

The truly outstanding performance in this production of "Avenue Q" belongs to Gwen Hollander, who's called upon to deliver the two most contrasting characters in the show. One is Lucy the Slut, a confirmed tramp who does a vigorously enticing special number at the Around the Clock Café, which Ms. Hollander delivers wildly.

And the other totally different character this talented singer/actress portrays and puppets, is the most complicated inhabitant of Avenue Q, Kate, a beginning kindergarten teacher who aspires to, and eventually creates, a Monstersorri school for monsters. From her first tentative steps toward finding love, to her full voiced arrival in it after Lucy has seduced Princeton temporarily away from her, she sings the lovely, enduring number "There's a Fine, Fine Line Between Love and a Waste of Time" with moving affirmation. Ms. Hollander's performance is transfixing.

"Avenue Q" itself is a touching, humorous, and hugely original musical, performed with great dexterity and strong characterization by an outstanding ensemble of embracing singer/actors. It's good, adult fun, and highly recommended.

"Avenue Q" continues every night except Monday and in several matinees, through September 19. The box office number is 286-1133.
Dan's Papers
Review: Avenue Q at Gateway Playhouse
By: Roy Bradbrook
September 10, 2010

What a very pleasant surprise to find a modern musical that has individuality, humor, pathos and wit expertly performed by actors who not only have to sing and speak their lines and move around the stage but also have to animate life-size puppets. They also play multiple characters!

Avenue Q is a delight and it is easy to understand why it ran for over 2,500 performances on Broadway, won the Tony for Best Musical and is still running as an Off-Broadway show. It really is a pity that it has to be billed as 'only for adults' because for young people, brought up on "Sesame Street" this show could be a great way to introduce them to the wonderful world of musicals. However, the show is classed as 'adults only' because it deals in a lighthearted but very direct way with topics such as sex, pornography and racism.

The show's creators, Robert Lopez and Jeff Marx introduce a group of young people who were brought up in the modern way. They have always been made to believe that they are special by their parents, their teachers and programs such as "Sesame Street." This show shares their reactions as they realize that the real world of adulthood is not so warm and fuzzy. They have to strive for jobs, find homes and develop and break up relationships.

It is easy to suspend disbelief with such a talented cast, even though the puppeteers are in full view, very soon you will find that it is the puppet character that takes all of your attention. Michael Edward Baker (Brian) and E.J. Zimmerman (Christmas Eve), play the two characters that do not have puppets and meld beautifully into the whole scenario as they converse and sing with the puppet characters. Without an excellent cast, this could be a recipe for disaster but once again Gateway's casting has been impeccable.

At the beginning of the show, Princeton (Howie Michael Smith) plaintively enquires 'What do you do with a B.A. in English?' as the jobs market crumbles. Then the company addressed the race issue with a provocative number "Everyone's a Little Bit Racist" and a Sesame Street-like monster character Trekkie (Chris Cooke) hilariously declaims, "The Internet is for porn." Nicky and Rod have long debates about their sexuality in "If You Were Gay."

Of course there has to be a seductive female role and Lucy the Slut (Gwen Hollander/Carrie Cimma) fits the bill as she tries to come between Kate and Princeton - naturally, true love overcomes in the end.

In the original concept for the show Lopez and Marx decided to introduce a character named after the late Gary Coleman to typify how early success does not always lead to long-term happiness and cast him to be played by a black female artiste - here by Carla Hargrove who handles this very different role with great skill and taste.

This fast-moving show kept the opening night audience in laughter throughout. The production by Keith Andrews makes use of side stage television screens to project Sesame Street-like videos that often take a word like "Schadenfreude" and explain its meaning - "Malicious enjoyment of others misfortunes." For me there is a word to explain this performance of Avenue Q - "Serendipity" - "Making an unexpected and happy discovery by accident."

Go and see this show that runs in Bellport through September 19. You will come out happy and realize just what an asset we have in the Gateway Playhouse as they close this season and leave you waiting anxiously for their re-opening next year.


Newsday
Life on the street gets raunchier in 'Avenue Q'
By: STEVE PARKS
August 31, 2010

Maybe it's because I sat closer to the stage. Maybe it's the voyeuristic lighting. Whatever. "Avenue Q" struck me as raunchier this time.

Especially when Princeton and Kate Monster make savage puppet love.

What could account for my heightened sensitivity? The puppets are the same batch conceived (so to speak) and designed by Rick Lyon for the Broadway original. At Gateway Playhouse, Keith Andrews has directed and choreographed the show with the irreverent buoyancy I recall.

But then there's the Gary Coleman Factor. The late former child actor is among the human characters in this Muppet-ish musical, playing alongside puppets animated and voiced by fully visible actors. The real Gary Coleman died this spring in a disturbingly public way that culminated in his ex-wife apparently peddling photos of his corpse on the Internet. When the "Avenue Q" Gary Coleman (Carla Hargrove) relates one of his happiest moments - "I sued my parents" - the line draws laughter tinged with post-ha-ha guilt.

I didn't let that killjoy the show. From what I could detect, neither did anyone else. Although one couple fled the theater, I suspect they were offended by potty mouths and puppet promiscuity.

"Avenue Q" takes its inspiration from another street populated by furry "monsters" and multicultural humans. It's a grown-up "Sesame Street" in which the denizens spell words like "Schadenfreude" to understand why they take pleasure in the misfortune of others.

But it also offers words to live by: "There's a Fine, Fine Line" ("between love and a waste of time"). That's Kate, singing clarion misgivings voiced by Gwen Hollander, following her one-night stand with just-out-of-college Princeton (Howie Michael Smith), struggling to find his "Purpose."

Also endearing are EJ Zimmerman as the post-racial but "Everybody's a Little Bit Racist" Japanese-American named Christmas Eve, and Chris Cooke as Nicky, the wannabe-gay roommate of Rod (Smith) who's in denial about his sexual orientation. Besides Smith, Hollander also does double duty, fleshing out Lucy the Slut with voluptuous swagger.

Brittany Loesch's set creates interiors by way of pull-down windows along Avenue Q, lit by husband Brian, while music director Justin Fischer keeps the score thumping like an excited-to-be-alive heartbeat.

Life goes on.

WHAT "Avenue Q," musical by Robert Lopez, Jeff Marx and Jeff Whitty

WHEN | WHERE 8 p.m. Wednesday, Friday and Tuesday, 2 and 8 p.m. Thursday, 3 and 8:30 p.m. Saturday, and 7 p.m. Sunday, through Sept. 19, at Gateway Playhouse, 215 S. Country Rd., Bellport INFO $50-$56, gatewayplay house.com, 631-286-1133
Production Photos
Click any image to see it larger
Hover over the larger image for controls to advance through them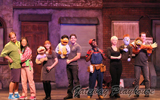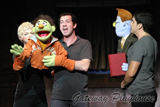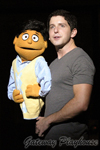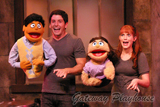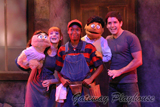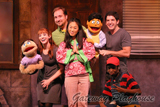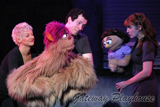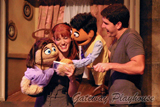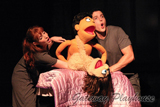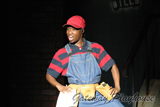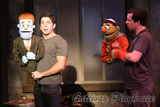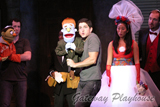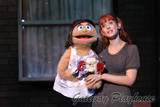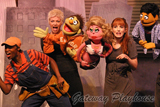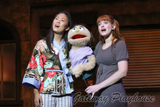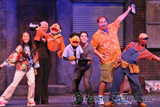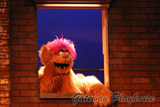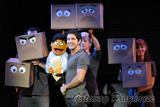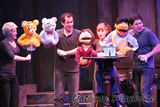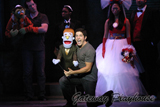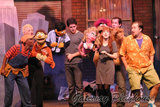 Princeton

HOWIE MICHAEL SMITH*



Download the Playbill
9 Meg PDF File
Brian
MICHAEL EDWARD BAKER*
Kate Monster
GWEN HOLLANDER*
Rod
HOWIE MICHAEL SMITH*
Nicky
CHRIS COOKE*
Christmas Eve
EJ ZIMMERMAN*
Gary Coleman
CARLA HARGROVE*
Trekkie Monster
CHRIS COOKE*
Mrs. T
CARRIE CIMMA*
Lucy The Slut
GWEN HOLLANDER*
Ensemble/Female Characters Understudy
LISA MINDELLE
Ensemble/Male Characters Understudy
ZACH TRIMMER
Muscians
| | |
| --- | --- |
| Conductor/ Keyboard I | JUSTIN S. FISCHER |
| Keyboard II | CHAD STEARNS |
| Reeds | MIKE KENDROT |
| Guitars | RAY SABATELLO |
| Bass | CATHERINE O'MALLEY |
| Percussion | JOSH ENDLICH |
Administrative
| | |
| --- | --- |
| Executive Producer | Ruth Allan |
| Producer | Paul Allan |
| Associate Producer | Jeff Bellante |
| General Manager | Gale Edwards |
| Company Manager | Michael Baker |
| Assistant Company Manager | Keith Llewellyn |
| Administrative Assistant | Sarah Innes |
Artistic
| | |
| --- | --- |
| Artistic/Casting Director | Robin Joy Allan |
| Director/Choreographer | Keith Andrews |
| Musical Director | Justin Fischer |
| Puppetry Consultant | Rick Lyon |
| Puppets built by | Rick Lyon and the Lyon Puppets |
| Set Design | Brittany Loesch |
| Costume Design | Vanessa Pynn |
| Lighting Designer | Brian Loesch |
| Assistant Lighting Designer | Justin Hoffman |
| Sound Design | Shane Bourgeois |
| Associate Casting/Artistic Director | Jessica Harrison |
| Production Photographer | Jeff Bellante |
| Musical Contractor | Jeff Hoffman |
| Sound Consultants | Dominic Sac, Cody Spencer |
Box Office
Box Office Manager
Laurie Parr
House Manager
Joanne Famiglietti
Group Sales
Claire Ward
Box Office Staff
Ashley Cooke, Beth Harrison, Nadine Hazard, Diane Koerber, Christina Montalato, Don Rebar,
Kyle Reitan, Linda Unger, Francesca Welhous
Production
| | |
| --- | --- |
| Production Manager | Brian Loesch |
| Production Stage Manager | Jovon Schuck |
| Technical Director | Jeff Taylor |
| Wardrobe Supervisor | Marianne Dominy |
| Master Electricians | Spencer Padilla |
| Scenic Artist | Dennis Berfield |
| Props Master | Scott Rygalski |
| Sound Engineer | Shane Bourgeois |
| Assistant Stage Manager | Megan Danielson |
| Sound Technician | Don Hanna |
| Technicians | Charlie Bell, James Holobrow, James Keith, AJ Lebenns, Dennis O'Leary Gullo, Alex Olsen, Brendan Smith |
| Wardrobe Assistants | Patrick Herb, Cee-Cee Swalling |
| Puppet Maintenance/Extra Construction | Trent Pcenicni |
Interns
| | |
| --- | --- |
| Company Management/Admin Intern. | Cassandra Levey |
| Stage Management Interns. | Avianna Meck |
| Sound Interns | Zach Ireson |
| Wardrobe Interns | Janine Loesch, Ariel Marcus, Amber Mallon, Kaitlyn McDonald |
| General Technician Interns | Ivy Conyers, Forrest Mallon |
Facilities
| | |
| --- | --- |
| Facilities Maintenance | Mark Frederick |
| Cleaning Staff | Eleodoro Sorto, Ray Tobia |
| Landscaping | HTM Landscaping Company |
| House Staff | Eric Burt, Ryan Hudack, Martin Maningo, Michael Ray, John Smaldone, Ed Wecera |
| Hospitality Consultant | Mike Taylor |
| General Counsel | Ann L. Nowak & Associates |