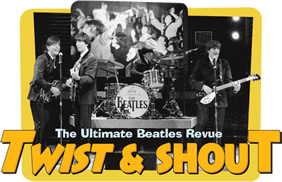 Twist and Shout
December 30 - January 2
at the Patchogue Theatre


OVERVIEW
TICKETS
CAST & CREATIVE
NEW YEAR'S EVE
PHOTOS
VIDEO
PLAYBILL
Come along with B-103 on a magical mystery tour of the Fab Four's remarkable career, from their early days of mop tops and Beatle boots right through The psychedelic 60's, and even a bit of John and Paul's solo career.

There is no band in the world who can look as much like the original artists themselves but are also superb musicians able to capture the original thrill of the young Beatles as well as the revolutionary impact of this visionary group of musicians.

Twist & Shout will immerse you in the complete experience from a band that looks and sounds like the real deal. If you've ever wanted to see the Beatles in concert - this is as close as you can get.

Ring in the New Year with a special show and party, including an open bar, hot and cold hors d'oeuvres, and a champagne toast at midnight - while we ring in 2011 with a full stage simulcast from Times Square!
December 2010 / January 2011

SUN
MON
TUES
WED
THUR
FRI
SAT
26
27
28

29

30

8:00PM


31

7:00PM
10:30PM

1

2:00PM
8:00PM

2

2:00PM


3

4

5

6

7

8
Bio's coming soon
New Year's Eve

New Year's Eve at Gateway has become a tradition and it's easy to see why. Our special 10:30 pm performance is filled with entertainment, excitement and merriment for all -- without the hassle and expense of trekking into the city. The night kicks off with theatergoers arriving to their seats adorned with festive hats, noisemakers and other party favors. At the end of the first act, a bevy of delicious hors d'oeuvers will be served. You can sample hot favorites and pass-around treats throughout the theatre. Enjoy beer, wine and soft drinks from our open bars during the extended intermission. As midnight approaches, grab a glass of complimentary champagne and watch the live festivities in Times Square on our large Video screens. After toasting 2011 with the cast and crew, it's "on with the show" for the second half of TWIST AND SHOUT. It will be a night not to miss!
Cast