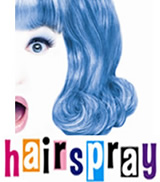 Hairspray
July 7 - July 31
at the Patchogue Theatre


ABOUT THE SHOW
TICKETS
FEATURING
CAST & BIO'S
REVIEWS
PHOTOS
VIDEO
PLAYBILL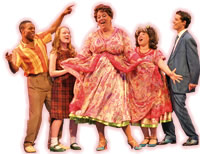 On July 7th, Hairspray will make its professional Long Island premier. Complete with groovy dancing, an array of colorful characters, and of course rocking mile-high do's, it's the story of Tracy Turnblad, a girl with dreams far bigger than her reflection, or hair. She finds there are even more important things than fame and dancing, even more so than attaining the love of her life, teen idol Link Larkin, such as friendship and equality. Although a musical comedy, Hairspray has a message to share that is as relevant today as it was in the time the show is set, 1962 Maryland. Dream big and live from the inside out, for what you feel and believe on the inside is the true manifestation of what you present to the world. Gateway's production of Hairspray is a particularly authentic representation of this 60's mentality of unity and opportunity both on stage and off.

With a cast ranging from a lead discovered on Long Island to the talents of an American Idol finalist and multiple Broadway and TV regulars, this company comprises what Casting and Artistic Director Robin Joy Allan calls "A melting pot of experience." Gateway Playhouse does all of its casting in New York City, auditioning a multitude of working industry professionals. With seventeen years of casting experience on the east coast, Robin says this audition was a new record breaker with such a tremendous amount of people auditioning. She attributes this tidal wave to several factors, including timing of the audition, the beloved nature of the show itself, a show most every performer would love to be in, a variety of characters of different races and ages, making the show accessible to actors of all types, and the faltering economy, which has at this point closed down six other regional theatres like Gateway on the east coast, minimizing job options for professionals. After already seeing hundreds of Equity performers at auditions they were submitted to by their agents and at Union calls, Gateway held an open call in Manhattan to which over five-hundred young hopefuls showed up. As is the usual in these situations with sheer large numbers of "auditionees," typing had to occur, a process where the Casting Director collects everyone's head shots and resumes and lines up all the actors in a room, determining who is worth keeping around to sing and dance based on their looks and experience; how well the actor fits the profile of the type of characters the production calls for. After typing occurred, about two hundred actors were actually seen, one of which, after several rounds of call backs, would be cast as Tracy. After seeing hundreds of people, in addition to sifting through piles of resumes Robin had on file from past productions and auditions, the cast was formed, bringing together thirty-one performers from all over the country.

Nell Mooney is playing Velma, returning to Gateway after performing last summer as Christine in Dirty Rotten Scoundrels. Amongst an abundance of theatre credits, Nell also won the reality TV show called "InTurn", securing her a spot on famed soap opera "As the World Turns". If it weren't for Casting Director Robin Joy Allan's teenage daughter, Hayley, and her obsession with "American Idol", the cast would likely not include finalist Todrick Hall in the role of Seaweed. Aside from his Idol success, Todrick's resume also boasts The Color Purple on Broadway. Jerry O'Boyle as Edna, the role originated on Broadway by Harvey Fierstein, starred in the national tour. Wayne Schroder, playing the role of Wilbur, also has numerous New York credits, including the original cast of Dolly Parton's musical 9 to 5 on Broadway. Fran Jaye is Motormouth Maybelle, a role she played in the Vegas production with Harvey Fierstein, as well as in Toronto.

With a dynamite company behind her, perhaps what makes the production most exciting for Long Island theatre patrons is the chance to experience the excitement of a Long Island born and raised star. Brooke Shapiro (Tracy) is from Wantagh, Long Island, and is currently attending the Hartt School of Music in Connecticut as a Musical Theatre major pursuing a BFA degree.

The show is going to be a special one not only because of the story and the message it conveys, but because the cast is an authentic representation of the message the show so strongly upholds. With only two weeks of rehearsal before the show goes up, the company is living, breathing, and eating Hairspray (although hopefully not literally). With everyone on the Bellport property day and night, togetherness is the operative word.

Take a moment to step back and reflect on your personal perception of the 1960's. Did you live through the 60's yourself? Do you think of the music? The fashion trends? Segregation and racism? As Cat Stevens put it, "I've been smiling lately, dreaming about the world as one. And I believe it could be, someday it's going to come."
JULY 2010

SUN
MON
TUES
WED
THUR
FRI
SAT
4
5
6

7

8:00PM

8

2:00PM
8:00PM

9


8:00PM

10

3:00PM
8:30PM

11

2:00PM
7:00PM

12

13

14

2:00PM

8:00PM

15

2:00PM
8:00PM

16


8:00PM

17

3:00PM
8:30PM

18


7:00PM

19

20

8:00PM

21

8:00PM

22

2:00PM
8:00PM

23


8:00PM

24

3:00PM
8:30PM

25

2:00PM


26

27

8:00PM

28

2:00PM

8:00PM

29

2:00PM
8:00PM

30


8:00PM

31

3:00PM
8:30PM
Featuring:
American Idol Finalist - Todrick Hall
| | |
| --- | --- |
| WATCH TODRICK as he orders his "McFlurry"….McDONALDS may just have their next campaign song! | Click Here |
| Watch TODRICK as he auditions for the Idol Panel! | Click Here |
| Watch TODRICK as he makes it to Hollywood and in the top 24 Idol Finalists of 2010! | Click Here |
DANNIS ANDERSON

(Ensemble) a gifted singer, songwriter and actor has attended Empire State University where he earned a BA in Acting. Dannis has performed behind such world‐renowned acts as The Ojay's, Dionne Warwick, Patti Labelle and Yolanda Adams. Some of his credits include starring in the new musical Play The Music Softly (Kennedy Center April 2011), Ragtime, A Chorus Line, and Ma Rainey's Black Bottom. Dannis also performs across the tri‐state area with his band Love Supreme. He would like to thank all that continue to believe and support his career.

KELLI JOELLE BARTLETT

(Ensemble) is delighted to be returning to the Gateway Playhouse after just completing her run as the nerdy Ginger Mooney in Happy Days! A very recent graduate of NYU's Tisch School of the Arts at CAP21, some of Kelli's favorite roles include Fastrada in Pippin, Lulu in Cabaret and super cheerleader Brandy in CHEER WARS!(Richard Rogers Award). Much love to Jim & the entire BLOC family, Nana, and my wonderful family and friends.


STEVEN BECKINGHAM

(Corny Collins) Graduate of The London Academy of Music and Dramatic Art. Theatre includes: Nick(u/s) in Who's Afraid of Virginia Woolf? with Kathleen Turner and Bill Irwin (B'way National Tour/West End), Peter Sellers in US premiere of Ying Tong: A Walk With the Goons (Wilma Theatre), Waiting for Lefty (American Theatre for Actors), The Comedy of Errors (Boomerang Theatre Company), Grease and Twelfth Night (Portland, OR). UK/Europe: German tour of Death of A Salesman, UK Premiere of Serenading Louie (GBS Theatre/RADA), Love's, Labour's, Lost (Shakespeare's Globe Education). TV/Film: "I Shouldn't be Alive," "Doctor Who," "The Road to Guantanamo," "The Tiger and the Snow, Hallo Panda." Steve is also a composer and songwriter. www.stevenbeckingham.com.



NATALIE LOFTIN BELL

(Amber Von Tussle) hails from Plano, Texas and is a graduate of Oklahoma City University with a BA in Music Theatre. Credits include Tick…Tick…Boom! Wow Theatre NYC, A Wonderful Life (Paper Mill Playhouse), Showboat (Casa Manana) and High School Musical (North Shore Music Theatre). Some of Natalie's other roles include Laurie Oklahoma!, Sarah Brown Guys and Dolls, Cinderella, Valencienne The Merry Widow and Luisa The Fantasticks. After previously signed with Epic/Sony Records, Natalie has toured the US performing at such venues as Madison Square Garden, Anaheim Pond and The Oklahoma Ford Center among others. Her single, Burn, was released to national radio and for purchase in 2005. Her film career includes 3 principle roles: Andrea in The Cineplex, Lori in Mimesis and Sarah in Soul's Midnight, a horror flick starring Armande Assante. Natalie has found passion in entertaining our cherished troops and veterans all over the globe as a performer with The American Belles, and is now thrilled to continue this incredible mission with The USO Liberty Bells. Natalie sends a very heartfelt thank you to all of the men and women who defend our incredible country and is a content member of Actors Equity. www.NatalieLoftinBell.com



CLAUDEEN BENOIT

(Dynamite, Ensemble) is a recent graduate of the American Academy of Dramatic Arts, 09'. And since, has been spotlighted in various new productions, which include the World Premiere of Charles L. Mee's, Coney Island Avenue (New York Theater Workshop), and Streetlights! (NYMF).  She is excited to be joining this fabulous cast, and thanks her family and friends for their continuous support. thank you BLOC.

JESSICA BIRCANN

(Dynamite, Ensemble) Jessica is thrilled to be making her Gateway Playhouse debut with Hairspray! Previous credits include: How to Succeed In Business Without Really Trying (WPPAC), Meet Me In St. Louis (Paper Mill Playhouse), Disney's High School Musical (NSMT) and the National Tour of Gentlemen Prefer Blondes. She holds a BA in dance from Point Park University. Love and Thanks to my Family, Friends, and my Boots.

SARA JAYNE BLACKMORE

(Penny) is thrilled to be making her Gateway debut. She was recently seen portraying the title role of the Nightingale in Benjamin Scheuers opera The Nightingale and the Rose for the Metropolis Opera Projects M.O.P. Bucket concert of new Music. Previous performances include The Toymaker (NYMF '09) and Growing Up 70's (Off-Broadway). Readings include, Jihad and White Noise. Sara will be participating as a featured soloist in SJ Petterssons opera A Dream Play this fall! Special thanks to Penny and everyone at Luedtke.  Sara is a proud member of AEA. "Hey Mama!"

WILLIE DEE

(Ensemble) Willie Dee originally from Dallas, TX is blessed to be making his Gateway Playhouse debut with Hairspray! Recently finishing the National Tour of Hairspray he is extremely excited to be returning to the world of Baltimore! He is a graduate of Sam Houston State University where he received a B.F.A in Musical Theatre. Thanks to God, MY FAMILY, Uno, Madi, Teanna & Sneakie for always believing in me!

JENNIFER FOUCHÉ

(Cindy Watkins, Ensemble) Jennifer hails from Detroit, Michigan and is a graduate of The American Academy of Dramatic Arts, an Alumni of the 2008 Academy Company and has performed both nationally and internationally as a singer and actor. Jennifer is a member of The Amoralists Theatre Company (NYC) as well as a member of the Flea Theatre's resident acting company, The Bats (NYC). Recent credits include The Crucible (Tituba), Bag Lady (Clara), Dirty Little Black Girls (Song), Blue Fire on the Water (Maybelle), The Violet Hour (Jessie), Amerissiah (Carrie), Bring Us the Head of Your Daughter (Contessa), A Hatful of Rain (Putski), Little Shop of Horrors (Ronnette). Film/TV Animal Planet, "Indelible," "Avenging Disco Vampires." Jennifer has recently finished writing her one woman show, "Grown Folks Are Talking", which will premiere in September of 2011. She is ever thankful for the tremendous love and support of Scotty, her family and friends. Jennifer is thrilled to work with the cast of Hairspray and everyone at Gateway!



TODRICK HALL

(Seaweed) Todrick is thrilled to be making his Gateway Debut. Most known as a finalist in this year's season of American Idol, Hall is no stranger to the stage. Originally from Texas he has made his way across the world performing on cruise ships for Holland America and Royal Caribbean,  The Radio City Christmas Spectacular, The National tour of Disney's Beauty and the Beast, shows at both Disney Theme Parks and Oprah Winfrey's The Color Purple on Broadway. Hall will be joining the cast of the 2010 Tony Award Winning Broadway Show Memphis directly after his run at Gateway. You may also find one of his numerous viral videos on youtube. Todrick would like to thank God, his amazing Mother Brenda, Corey, Shaysten, his family, Pat & Tania Carthel, Sheena, Blair, Ashley Everett, Liz Sheets, Bernie & Dana. This performance is dedicated to my Meme, may she watch proudly from heaven above. Follow @ Toddyrockstar on Twitter!!! Gateway ROCKS!



KJ HIPPENSTEEL

(Link Larkin) has been playing the part of a waiter for the last year in the city and is very happy to be here at Gateway Playhouse!! He has been seen in various shows around the country including Altar Boyz, Rent, All Shook Up, and the National Tour of Wedding Singer and will soon be seen in the First National Tour of Dolly Parton's 9-5: The Musical. He would like to thank his Family (Mom, Dad, Snookie, Kyle, Joseph, and the Drummonds) for their love and support. Also thank you Ben and David (my agents) for being my agents, and thank you Brooke for loving me!

FRAN JAYE

(Motormouth Maybelle) "2005 Dora Mavor Moore Nominee", is thrilled to reprise the role of "Motormouth Maybelle", she originated in Toronto Canada, and Las Vegas. Additional credits include: The Drowsy Chaperone-1st Nat'l Tour, The Genius Of Ray Charles-W.End London, Jammin With Pops- 1st Nat'l Tour, Civil War-2nd Nat'l Tour, and The Golden Gospel & Harlem Gospel Singers-Int'l & Nat'l Tour. She has also recorded, and toured with Norman Conners, Lanny Meyers, Colonel Abrams, Allison Williams, Willie Colon, Will Downing, Lisa Fischer, Southside Johnny & The Ashbury Jukes. Fran is grateful member of Equity for more than 10 years.



RYAN LAMMER

(Ensemble) Just recently Ryan was seen here at the Gateway Playhouse as Jim in Irving Berlin's I Love A Piano. Other credits include Two National Tours and the Arena Stage Production of Irving Berlin's I Love A Piano, Production Tenor in Singin' in the The Rain & The Producers at Cohoes Music Hall, Dylan/Roger in Raised in Captivity, Hershey Park's Country Show and a Team member and performer for the Rosie O'Donnell/R-Family Vacations Cruise. This and every performance is for Dad & Mom who are always supportive & never let me give up. www.ryanlammer.com.

CHRIS LEBEAU

(Ensemble) Chris is delighted to be spending his first summer at the Gateway Playhouse! He hails from Holliston, Massachusetts and attended Syracuse University for Musical Theatre.   Tour: The Producers (Leo u/s); NYC Reading: Babes in Arms w/ Rosie O'Donnell (Dick); Regional: 42nd Street at Westchester Broadway Theatre, Crazy for You at The John W. Engeman, as well as All Shook Up and The Producers at the Merry-Go-Round Playhouse.   He would like to thank his family and friends for their endless love and support.

ASHLEY MCKAY

(Shelly) is honored to return to Gateway! She was last seen here in I Love A Piano (Ginger). B.F.A. in Musical Theatre (Dance minor) from MVC. Favorite past credits include: Disney Cruise Line (Main Stage Swing/Dance Captain, Cinderella, Sleeping Beauty), Little Shop of Horrors (Audrey), High School Musical (Sharpay Evans), Kiss Me Kate (Lois Lane), and Nunsense (Sr. Mary Leo, 4 times and counting). "Big thanks to Robin, Paul, Michael and everyone involved, but biggest thanks to my family and Sean – for always believing in me." Proud member of Actor's Equity Association! Please visit www.ashleysmckay.com.



BAILEY MEANS

(Ensemble) Bailey is thrilled to be returning to the Gateway Playhouse where she was last seen riding an imaginary motorcycle in Happy Days the Musical!  Originally from Kansas, Bailey graduated from Friends University and has lived in New York for two years.   Her favorite roles include Shelby in Spitfire Grill, the Witch in Into the Woods, and Tammy in Debbie Does Dallas the Musical.  Much love and thanks to Mom, Dad, Nic and the rest of her family and friends! www.baileymeans.com

KEVIN METZGER

(Ensemble) Gateway debut! Previous credits: Dirty Rotten Scoundrels (Andre U/S, Theatre by the Sea), Thoroughly Modern Millie (Media Theatre and Forestburgh Playhouse), All Shook Up, The Producers, High School Musical (Merry-Go-Round Playhouse), Urinetown, Pippin and Rapunzel's Prince in Into the Woods (CAP21). This fall, Kevin will be seen as Harold in the first national tour of 'SWonderful: The New Gershwin Musical. Proud graduate of NYU's CAP21 and the Orange County High School of the Arts. Love to family and friends…LYLAS! www.kevinmetzger.net.

NELL  MOONEY

(Velma Von Tussle)  is so glad to be back at Gateway. Theater: Diary of a Teenage Girl (New Georges), Dirty Rotten Scoundrels (Gateway Playhouse), Black Comedy (Barrington Stage),   Orange Lemon Egg Canary (Actors Theater of Louisville), No 11 Blue and White (McGinn/Cazale), Gorilla Man (PS 122), HAIR (Studio Theater, D.C), My Children! My Africa! (Luna Stage). Movies: Enchanted, 9'11'01 (dir Mira Nair). TV: "Law and Order (CI)," "My Girlfriend is a Porn Star" (Comedy Central), "As the World Turns" (Spencer McKay), "One Life to Live." Love to her husband, Iain.

JERRY O'BOYLE

(Edna Turnblad) is thrilled to be making his Gateway Playhouse debut. In 2006, he was selected to play Edna in the NETworks tour of Hairspray. After more than 1,000 performances in 4 countries, including 2 amazing trips to Japan, Jerry is still excited to step into the '60's and the magical world of Hairspray. As a native Chicagoan, his hometown credits include Marriott's Lincolnshire Theatre (Into the Woods); Northlight Rep (Dealing); Fox Theatricals at The Wellington (Theda Bara…); Light Opera Works (Desert Song); Pegasus Players (Pacific Overtures); and six seasons on staff and onstage at the Apple Tree Theatre. For 7 years Jerry served as Artistic Director of The Round Barn Theatre in Nappanee, IN. His work there included collaborations with Joseph Stein, Stephen Schwartz, Scott Schwartz, and Albert Hague. Jerry is eternally grateful to Robin and the rest of the Gateway family for the opportunity to perform for you tonight.



GABRIELLE PORTER

(Dynamite, Ensemble) is thrilled to be making her Hairspray debut with this amazing production! A graduate of NYU's Tisch School of the Arts at CAP 21 studio and New Orleans native, favorite roles include Flora in Flora, the Red Menace, Rosie in Bye, Bye, Birdie, Dorothy in The Wiz, Gabrielle in Smokey Joe's Café, and Sour Kangaroo in Seussical. With the After the Storm Foundation, she performed Once on This Island Off-Broadway in July 2007. Later that year, she performed with "Rockers on Broadway" for Broadway Cares: Equity Fights AIDS. Thanks to God, family, and friends for their support and of course this amazing cast and production team.



CAMERON J. ROSS

(Ensemble) is extremely pleased and excited to join the Gateway family! A native of Houston, Texas; Cameron is a graduate of The New School University.  He was previously seen as a lead vocalist in Feeling Good: A Showcase directed by Tony nominated director Marcia Milgrom Dodge. His favorite credits include Pish-Tush (Hot Mikado), CC White (Dreamgirls), Lion (The Wiz) and Toledo (Ma Rainey's Black Bottom).  He gives loads of thanks to Mom, Dad, Grant, his beautiful family, amazing friends, Gateway Playhouse, cast and crew!   Peace and Love!

WAYNE SCHRODER

(Wilber Turnblad) Broadway: 9 to 5 and A Christmas Carol. Concert: Kristina at Carnegie Hall and Royal Albert Hall. Off-Broadway: Prince and the Pauper and Mimi le Duck. Other New York: Big Shoot, Western Unidad, Waxing West, Don Imbroglio, Landscape of the Body. Regional: A Tale of Two Cities, Of Mice and Men, South Pacific, The Underpants, Camelot, Forum, A Little Night Music, 42nd Street, Breaking Legs, Leading Ladies, Perfect Wedding, Forever Plaid, 1776, and the Foreigner. Television: "Guiding Light," "All My Children." Film: The Producers, the Musical.

KAYLEA SCOTT

(Little Inez) born in Brooklyn, NY at a tender age of 3 always dreamed of being a performer. This is Kaylea's first professional production with Gateway Playhouse she's overjoyed to play Little Inez. She played Arvide Abernathy in her school musical production of Guys & Dolls. she sings at Mount Olive Baptist Church Youth Choir along with her school Chorus. Kaylea partook in 2009 SCMEA (Suffolk County Music Educators' Association) Festival and NYSSMA (New York State School Music Association) three years in a row. She dreams of being a songwriter and performing on Broadway in the future. She'd like to dedicate her performance to her father Patrick Scott.



BROOKE SHAPIRO

(Tracy Turnblad) is excited to "hear the bells" and "welcome the 60s" in her regional theater debut at Gateway Playhouse! Brooke recently completed her freshman year at The Hartt School where she is pursuing a BFA in Musical Theater. Credits include Anything Goes (Reno Sweeney), Les Mis (Madame Thenardier), Seussical (Mayzie), Thoroughly Modern Millie (Mrs. Meers). She is grateful for the love and support from her family, the charm and enthusiasm of her friends, and the wonderful opportunity to perform at Gateway Playhouse.

SIMON TRUMBLE

(Ensemble)  is juiced to be returning to Gateway after appearing in Urban Cowboy a few seasons back. Originally from Berkeley California, Simon graduated from the American Academy of Dramatic Art (AADA) in Manhattan, and performed regionally before venturing into the mid west to pursue a bachelor's degree in theatre and dance from Otterbein College in Ohio. Some favorite roles include Paul in A Chorus Line, Danny Zuko in Grease, and Nathan Detroit in Guys and Dolls. Simon would like to thank Robin for remembering his name and bringing him back to Bellport, his mother for her unwavering support, his brothers at Pi Beta Sigma, and Polly for the little things that make all the difference.



YORK WALKER

(Ensemble) is thrilled to be making his Gateway Playhouse debut with Hairspray! Regional credits include: Let Bygones Be and Heist! (34th Annual Humana Festival); Dracula, A Christmas Carol, and Important People (Actors Theatre of Louisville). York is a graduate of Illinois State University where he received a BA in Acting. Endless love and thanks to God, family, friends, the ATL 21 and Manny for all of their support. Living the dream and making memories

SCOTTY WATSON

(Male Authority Figure) Scotty Watson is pleased to be back at Gateway Playhouse. Last month he played "Mr. C" in Gateway's New York State premier of Happy Days, A New Musical. Scotty was the dis-embodied head of Wal-Mart founder Sam Walton in the Off-Broadway musical Walmartopia!   He is an alumni of The Second City and served as an alternate in Cirque du Soleil's Mystere. On TV Scotty has dressed up as David Crosby, a human heart and Carmen Miranda… but with dignity. He has done feature films with Ed Asner, Eric Stoltz and Gerard Depardieu. Scotty Watson teaches improvisation for Artistic New Directions. In fact, he was recently nominated by his peers as one of the 10 best improv teachers in America in a poll by Improvisation News. If you wanna see him in swim trunks, he teaches at two Improv Retreats in the Catskills every summer… www.artisticnewdirections.org. CAEA since 1991, he proudly joined AEA May 2007. His favorite food is pie. His favorite person is his wife Carol Lempert. His blog is scottywatsoncomedian.blogspot.com



KAREN WEBB

(Ensemble) Karen is thrilled to be back for Hairspray after making her Gateway debut in Will Rogers Follies during the '08 season! Recent credits include: Nine (Westchester Broadway Theatre), Cats, The Producers, Joseph…Dreamcoat (Beef & Boards), Beauty and the Beast, Pajama Game (Mountain Playhouse), Cabaret, South Pacific, The Full Monty (Show Palace), and Chicago (Peach State). During Will Rogers Follies, Karen had the honor of performing for Tommy Tune while he accepted his lifetime achievement award at the 2008 Astaire Awards. Many thanks to everyone at Gateway, Robin, Michael, Jay, and my amazing family and friends from Ga to NYC! Love y'all!



HARDY WEAVER

(Ensemble) Hardy is pumped to be spending his first summer at Gateway! He is a proud native New Orleanian and a graduate of Florida State University's BFA Music Theatre program. Hardy was last seen on the National Tour of CATS (Skimbleshanks). Regional credits include Seaside Music Theatre, Le Petit Theatre, Tulane Summer Lyric, Dutch Apple, and Ann Reinking's Broadway Theatre Project. This fall, Hardy will be playing the role of Bobby in the National Tour of A Chorus Line. BIG LOVE to all of my family and friends for their love and support, especially over the past year.

CHELSEY WHITELOCK

(Female Authority Figure) Chelsey is pumped to be returning to Gateway for another fun filled summer! You may have seen her last year in The Drowsy Chaperone as a dancing maid and in Dirty Rotten Scoundrels popping up in the audience to belt in your face as the Usherette and among the gorgeous ladies in the ensemble. Other favorite regional roles include Roxie Chicago, Ado-Annie Oklahoma!, Adelaide Guys and Dolls, Bianca Kiss Me Kate, Brooke Noises Off. She also appeared in the '07-'08 National tour of Annie. "Love and thanks to the Gateway Family for bringing me back, the actual family for being the best, and Mikey whom I can't wait to marry in October!"



STEVEN YUHASZ

(Director) Flamingo Court Off Broadway - Jamie Farr, Anita Gillette. The Lincoln Continental, Midtown International Festival (Nominated "Best Production of a Play.") Late Nights With The Boys: confessions of a leather bar chanteuse - Outstanding Fresh Fruit Event of 2009, Producers Award Dallas Fringe. Zorba - Jeff McCarthy, Beth Fowler, Emily Skinner - York Theatre. Tusk (co-book) "Best of NYMF 2004". The King & I - Lorenzo Lamas, Rachel deBenedet & Paulo Montalban - Ogunquit Playhouse. Forever Plaid - Canada & US. Lover, Liar, Lady: The Woman Of Kander & Ebb (Conceived) - New Provincetown Theatre. Associate Director: All About Us - Westport Playhouse - Eartha Kitt, Cady Huffman & Shuler Hensley, Cinderella - Papermill & Ogunquit Playhouse - Leslie Uggums. A Christmas Carol at Madison Square Garden assisting Susan Stroman. Founding Producer NYMF. Steven appeared on Broadway in Peter Pan with Sandy Duncan and Zorba with Anthony Quinn.



JEFFREY BUCHSBAUM (

(Musical Director) Jeffrey is so very happy to be back for his 18th production at The Gateway Playhouse. Recent shows here include The Producers, Phantom, Cats, Ragtime, Evita and last season's Dirty Rotten Scoundrels. Off-Broadway: On Second Avenue (2 Drama Desk nominations), Tallulah's Party with Tovah Feldshuh, A Dash Of Rosemary (also arranger). Broadway Rhythm in Macao, China (also conceived), The Magic Of Musicals in Athens, Greece (also conceived), and The Skinflint (Repertory Theatre of St. Louis). Tours: Titanic, My One And Only, George M, Damn Yankees starring Jerry Lewis, Phantom of the Opera (European/South America), A Chorus Line (European/National). Jeffrey has also directed National Tours of Camelot and Mame. In development: Tupperwise (composer) and The Butcher of Plainfield. Jeffrey is a voice teacher in New York City.



CHRISTOPHER LANDY

(Lighting Designer)) Chris is always thrilled to return the Gateway, where past designs include Beauty and the Beast, Oliver, Urban Cowboy, Phantom, Tommy (CT Critic Circle Award), Jekyll & Hyde, Showboat, West Side Story, Brigadoon, Cabaret, and Crazy For You. His theatre and opera credits include A Little Night Music for Goodspeed; Rosencrantz and Guildenstern are Dead for Long Wharf and Williamstown; Hay Fever, Princess Turandot and Angel Street for Westport Country Playhouse; Altar Boyz, Smokey Joe's Café and Hot N' Cole for Riverside Playhouse, Orfeo ed Euridice and Turandot for Virginia Opera and Madame Butterfly, Marriage of Figaro, Die Fledermaus and Rigoletto for Boheme Opera. Off-Broadway credits include Oedipus, Hotel Universe, Princess Turandot, Ivanov, and Retribution. Christopher works extensively in television and has recently received an Emmy Award for his work on MTV's Unplugged Series. This past year Chris designed "Late Night w/ Jimmy Fallon" for NBC, "The Emeril LaGasse Show" for ION, and several specials for Denis Leary. Design credits also include work for MTV, BET, VH1, Comedy Central, SpikeTV, MyNetwork, Style Network, AMC, Oxygen, NBA, CMT, and CNN among others. With a strong background in music and live events, Chris has designed many series for MTV including Total Request Live, Unplugged 2.0, MTV's New Years Eve, Choose or Loose, MTV's Beach House and countless specials. For the Oxygen Network he has designed their Custom Concert series with such artists as LL Cool J, John Legend, The Wallflowers, Sarah McLachlan, Macy Gray, Alanis Morissette, Patti Labelle, Tori Amos and Michelle Branch. Chris was the designer for Comedy Central's "Tough Crowd with Colin Quinn" and "Important Things with Demetri Martin." He also lit ISAAC for the Style Network and Movies 101 for AMC. For news, he designed Showbiz Tonight and Nancy Grace for CNN, FoxNews Coverage of the Democratic and Republican Conventions and the MSNBC 2004 Election coverage for which he received an Emmy nomination. He holds an MFA in lighting and set design from NYU and runs his own design and production firm, Vibrant Design.



JOVON E. SHUCK

(Stage Manager) returns to Gateway after a two and a half year touring adventure with the cast and crew of Monty Python's Spamalot. Other favorite credits include: Noises Off, and The Graduate (Broadway), The Irish Curse (Off Broadway), Saint Heaven (SCA Rich Forum), The Seagull (NYSF/Public Theatre), six Christmases with The Radio City Christmas Spectacular, four summers right here at Gateway Playhouse, and five wonderful years with Sheila Marie.



JOSH WALDEN

(Choreographer)  was recently the Associate Director/Choreographer for the Tony Nominated Broadway Revival of Ragtime.  He has choreographed for The Kennedy Center, Sacramento Music Circus, Bay Street Theatre, Theatreworks USA, Actors Theatre of Louisville, Tisch School of the Arts and the Seabourn Sun Cruise Ship.  Walden's dance company, Walden Dance Theatre, had its first dance musical, All Is Love, produced in the New York Musical Theatre Festival.  He performed on Broadway in the revivals of 42nd St, La Cage aux Folles, A Chorus Line and Ragtime.  Now, it's off to get married in the autumnal hills of Thetford, VT to his beloved, Jeffrey!  JWM!!!



ROBIN JOY ALLAN

(Artistic Director) Not knowing what would sound interesting enough for a read, Robin would just like to give credit to the creative spirits and "way-showers" in her life who inspired her, taught her, supported her, lived a great example for her, and lit the journey as she sang, danced, played, taught, directed, cast and twirled herself through her varied life in the arts. Jane Jenkins, Denise Chamian, Michael Cutler, Jessica (O'S) Kelly, Bob Durkin, Chuck Carter, David and Joan Sheldon, Sally and Les Harris, Ruth and Stan Allan, Harry and Libby Pomeran and her brother, Paul Allan with whom she works daily to run the family business known as The Gateway. From her hands on theatrical experience on stage and off to her behind the scenes work in Film and TV as a Casting Director on both coasts, Robin has been fortunate to work with actors, directors, writers, and producers from today's celebrities to tomorrow's future stars. In her life bio she includes 16 years performing, 25 years casting and 30 years teaching, much of that overlaps, from her teens, on. The films "When Harry Met Sally," "Lord Of The Flies," "Parenthood," and "Ghost" are on her casting resume as well as one-hundred and thirty six Main Stage productions for Gateway. She feels blessed and hopes to continue to give back to the universe as much as she has been given. Robin lives in Brookhaven Hamlet with her amazing daughter Hayley and constant companions Lucy Dog, Mops and Momma Kitty.



PAUL ALLAN

(Producer)  …has been producing the seasons here at Gateway longer then he cares to count. Not that he regrets any of it though – it just sometimes hard to believe the number of shows, performers, staff, technicians, etc. he has come in contact with over the years, and the number of personal and professional friendships that developed and remain strong today. Paul's grandfather (Harry Pomeran) was the first producer of Gateway in 1950, followed by his uncle (David Sheldon), his parents (Ruth and Stan Allan), and together with his sister Robin. Gateway has always been a family business, and each era has brought significant challenges particularly in the 80's and 90's when shows became more complicated and technically challenging. Additionally, the grounds changed, the buildings were modernized, and the facilities updated. In the most recent decade, the caliber of the artistic staff, performers, musicians, and technicians has risen to a level equaling and sometimes surpassing many Broadway shows. It has been difficult to find time to do other projects outside of Gateway seasons, but over the years Paul has been able to work in NYC on various shows in different capacities, run a touring company with shows traveling around the country and abroad, operate a sister theatre in Connecticut, act as consultant and facilitator for the restoration and reopening of the Patchogue Theatre, and maintain a set rental business - where Gateway scenery is used in theatres across the country after appearing on the Gateway stage. Paul appreciates, admires and honors his family's dedication to the arts and is proud to help continue the legacy. Paul lives in Bellport with his wife Annmarie and their 2 children - Luke 5 and Alexa 3

Newsday
Gateway tops Broadway in LI 'Hairspray' premiere
By STEVE PARKS
July 15th, 2010

Burning carbon is blamed for global warming. But in "Hairspray" there's enough of the stuff wafting in the air that you might attribute the greenhouse effect to aerosol cans.

What did they know in 1962? For one thing, they knew how to dance. The agile cast of Gateway's Long Island premiere will have you believing they could shake that thang before assassinations and Vietnam changed the nation's tune. Director Steven Yuhasz's unerring sense of time, place and character - with major assists from designers J. Branson (set), Christopher Landy (lighting) and Tila Torcia (costumes), plus choreographer Josh Walden and conductor Jeffrey Buschbaum - creates a "Hairspray" that surpasses even the 2002 Tony winner.

Young Brooke Shapiro as Tracy Turnblad, the plumpish teen who aches to dance on "The Corny Collins Show," a local "American Bandstand," hits all the right notes - lyrical and comical. Though Velma Von Tussle (Nell Mooney), former Miss Baltimore Crabs, and daughter Amber (Natalie Loftin Bell) dismiss her as "fat," Tracy gains the host's attention at a hop, where she also catches the eye of Amber's steady, an Elvis type played by K.J. Hippensteel.

But making it on Corny Collins isn't enough for Tracy. Her black friends, relegated to the show's once-a-month "Negro Day," taught her to dance. Picketing to integrate the show, Tracy and company are thrown in the clink. But she's liberated in time for the nationally televised dance contest.

But beyond the feel-good message of tolerance, "Hairspray" is fun. You remember fun. What sets Gateway's production apart, however, is the toned-down Edna, Tracy's larger-than-life mom. Played by Harvey Fierstein on Broadway, John Travolta in the movie musical and Divine in the 1988 John Waters original, Edna is - typically for Waters - a scene-stealer in drag. As directed by Yuhasz, Jerry O'Boyle presents a self-conscious Edna, sweetly allowing Tracy to upstage her. O'Boyle is almost as unobtrusive as her hubby (Wayne Schroeder). Their soft-shoe duet, "You're Timeless to Me," re-establishes this understated showstopper as Broadway's greatest postmenopausal love song.

Todrick Hall, a 2010 "American Idol" semifinalist, shows he can dance, too, as Seaweed, love interest to Tracy's pal (Sara Jayne Blackmore.) Their bedroom scene would've gotten them arrested in 1962. Fran Jaye as Motormouth Maybelle supplies the blues consciousness of the show. Steven Beckingham plays Corny, a character based on the late Baltimore TV host Buddy Deane, who hosted a teen-hop TV show back when Waters was a kid. It's a sobering fact that Deane's sponsors canceled his show rather than let it be integrated.

WHAT Long Island premiere of "Hairspray," by Marc Shaiman, Mark O'Donnell, Thomas Meehan and Scott Wittman

WHEN | WHERE 2 and 8 p.m. Wednesdays and Thursdays, 8 p.m. Fridays and Tuesdays, 3 and 8:30 p.m. Saturdays, 7 p.m. Sundays; a Gateway Playhouse production at Patchogue Theatre for the Performing Arts, 71 E. Main St., through July 31

INFO $51-$57, $25 students; gatewayplayhousecom, 631-286-1133


Southampton Press
Overflowing with fun, "Hairspray" is Gateway's extravaganza of the season in Patchogue
By LEE DAVIS
July 13th, 2010

There's probably more fun per square inch on the Patchogue Theater stage and in its present tenant, the 2003 Tony-sweeping musical "Hairspray," than there are tears in much of the rest of the world.

This exuberant, supercharged, superbly performed, and deliriously dopey show that sends up the '60s as they've probably never been sent up before qualifies in every way as the Gateway's extravaganza of the season.

The Gateway does one of these a year—a tossing in of all its multiple talents and resources with the aim of filling both the Patchogue stage and the Patchogue theater with large casts, star performers and a general sense of opulence.

Okay, so what if the set for this "Hairspray," by one J. Branson, who is mysteriously absent from the program, is, well, bright and useful and creatively lit by Christopher J Landy, but otherwise minimal?

What matter, when what takes place before and within it is so gloriously happy and glitteringly inspired? First off, there's the solidity of the show itself—strong reason for its multiple awards. The book by Mark O'Donell and his widely credited co-librettist Tom Meehan ("Annie, "The Producers") which traces the improbably heroic transformation of Tracy Turnblad from overweight teenager to shining star of the Corny Collins (read Dick Clark) TV dance show, is unfailingly funny, replete with one-liners that fly by and multiply endlessly.

If in the midst of all this comic mayhem some social commentary plunks itself down, the cast keeps it all of a piece so that the commentary molds itself into a sincere evocation of a time and its cloudy as well as sunny complexions. And besides, the social aspect makes possible the show stopping, heart accelerating musical atom bomb of the evening, the gospel elevated "I Know Where I've Been," socked across with wild, knowledgeable control in Patchogue by the solidly estimable Fran Jay, a star if there ever was one.

The music by Marc Shaiman and lyrics by Mr. Shaiman and Scott Wittman are wackily of the period, delivered with great understanding and energy by a fine sounding pit orchestra conducted by musical director Jeffrey Buchsbaum.

All of this is staged with an abundance of forward fever by Steven Yuhasz and choreographed to the rafters and beyond by Josh Walden. Every possible '60s cliché—even an appearance by three student Supremes ("The Dynamites")—comes happily to life in the virtually nonstop dancing and clowning by a huge and to-a-person shining cast.

Every cast member is adorable and precise and apparently indefatigable, for they've been given such nonstop, foot-stomping, airborne dance routines, it makes one wonder if there are multiple oxygen tanks backstage.

Speaking of adorable, Sara Jayne Blackmore, as Tracy's sidekick Penny Pingleton, is probably the most adorable show business teenager since Judy Garland was young. She lights and brightens her every moment on stage, and her eventual boyfriend, Seaweed J. Stubbs, played with sweet embraceableness by Todrick Hall, is an electrifying dancer.

Nell Mooney, as Velma, the overbearing TV producer, is a strong and savage presence, and her delivery of her memories of a past local triumph, "(The Legend of) Miss Baltimore Crabs" is a comic delight. Steven Buckingham is satirically right as Corny Collins, the TV dreamboat.

Natalie Loften Bell as Amber, the Baltimore Beauty, is a beauty herself, and vamps with a vengeance. K.J. Hippensteel is a convincingly friendly iconic '60s teenage idol and boyfriend of Tracy. Their romantic duet, "It Takes Two," is a sweet and soft interlude in an otherwise energetically rocking score.

And so is the delightful soft shoe, "You're Timeless to Me," by Wayne Schroeder and Jerry O'Boyle as Wilbur and Edna Turnblad, Tracy's parents. Mr. Schroeder is a believable, understated foil for the dynamic, deliriously stage-robbing presence of Mr. O'Boyle in drag, playing the role that won Harvey Fierstein his coveted Tony in the original "Hairspray."

Mr. O'Boyle effectively wipes Mr. Fierstein from memory as Tracy's dominating and often hilarious mother. He (she) deserves every one of the cheers he (she) gets at the curtain call.

And so does Brooke Shapiro, a freshman at the Hartt school making her regional theater debut as Tracy Turnblad. She's a dynamite performer, an arresting presence that lends heart and hardiness to the role, launching the proceedings with "Good Morning Baltimore," and powering it to the last syllable of the finale.

I defy anyone except the very grouchiest to block the smile that takes over every audience member's face from the first to last note of this "Hairspray." It's that kind of happy experience.

"Hairspray" continues at the Patchogue Theatre every evening except Monday and in several weekly matinees through July 31. Visit Gatewayplayhouse.com or call 286-1133.
Production Photos
Click any image to see it larger
Hover over the larger image for controls to advance through them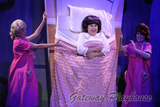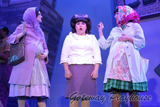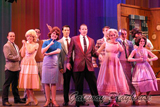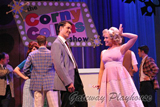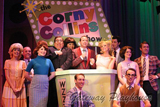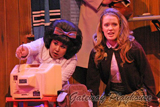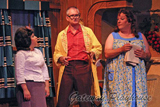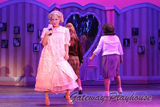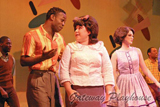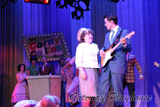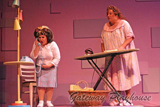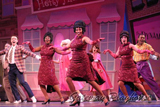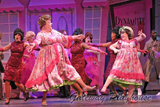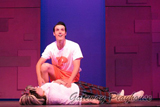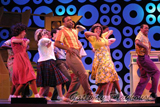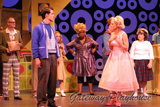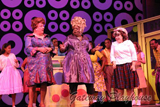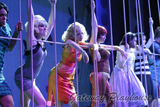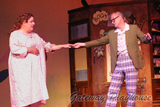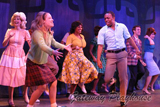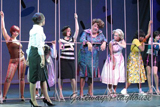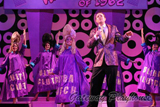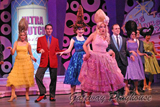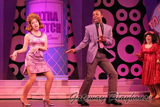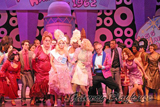 Cast
Tracy Turnblad

BROOKE SHAPIRO



Download the Playbill
9 Meg PDF File
Corny Collins
STEVEN BECKINGHAM*
Amber Von Tussle
NATALIE LOFTIN BELL*
Brad
CHRIS LEBEAU
Tammy
BAILEY MEANS
Fender
KEVIN METZGER
Brenda
KAREN WEBB
Sketch
SIMON TRUMBLE
Shelly
ASHLEY MCKAY
IQ
HARDY WEAVER
Lou Ann
KELLI JOELLE BARTLETT
Link Larkin
K.J.HIPPENSTEEL*
Prudy Pingleton
CHELSEY WHITELOCK

Edna Turnblad

JERRY O'BOYLE
Penny Pingleton
SARA JAYNE BLACKMORE*
Velma Von Tussle
NELL MOONEY*
Harriman F. Spritzer
SCOTTY WATSON*
Wilber Turnblad
WAYNE SCHRODER*
Principal
SCOTTY WATSON*
Seaweed J. Stubbs
TODRICK HALL*
Duane
CAMERON J. ROSS
Gilbert
WILLIE DEE

Lorraine

GABRIELLE PORTER*
Thad
DANNIS ANDERSON
The Dynamites
CLAUDEEN BENOIT, JESSICA BIRCANN, GABRIELLE PORTER*
Mr. Pinky
SCOTTY WATSON*
Gym Teacher
CHELSEY WHITELOCK
Inez
KAYLEA SCOTT
Motormouth Maybelle
FRAN JAYE*
Matron
CHELSEY WHITELOCK
Guard
SCOTTY WATSON*

Dance Captain

KELLI JOELLE BARTLETT

Citizens Of Baltimore

DANNIS ANDERSON,KELLI JOELLE BARTLETT, CLAUDEEN BENOIT, JESSICA BIRCANN, WILLIE DEE, JENNIFER FOUCHÉ, RYAN LAMMER, CHRIS LEBEAU, ASHLEY MCKAY, BAILEY MEANS, KEVIN METZGER, GABRIELLE PORTER*, CAMERON J. ROSS,SIMON TRUMBLE, YORK WALKER, SCOTTY WATSON*, HARDY WEAVER, KAREN WEBB, CHELSEY WHITELOCK

Swing

MICHELLE VEINTIMILLA
Understudies
| | |
| --- | --- |
| Edna Turnblad | SCOTTY WATSON* |
| Wilbur Turnblad | SCOTTY WATSON* |
| Corny Collins | MICHAEL BAKER* |
| Motormouth Maybelle | JENNIFER FOUCHE |
| Seaweed J. Stubbs | CAMERON J. ROSS |
| Penny | BAILEY MEANS |
| Amber | ASHLEY MCKAY |
| Velma | CHELSEY WHITELOCK |
| Male Authority Figure | MICHAEL BAKER* |
| Female Authority Figure | KAREN WEBB |
Muscians
| | |
| --- | --- |
| Conductor/Keyboard I | Jeff Buchsbaum |
| Keyboard II | Paul Feyer |
| Bass | Catherine O'Malley |
| Guitar | Joe Loschiavo |
| Reed I | Mitch Kamen |
| Reed II | Mike Kendrot |
| Trumpet | Barry Schwalb |
| Drums | Pete Desalvo |
Administrative
| | |
| --- | --- |
| Executive Producer | Ruth Allan |
| Producer | Paul Allan |
| Associate Producer | Jeff Bellante |
| General Manager | Gale Edwards |
| Company Manager | Michael Baker |
| Assistant Company Manager | Keith Llewellyn |
| Administrative Assistant | Sarah Innes |
Artistic
| | |
| --- | --- |
| Artistic/Casting Director | Robin Joy Allan |
| Director | Steven Yuhasz |
| Choreographer | Josh Walden |
| Musical Director | Jeffrey Buchsbaum |
| Set Design | J. Branson |
| Costume Design | Tiia Torcia |
| Lighting Designer | Chistopher J. Landy |
| Assistant Lighting Designer | Nicholas Harris |
| Associate Casting/Artistic Director | Jessica Harrison |
| Production Photographer | Jeff Bellante |
| Musical Contractor | Jeff Hoffman |
| Sound Consultants | Dominic Sac, Cody Spencer |
Box Office
Box Office Manager
Laurie Parr
House Manager
Joanne Famiglietti
Group Sales
Claire Ward
Box Office Staff
Ashley Cooke, Nadine Hazard,Diane Koerber, Christina Montalato, Don Rebar,
Kyle Reitan, Linda Unger, Francesca Welhous
Production
| | |
| --- | --- |
| Production Manager | Brian Loesch |
| Production Stage Managers | Jovon E. Shuck |
| Technical Director | Jeff Taylor |
| Wardrobe Supervisor | Marianne Dominy |
| Master Electricians | Spencer Padilla, Jose Santiago |
| Shop Foreman | Mark Frederick |
| Scenic Artist | Dennis Berfield |
| Props Master | Scott Rygalski |
| Sound Engineer | Shane Bourgeois |
| Assistant Production Manager | Taylor Milne |
| Assistant Stage Manager | Megan Danielson |
| Assistant Technical Director | Steve Haase |
| Sound Technician | Don Hanna |
| Technicians | Charlie Bell, Jacob Forstein, AJ Lebbens, Alex Olsen, Brendan Smith |
| Wardrobe Assistants | Patrick Herb, Vanessa Pynn, Cee-Cee Swalling |
| Wigs | Trent Pcenicni |
Interns
| | |
| --- | --- |
| Company Management/Admin Intern. | Cassandra Levey |
| Stage Management Interns. | Avianna Meck, Lindsey Sigler |
| Electrics Interns | Jennifer Atkinson, Colin Chauche, Justin Keenan Miller |
| Sound Interns | Sara Brown, Zach Ireson |
| Wardrobe Interns | Rachel Filbeck, Ariel Marcus, Amber Mallon |
| General Technician Interns | Nick Jacobs, Kendall McNichols, Brian Freeman |
Facilities
| | |
| --- | --- |
| Facilities Maintenance | Mark Frederick |
| Cleaning Staff | Eleodoro Sorto, Ray Tobia |
| Landscaping | HTM Landscaping Company |
| House Staff | Eric Burt, Ryan Hudack, Martin Maningo, Michael Ray, John Smaldone, Ed Wecera |
| Hospitality Consultant | Mike Taylor |
| General Counsel | Ann L. Nowak & Associates |