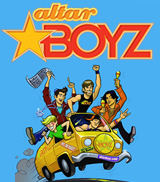 Altar Boyz
July 14 - July 31
in Bellport


OVERVIEW
TICKETS
CAST & CREATIVE
REVIEWS
PHOTOS
VIDEO
PLAYBILL
Prepare yourself for a lighthearted evening of holy redemption and heavenly rock. Bring the kids and grandma too! Altar Boyz is a spectacularly good time for people of all ages and all denominations- jam packed with witty parody, heavenly singing, and virtuously cool dance moves. This is not a show for the faint of faith or the weak of soul. It is not for those lacking a devout sense of humor or pious sense of groove. Are you ready to "Raise the Praise"? They are the Altar Boyz and they're coming to your town. Bellport Long Island has never experienced anything quite as divine.

From July 14th through July 31st, Gateway Playhouse presents the fourth show of its 61st season, the Off-Broadway phenomenon, Altar Boyz. The show is making its Long Island premiere, after running for an astounding 2,032 performances over the course of 5 years in New York City, winning the 2005 Outer Critics Circle Award for Outstanding Off-Broadway Musical. With a book by Kevin Del Aguila and music and lyrics by Gary Adler & Michael Patrick Walker, this spoof of a Christian boy band is a guaranteed hysterical revelation. The Altar Boyz themselves are five small town boys from Ohio, heaven-bent on rocking the world one soul at a time. There's Matthew, their rockin' leader, Mark, the "sensitive one", Luke, the "bad boy", Juan, the "latin lover", and Abraham, the "Gefilte fish out of water". Now they're making their grand debut in the sin-rich Big Apple. Performing singles such as "Girl, you make me wanna wait" and "Jesus called me on my cell phone", the Boyz' "Raise the Praise" tour is an apparently holy success. That is, until the Boyz begin to reveal hilarious confessions of their own.

Gateway's production will to be true to the original, featuring a company that is very familiar with the show. It is directed and choreographed by Carlos Encinias, who performed every role in the Off-Broadway Altar Boyz production, and was part of the Broadway companies of Mamma Mia!, Les Miserables, and Good Vibrations. Carlos is also a part of the Gateway family, and you may recognize him from Gateway's 2001 production of West Side Story. Joey Khoury, playing the role of Matthew, also played all five roles during the Off-Broadway run, in addition to being a part of the Altar Boyz national tour. Wade Elkins, playing Abraham, is excited to be a first time Altar Boy. Ryan Nearhoff, as Luke, was recently an Altar Boy in the Sacramento Music Circus Production. He has numerous credits, including the national tour of Almost Heaven: The Songs of John Denver. Jeff Leatherwood is playing the role of Mark in this production, although he has previously been seen as Altar Boy, Matthew. He was a part of the Los Angeles world Premiere of Life Could Be A Dream. Spiro Galiatsatos, Juan, is also a first time Altar Boy. Elsewhere, he was in Jesus Christ Superstar featuring American Idol finalist, Constantine Maroulis.
JULY 2010

SUN
MON
TUES
WED
THUR
FRI
SAT
11
12
13

14

8:00PM

15

2:00PM

8:00PM


16

8:00PM

17

3:00PM
8:30PM

18

2:00PM
7:00PM

19

20

8:00PM

21

8:00PM

22

2:00PM
8:00PM

23

8:00PM

24

3:00PM
8:30PM

25

7:00PM


26

27

8:00PM

28

2:00PM

8:00PM

29

2:00PM
8:00PM

30

8:00PM


31

3:00PM
8:30PM
WADE ELKINS

(Abraham) is thrilled to be poppin' it out on the Gateway stage! In NYC, he has been seen at New York Theatre Workshop and The Public Theater. Regionally, he has performed roles including Frankie (Forever Plaid), Motel (Fiddler on the Roof), Amos (Battlecry), and Michael (Smokey Joe's Cafe). Upcoming projects include Harry in the NYMF success Gay Bride of Frankenstein and the film Jake and the Man Purse. Much love and thanks to God, my wonderful family, beautiful friends, Diesel, and Joan Lader.

SPIRO GALIATSATOS

(Juan) Spiro is thrilled to be in his first performance at Gateway Playhouse. New York: Cat in Cat Gets a Card. Regional: Tribe Hair, Ethan u/s & Ensemble The Full Monty, both with ReVision Theatre. Favorite roles: Jonathan in tick, TICK…BOOM, Angel in Rent, Simon in Jesus Christ Superstar feat. Constantine Maroulis, and Paul in A Chorus Line. Thank you to KK for all the love and support, and thanks to the wonderful cast and crew here at Gateway Playhouse who made this such a wonderful, and welcoming first experience. www.spirogaliatsatos.com


JOEY KHOURY

(Matthew/Dance Captain) Gateway debut! Joey performed Off Broadway in Altar Boyz where he eventually played all five roles. National Tour: Altar Boyz. Favorite New York and Regional: Hurricane (Nicky), Into the Woods (Jack), Fiddler on the Roof (Motel), Little Shop of Horrors (Seymour), and Pirates Of Penzance (Frederick). Originally from Kaysville, Utah, studied music and theatre at Weber State University. Love to Mom and Dad.

JEFF LEATHERWOOD

(Mark) Jeff cannot believe his good fortune. Not only does he get to 'raise the praise' again, he gets to do his 5th show with Mr. Nearhoff, and make his debut here at the wonderful and renowned Gateway Playhouse! Jeff was most recently seen in Los Angeles in the world premier of Life Could Be A Dream, the follow-up musical to Roger Bean's wildly successful Marvelous Wonderettes. Other credits include The 25th Annual Putnam County Spelling Bee (Leaf Coneybear), A Year With Frog And Toad (Snail), Breaking Up Is Hard To Do (Gabe), Bat Boy: The Musical (Edgar), Altar Boyz (Matthew), South Pacific (Lt. Cable), Baby (Danny), the Kidz Bop World Tour, and The Diviners (Dewey Maples at The Kennedy Center). Special thanks to friends, family, and Sharon for endless support and general awesomeness.



RYAN NEARHOFF

(Luke) Ryan is pleased to be joining the company of Altar Boyz in his first show at Gateway Playhouse. Ryan was last seen as Luke in the Sacramento Music Circus production of Altar Boyz last summer. Other credits include: High School Musical (Atlanta TOTS), Breaking Up Is Hard To Do (Cabrillo Music Theater), Anything Goes (Williamstown Theater Festival), and the national tour of Almost Heaven: The Songs of John Denver. Ryan is originally from Southern California where he received his BFA in Musical Theater from California State University Fullerton. "Thank you to my loving and supportive family, the great production team at Gateway, and to Lolly...the pinch of my passion."



SCOTT MILLER

(Announcer/Voice of God) Scott is pleased to be making his return to the Gateway stage more than 2 decades after appearing here in "Rumors." After years as one of Long Island's most-listened-to radio personalities, at stations such as WBLI and WALK, Scott is now a full time voice over artist, and can be found at www.scottmillerproductions.com.



CARLOS L. ENCINIAS

(Director) is thrilled to be back at Gateway Playhouse after almost 10 years!! He is originally from Albuquerque, New Mexico and studied Theatre in Utah at BYU. He has been living in New York City since 2000. Directorial and choreographic credits include associate director/ choreographer of the Adirondack Theatre Festival's production of ALTAR BOYZ, the DC premiere of ALTAR BOYZ, choreographer and associate director for BIG RIVER at Tuachan Center for the Arts, associate choreographer for FLUTE PLAYER'S SONG for the New York Musical Theatre Festival, choreographer for CRAZY FOR YOU at the Scera Theatre, and selected choreography for the New Mexico Ballet Company's production of the Nutcracker. As an actor, Carlos made his Broadway debut in MAMMA MIA and then left to act in and supervise the short lived Broadway production of GOOD VIBRATIONS, a musical based on the Beach Boys music. Carlos spent some time off-Broadway in the award winning, ALTAR BOYZ, where he was dance captain and standby for the show, and was privileged to be in the final company of LES MISERABLES on Broadway. This past year he was seen in the world premiere of VICES: A LOVE STORY at the Caldwell Theatre. Carlos loves teaching theatre and dance, and is a resident teacher for the Broadway Dreams Foundation! PURA VIDA!



JUSTIN S. FISCHER

(Musical Director) just completed playing the 2009-10 National Tour of Hairspray, after serving as the Assistant Music Director for the 2009 National Tour of I Love a Piano. He also served as the AMD for Trip of Love, a new dance musical, which had its international premiere in Osaka, Japan in April 2008, with plans for a New York transfer in 2010. As a composer/ lyrcist, his most recent work includes an adaptation of Pinocchio for the Random Farms Kids Theater (Elmsford, NY), and the original musical The Princess of Riverside Drive for the Vital Theatre Company (New York, NY). In addition, Justin has received musical theatre commissions from the Erie Playhouse (Erie, PA), and the Seagle Music Colony (Schroon Lake, NY), and choral commissions from organizations across the country.



DOUG HARRY

(Lighting Designer) If you have reached the point where you are reading the Lighting Designer's Bio then may I suggest it is time to buy another drink, or maybe some M&Ms. However if you choose to read on. This is about Doug's 15th show for Gateway including, Cats, Miss Saigon, Fosse, Titanic & DreamGirls. He has also designed numerous shows and events in the UK & USA, most of which he can't remember.



ROBIN JOY ALLAN

(Artistic Director) Not knowing what would sound interesting enough for a read, Robin would just like to give credit to the creative spirits and "way-showers" in her life who inspired her, taught her, supported her, lived a great example for her, and lit the journey as she sang, danced, played, taught, directed, cast and twirled herself through her varied life in the arts. Jane Jenkins, Denise Chamian, Michael Cutler, Jessica (O'S) Kelly, Bob Durkin, Chuck Carter, David and Joan Sheldon, Sally and Les Harris, Ruth and Stan Allan, Harry and Libby Pomeran and her brother, Paul Allan with whom she works daily to run the family business known as The Gateway. From her hands on theatrical experience on stage and off to her behind the scenes work in Film and TV as a Casting Director on both coasts, Robin has been fortunate to work with actors, directors, writers, and producers from today's celebrities to tomorrow's future stars. In her life bio she includes 16 years performing, 25 years casting and 30 years teaching, much of that overlapping, from her teens, on. The films "When Harry Met Sally," "Lord Of The Flies," "Parenthood," and "Ghost" are on her casting resume as well as one-hundred and thirty six Main Stage productions for Gateway. She feels blessed and hopes to continue to give back to the universe as much as she has been given. Robin lives in Brookhaven Hamlet with her amazing daughter Hayley and constant companions Lucy Dog, Mopsy and Momma Kitty.



PAUL ALLAN

(Producer) Has been producing the seasons here at Gateway since the 1980's. It's hard to believe the number of shows, performers, staff, technicians, etc. he has come in contact with over the years, and the number of personal and professional friendships that developed and remain strong today. Paul's grandfather (Harry Pomeran) was the first producer of Gateway in 1950, followed by his uncle (David Sheldon), his parents (Ruth and Stan Allan), and together with his sister Robin. Gateway has always been a family business, and each era has brought significant challenges particularly in the 80's and 90's when shows became more complicated and technically challenging. Additionally, the grounds changed, the buildings were modernized, and the facilities updated. In the most recent decade, the caliber of the artistic staff, performers, musicians, and technicians has risen to a level equaling and sometimes surpassing many Broadway shows. It has been difficult to find time to do other projects outside of Gateway seasons, but over the years Paul has been able to work in NYC on various shows in different capacities, run a touring company with shows traveling around the country and abroad, operate a sister theatre in Connecticut, act as consultant and facilitator for the restoration and reopening of the Patchogue Theatre, and maintain a set rental business - where Gateway scenery is used in theatres across the country after appearing on the Gateway stage. Paul appreciates, admires and honors his family's dedication to the arts and is proud to help continue the legacy. Paul lives in Bellport with his wife Annmarie and their 2 children - Luke 5 and Alexa 3.


The South Hampton Press
"Altar Boyz" take Gateway stage in Bellport
LEE DAVIS
July 21, 2010

(EXCERPTS)

The opening night audience in Bellport did everything but tear up their seats in enthusiastic appreciation. David Korin's set is a faithful rendering of a rock band's on-stage environment, complete with sloping platform embracing the onstage band—a four-piece, hard-working, heavily amplified, well playing and enthusiastic group under the musical direction of Justin S. Fischer.

And the all important and authentic lighting design by Doug Harry is bright and constantly in motion.

Director Carlos L. Encinias keeps things moving at a bright and brittle pace, putting his undeniably talented five-person cast—Wade Elkins, Spiro Galiatsatos, Joey Khoury, Jeff Leatherwood and Ryan Nearhoff—through non-stop, high-flying, high-speed paces.

Every one of the five is not only sweet and winning of countenance, but a spectacular dancer, too, and the choreography by Mr. Encinias is similarly spectacular and original and exciting. And this, rather than the supposed state of grace of the Altar Boyz, is the saving grace of the show. It contains some of the best dancing on stage in the area or in memory.

Production Photos
Click any image to see it larger
Hover over the larger image for controls to advance through them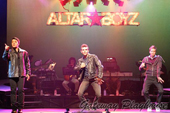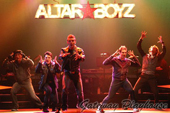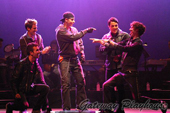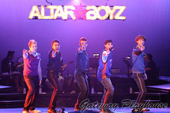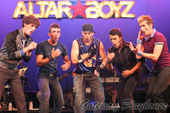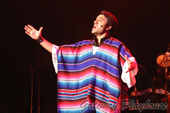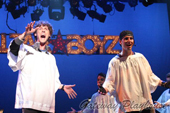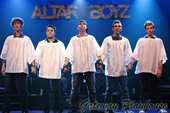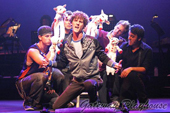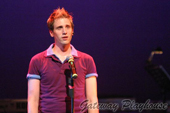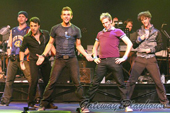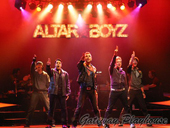 Cast
Abraham

WADE ELKINS



Download the Playbill
9 Meg PDF File
Juan
SPIRO GALIATSATOS
Matthew
JOEY KHOURY*
Mark
JEFF LEATHERWOOD*
Luke
RYAN NEARHOFF*
Announcer/Voice of God
SCOTT MILLER
Muscians
| | |
| --- | --- |
| Musical Director/Keyboard I | Justin S. Fischer |
| Keyboard II | Jeff Hoffman |
| Guitar | Ray Sabatello |
| Drums | Josh Endlich |
Administrative
| | |
| --- | --- |
| Executive Producer | Ruth Allan |
| Producer | Paul Allan |
| Associate Producer | Jeff Bellante |
| General Manager | Gale Edwards |
| Company Manager | Michael Baker |
| Assistant Company Manager | Keith Llewellyn |
| Administrative Assistant | Sarah Innes |
Artistic
| | |
| --- | --- |
| Artistic/Casting Director | Robin Joy Allan |
| Director/Choreographer | Carlos L. Encinias |
| Musical Director | Justin S. Fischer |
| Set Design | David Korins |
| Lighting Designer | Doug Harry |
| Assistant to Lighting Designer | Ivy Conyers |
| Associate Casting/Artistic Director | Jessica Harrison |
| Production Photographer | Jeff Bellante |
| Musical Contractor | Jeff Hoffman |
| Sound Consultants | Dominic Sac, Cody Spencer |
Box Office
Box Office Manager
Laurie Parr
House Manager
Joanne Famiglietti
Group Sales
Claire Ward
Box Office Staff
Ashley Cooke, Nadine Hazard,Diane Koerber, Christina Montalato, Don Rebar,
Kyle Reitan, Linda Unger, Francesca Welhous
Production
| | |
| --- | --- |
| Production Manager | Brian Loesch |
| Technical Director | Jeff Taylor |
| Wardrobe Supervisor | Marianne Dominy |
| Master Electricians | Spencer Padilla, Jose Santiago |
| Shop Foreman | Mark Frederick |
| Scenic Artist | Dennis Berfield |
| Props Master | Scott Rygalski |
| Sound Engineer | Don Hanna |
| Sound Technician | Shane Bourgeois |
| Assistant Production Manager | Taylor Milne |
| Assistant Stage Manager | Megan Danielson |
| Assistant Technical Director | Steve Haase |
| Technicians | Charlie Bell, Jacob Forstein, AJ Lebbens, Alex Olsen, Brendan Smith |
| Wardrobe Assistants | Patrick Herb, Vanessa Pynn, Cee-Cee Swalling |
| Wigs | Trent Pcenicni |
Interns
| | |
| --- | --- |
| Company Management/Admin Intern. | Cassandra Levey |
| Stage Management Interns. | Avianna Meck, Lindsey Sigler |
| Electrics Interns | Jennifer Atkinson, Colin Chauche, Justin Keenan Miller |
| Sound Interns | Sara Brown, Zach Ireson |
| Wardrobe Interns | Rachel Filbeck, Ariel Marcus, Amber Mallon |
| General Technician Interns | Nick Jacobs, Kendall McNichols, Brian Freeman |
Facilities
| | |
| --- | --- |
| Facilities Maintenance | Mark Frederick |
| Cleaning Staff | Eleodoro Sorto, Ray Tobia |
| Landscaping | HTM Landscaping Company |
| House Staff | Eric Burt, Ryan Hudack, Martin Maningo, Michael Ray, John Smaldone, Ed Wecera |
| Hospitality Consultant | Mike Taylor |
| General Counsel | Ann L. Nowak & Associates |