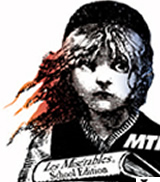 Les Misérables - School Edition
Aug. 11 - Aug. 21
in Bellport


OVERVIEW
TICKETS
CAST COMMENTS
PHOTOS
PLAYBILL
LES MISÉRABLES is based on Victor Hugo's classic novel about ex-convict Jean Valjean and his attempts to start a new life as he is pursued relentlessly by policeman Javert over decades through the tumult of revolutionary France. This blockbuster musical also showcases a Tony Award-winning score including the songs "I Dreamed a Dream," "Do You Hear the People Sing?," "One Day More," "Empty Chairs at Empty Tables," "A Little Fall of Rain," "Master of the House," and "On My Own." LES MISÉRABLES features a book by Alain Boublil and Claude-Michel Schönberg, lyrics by Herbert Kretzmer, and music by Claude-Michel Schönberg.
This will be a ground breaking event for us at Gateway! We will be featuring students who excel in the Performing Arts, in a world class musical with the same production values as you have come to expect from our Main Stage productions. Director Robin Joy Allan, Gateway's Artistic Director and Los Angeles and NYC Casting Director, with the Films PARENTHOOD, WHEN HARRY MET SALLY, LORD OF THE FLIES and GHOST to her credit, has chosen a cast of Gateway Acting School Alumni and new talent from across Long Island, from as far away as Wantagh and Hampton Bays, Riverhead and Stony Brook. Making a splash on the stage...... the costumes, inspired by the Broadway production, by CostumeWorld, the ever moving lights by the West End's, Doug Harry, the monstrous and moving set AND and the young performing artists themselves showcasing their amazing talents in a crème de la crème setting, (we are practicing our French!) This is no high school musical and a production like you have never seen before on Long Island!
AUGUST 2010

SUN
MON
TUES
WED
THUR
FRI
SAT
8
9
10

11

8:00PM

12

2:00PM

8:00PM


13

7:00PM

14

4:00PM
8:00PM

15

2:00PM
7:00PM

16

17

11:00AM

18

8:00PM

19

2:00PM
8:00PM

20

7:00PM

21

4:00PM
8:00PM
Cast Comments
Adriana Amaya (Whore #3, Beggar, Turning Woman #2, Les Miserables is more than just a show, it's an experience, and one that I will never forget.

Jared Angona (Factory worker) would like to thank his family, friends, and everyone at Gateway Playhouse for this great opportuntiy!

Ava Bianchi (Young Eponine) I had so much fun rehearsing for this show, it's such a fantastic musical! You made the right decision to come.

Brenda Birkeland (Cosette) Brenda is honored to be sharing the stage with such a talented cast. Thanks and love to everyone who made this possible!

Amy Bredes (Ensemble) Amy is delighted to be a part of this production. She would like to thank her family and voice teacher for supporting me.

Alyssa Castellano (Madame Thenardier) Alyssa has so much love for this production and Gateway. This has been an amazing and growing experience, thank you to everyone who made it possible.

Martin Castonguay (Ensemble/ Enjolrus u/s) Is very excited to be in his second Les Mis production!

Alyssa Conte (Turning Soloist/Ensemble) Thank you to everyone at Gateway for a wonderful experience. Good luck to the cast and crew.

Alison Cordaro (Young Eponine #2) Being a part of Les Mis has been so much fun! I hope you enjoy watching it as much as I enjoy performing in it. Love and thanks to my friends at Gateway.

Robert DeFilippo (Ensemble) Robert is ecstatic to be making his Gateway Playhouse debut in Les Mis. Thank you to everyone for their continued support!

Theo Ebarb (Ensemble) Is so excited to participate in such an amazingly epic show and thanks his family for their support.

Maya Frank (Little Cosette) Thank you so much for coming to the show! I am having a blast!

Megan Gallagher (Ensemble) Les Mis 2010- what an experience! Thanks to Gateway –my first performance here, the cast-hilarious! Thanks to my mom and dad for everything.

Katie Garthe (Young Cosette) I want to thank the Allans for this opportunity to be apart of this production. It has been so much fun!

Andrew Gasparini (Lesgles) Andrew is very excited to be performing Les Mis at Gateway with such a great cast. Thanks to all involved for making this production great!

Kyle Geraghty (Ensemble/Pimp/Fevilly) Kyle is thrilled to be a part of this wonderful cast and would like to thank Robin for this opportunity. Thanks to my parents for their support, having a great time!

Colette Girardin (Ensemble) Colette is very excited to be a part of this production. Thank you to Robin and Jeff for your hard work!

Marielle Greguski (Old Lady/Ensemble) This has been an incredible experience and she would like to thank Robin, Jeff, and Dom for all of their hard work. Good luck to cast and crew and Miles!

Meghan Gunther (Gavroche's Gang) Working at Gateway has been an amazing experience! I will never forget the friends and talented people who guided me.

Liam Hofmeister (Prouvaire/ Babet) great experience and great times at Gateway. Thank you.

Jamel Hudson (Enjolras) Researching the role of Enjrolas has been an amazing process, he is an absolute champion. I love the passion required to play him.

Emery Kelly (Gavroche) Emery is very excited to be in this production of Les Mis. It is fun and very awesome. Long live us!

Veronica Kelly (Ensemble/Eponine u/s) Veronica would like to thank Robin and Jeff for this wonderful opportunity. Love to her family and friends for their support.

Bree Klauser (Ensemble) Bree is thrilled to be a part of the production of her favorite musical here at Gateway! Thanks to Robin, Jeff, Lindsay, and the staff. Break legs everyone!

Elizabeth (Libby) Larkin (Ensemble /Libby u/s) It is an honor to be a part of Les Miserables Student Edition. Thank you Gateway for giving me this opportunity and thank you to my newfound friends, talented cast, and to the RTC!

Grant Lindeman (Bishop/Joly/ Jean Valjean u/s) Congrats to the cast and crew of Les Miserables! Thank you for making this an incredible experience.

Christie Lombardi (Fantine) Such an amazing cast! Everyone working with us is awesome. I'm so thankful for this opportunity. Deuteronomy 6:5.

George Marschall (Montparnasse/Ensemble) George would like to thank Gateway for the experience and everyone else for the encouragement they have given.

Kelli McKenna (Ensemble/ Cosette u/s) I'd like to thank Robin and everyone at Gateway for giving me the opportunity to share in this great theatre experience.

Mia Mulvey (Ensemble) Inspired and touched by this beautiful story, Mia is honored to work with her sister and friends. A heart full of love to all.

Madison Mulvey (Ensemble) Grateful to be working alongside her sister and friends in this heartwarming musical. Love to Gateway and family!

Louie Rinaldi (Thenadier) I'm enthralled to tell this beautiful story. Thanks to Jeff and Robin for her wonderful direction and inspiration. Here we go!

Mary Rose Romano (Ensemble) This has been the best way to spend my summer. I hope I can do another show at Gateway soon!

Christopher Sanfilippo (Ensemble/Foreman/ Courfeyrac/Major Domo/) I have never spent time with a more loving and supportive cast and crew in my life. I love you guys!

Samantha Slomin (Ensemble) It has been a pleasure working with everyone here. I hope to work with everyone again! Break legs!

Taylor Smith (Jean Valjean) Thank you to everyone for making this process a great one. Break a leg!

Kevin Spellman (Javert) This is no community theater production. Hard role, hard show, as the cast learned. Thanks to all involved!

Andrew Vertucci (Combeferre) Andrew is so excited to be performing Les Miserables with this incredibly talented cast. I would like to thank Robin and Jeff for this amazing opportunity.

Michelle Vientimilla (Eponine) Michelle gives a heart full of love and thanks to the cast, crew, her extraordinary teachers, beautiful friends, and beloved family. 11:11

Miles Whittaker (Grantaire/Bambatois/ Ensemble/ Marius u/s) Congratulations to the cast of Les Mis. I love Marielle!

Joe Wood (Marius) Thank you to my family, my friends, the cast, Hough, Schaar, Jeff, Robin and everyone involved in Les Miserables!

Annie Zeiler (Ensemble) This has been a wonderful experience! I would like to thank everyone involved for making this production wonderful!
Production Photos
Click any image to see it larger
Hover over the larger image for controls to advance through them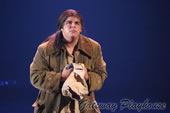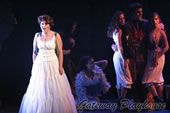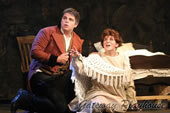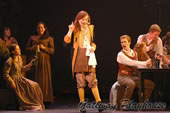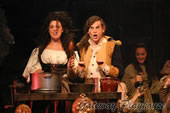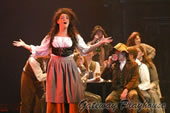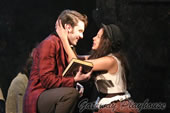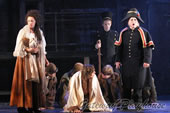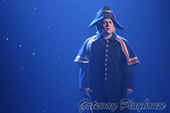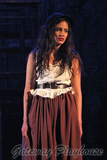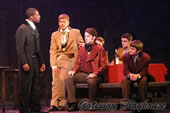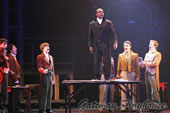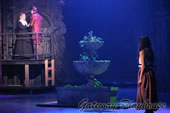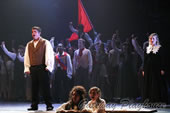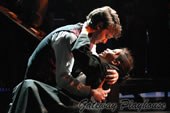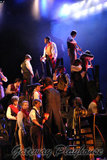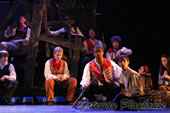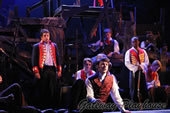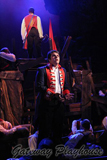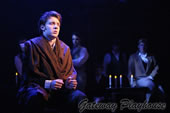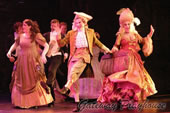 Cast
Jean Valjean

TAYLOR SMITH



Download the Playbill
9 Meg PDF File
Javert
KEVIN SPELLMAN
Chain Gang
JOE WOOD, ANDREW VERTUCCI, CHRIS SANFILIPPO, LIAM HOFMEISTER, ANDREW GASPARINI, MILES WHITTAKER, THEO EBARB, MARTIN CASTONGUAY, GEORGE MARSCHALL, LOUIS RINALDI
Farmer
MARTIN CASTONGUAY
Labourers
LIAM HOFMEISTER, ANDREW GASPARINI, MILES WHITTAKER, ALYSSA CONTE, LIBBY LARKIN, ANNIE ZEILER, AMY BREDES, MARY ROSE ROMANO, MEGAN GUNTHER, ROBERT DEFILIPPO
The Bishop Of Digne
GRANT LINDEMAN
Constables
KYLE GERAGHTY, ROBERT DEFILIPPO
Fantine
CHRISTIE LOMBARDI
Factory Foreman
CHRIS SANFILIPPO
Factory Workers
JARED ANGONA, ROBERT DEFILIPPO, KYLE GERAGHTY, LIAM HOFMEISTER, ANDREW VERTUCCI,
Factory Girls
MIA MULVEY, COLETTE GIRARDIN, ALYSSA CONTE, SAMANTHA SLOMIN, MARIELLE GREGUSKI, MEGAN GALLAGHER, AMY BREDES
Factory Girl #5
LIBBY LARKIN
Sailors
GRANT LINDEMAN, ANDREW GASPARINI, THEO EBARB
Whores
MADISON MULVEY, COLETTE GIRARDIN, ADRIANA AMAYA, SAMANTHA SLOMIN, ANNIE ZEILER, BREE KLAUSER, VERONICA KELLY, KELLI MCKENNA
Old Lady
MARIELLE GREGUSKI
Pimp
KYLE GERAGHTY
Bamatabois
MILES WHITTAKER
Fauchelevant
MARTIN CASTONGUAY
*Young Cosette
MAYA FRANK/ KATIE GARTHE
Madame Thenardier
ALYSSA CASTELLANO
Thenardier
LOUIS RINALDI
*Young Eponine
ALISON CORDARO/ AVA BIANCHI
Gavroche
EMERY KELLY
Eponine
MICHELLE VEINTIMILLA
Cosette
BRENDA BIRKELAND
Major Domo
CHRIS SANFILIPPO
Urchins
MARY ROSE ROMANO, MEGHAN GUNTHER, ALISON CORDARO
Thenardier's Gang:
Montparnasse
GEORGE MARSCHALL
Babet
LIAM HOFMEISTER
Brujon
MARTIN CASTONGUAY
Claquesous
MILES WHITTAKER


Students:
Enjolras
JAMEL HUDSON
Marius
JOE WOOD
Combeferre
ANDREW VERTUCCI
Feuilly
KYLE GERAGHTY
Courfeyrac
CHRIS SANFILIPPO
Joly
GRANT LINDEMAN
Grantaire
MILES WHITTAKER
Lesgles
ANDREW GASPARINI
Provaire
LIAM HOFMEISTER
*KATIE GARTHE will play the role of Young Cosette at the following performances: 8/11, 8/12 (8PM), 8/14 (4PM), 8/15 (2PM), 8/17, 8/19 (2PM), 8/20, 8/21(8PM)
*ALISON CORDARO will play the role of Young Eponine at the following performances: 8/11, 8/12 (8PM), 8/14 (4PM), 8/15 (2PM), 8/17, 8/19 (2PM), 8/20, 8/21(8PM)
*MAYA FRANK will play the role of Young Cosette at the following performances: 8/12 (2PM), 8/13, 8/14 (8PM), 8/15 (7PM), 8/18, 8/19 (8PM), 8/21 (4PM)
*AVA BIANCHI will play the role of Young Eponine at the following performances: 8/12 (2PM), 8/13, 8/14 (8PM), 8/15 (7PM), 8/18, 8/19 (8PM), 8/21 (4PM)
The role of Eponine will be played by Veronica Kelly at the following performances: 8/18 - 8/21
Understudies
| | |
| --- | --- |
| Jean Valjean | GRANT LINDEMAN |
| Javert | KYLE GERAGHTY |
| Fantine | LIBBY LARKIN |
| Thenardier | CHRIS SAN FILIPPO |
| Madame Thenardier | MIA MULVEY |
| Marius | MILES WHITTAKER |
| Eponine | VERONICA KELLY |
| Cosette | KELLI MCKENNA |
| Enjolras | MARTIN CASTONGUAY |
Administrative
| | |
| --- | --- |
| Executive Producer | Ruth Allan |
| Producer | Paul Allan |
| Associate Producer | Jeff Bellante |
| General Manager | Gale Edwards |
| Company Manager | Michael Baker |
| Assistant Company Manager | Keith Llewellyn |
| Administrative Assistant | Sarah Innes |
Artistic
| | |
| --- | --- |
| Director | Robin Joy Allan |
| Musical Director | Jeffrey Buchsbaum |
| Assistant to Director/Music Technician | Hayley Gillman |
| Set Design | Todd Edward Ivins |
| Costumes | Costume World, Deerfield Beach, FL |
| Lighting Designer | Doug Harry |
| Production Photographer | Jeff Bellante |
| Musical Contractor | Jeff Hoffman |
| Sound Consultants | Dominic Sac, Cody Spencer |
Box Office
Box Office Manager
Laurie Parr
House Manager
Joanne Famiglietti
Group Sales
Claire Ward
Box Office Staff
Ashley Cooke, Nadine Hazard, Diane Koerber, Christina Montalato, Don Rebar,
Kyle Reitan, Linda Unger, Francesca Welhous
Production
| | |
| --- | --- |
| Production Manager | Brian Loesch |
| Stage Manager | Lindsey Sigler |
| Technical Director | Jeff Taylor |
| Wardrobe Supervisor | Marianne Dominy |
| Master Electricians | Spencer Padilla, Jose Santiago |
| Scenic Artist | Dennis Berfield |
| Props | AJ Lebenns, Hayley Gillman |
| Sound Engineer | Don Hanna |
| Deck Chief | Joe Loesch |
| Sound Technician | Shane Bourgeois |
| Technicians | Charlie Bell, Jacob Forstein, Alex Olsen, Brendan Smith |
| Wardrobe Assistants | Vanessa Pynn, Cee-Cee Swalling |
| Wigs | Trent Pcenicni |
| Wigs Assistant | Patrick Herb |
Interns
| | |
| --- | --- |
| Company Management/Admin Intern. | Cassandra Levey |
| Stage Management Interns. | Avianna Meck, Lindsey Sigler |
| Electrics Interns | Jennifer Atkinson, Colin Chauche, Justin Keenan Miller |
| Sound Interns | Mike Vultaggio, Zach Ireson |
| Wardrobe Interns | Rachel Filbeck, Janine Loesch, Ariel Marcus, Amber Mallon |
| Props Intern | Kaitlyn McDonald |
| General Technician Interns | Jared Agona, Ivy Conyers, Michelle Cosentino, Max Fehr, EG Garcia, Ryan Little |
Facilities
| | |
| --- | --- |
| Facilities Maintenance | Mark Frederick |
| Cleaning Staff | Eleodoro Sorto, Ray Tobia |
| Landscaping | HTM Landscaping Company |
| House Staff | Eric Burt, Ryan Hudack, Martin Maningo, Michael Ray, John Smaldone, Ed Wecera |
| Hospitality Consultant | Mike Taylor |
| General Counsel | Ann L. Nowak & Associates |